Paris, the city of love and fashion, witnessed a stunning union of talent and style during this year's Paris Fashion Week.
Rachel Zegler, the rising star set to shine in the upcoming prequel, The Hunger Games: The Ballad of Songbirds & Snakes, adapted from Suzanne Collin's 2020 novel, graced the Christian Dior runway show on Tuesday.
The 22-year-old actress took her place alongside Jenna Ortega, Anya Taylor-Joy, and Charlize Theron in the front row for the grand presentation of the French multinational luxury fashion house's womenswear Spring/Summer 2024 collection.
She made quite an entrance, exuding pure glamour in her captivating black and pink butterfly-embellished gown. Her A-line dress, a true masterpiece cinched at her waist to accentuate her svelte figure, featured intricate blush pink patterns.
Rachel Zegler making a stunning entrance at the Dior Spring/Summer 2024 photocall during Paris Fashion Week in Paris, France on September 26, 2023 (Credit: Abaca Press / INSTARimages)
The upper part of Rachel's attire was delightfully see-through, showing her stylish black bra underneath. The skirt boasted of pink polka dot embellishments, infusing a dash of allure into her chic ensemble.
She opted for a simple makeup palette, allowing her natural beauty to radiate, while her sleek black hair was meticulously straightened and elegantly tucked behind her ears.
In true fashionista style, Rachel embraced a minimalist approach to jewelry, donning delicate rings on her fingers and subtle earrings, leaving her chest and neck bare and allowing the exquisite neckline of her dress to take center stage.
Rachel Zegler wearing a black and pink butterfly-embellished gown with minimal jewelry, sleek black hair, and a simple makeup palette (Credit: Abaca Press / INSTARimages)
To complete her look, the Shazam! Fury of the Gods actress accessorized her outfit with a black Chanel shoulder bag, perfect for the essentials of the event.
Adding the finishing touch, a pair of black strappy sandals effortlessly harmonized with her gown, complete with high heels to elevate her petite frame of 5 feet and 2 inches (157.5 cm).
View this post on Instagram
As she graced the fashion show with her presence, Rachel couldn't help but flash a sweet smile and strike pose after pose, capturing the hearts of the fashion-forward crowd. But what made this event even more exciting was the unexpected encounter that unfolded.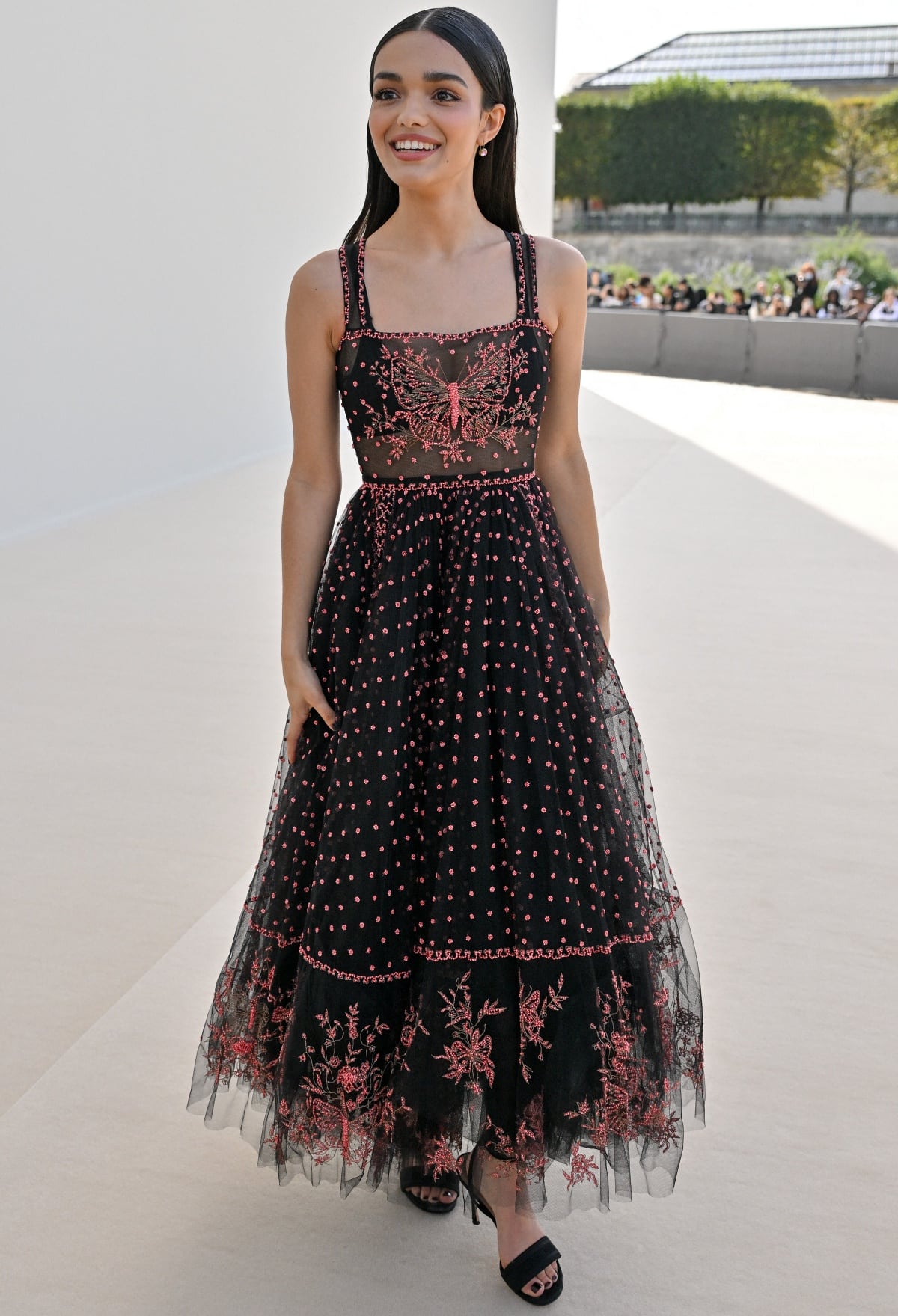 Rachel Zegler slipping into a pair of black strappy heels for a stylish boost to her petite frame (Credit: Abaca Press / INSTARimages)
During the show, Rachel Zegler, who plays the role of District 12 tribute Lucy Gray Baird in the highly anticipated prequel, crossed paths with Jennifer Lawrence, the original star of The Hunger Games franchise.
In a video shared by Rachel on X (formerly Twitter), the two talented actresses radiated warmth as they shared laughter and posed for photos, creating a heartwarming moment that sent fans into a frenzy.
🌟 The iconic @TheHungerGames crossover we didn't know we needed! Rachel Zegler & Jennifer Lawrence light up #ParisFashionWeek. 📸 Rachel playfully calls JLaw "actual mother" after a shared laugh at the Dior show. 🔥 JLaw in chic white & black, Rachel dazzling in butterfly… https://t.co/FtwbbIjSF3

— Your Next Shoes (@yournextshoes) October 2, 2023
Known for her wit, the No Hard Feelings actress couldn't resist eliciting laughter from Rachel, infusing the atmosphere with light-heartedness and joy.
In her caption, Rachel affectionately described Jennifer as "a mother to many" and "a mother to me," acknowledging the deep connection they shared beyond the silver screen.
What Is The Hunger Games: The Ballad of Songbirds & Snakes About?
The Hunger Games: The Ballad of Songbirds & Snakes promises a unique twist on the beloved franchise, with Rachel Zegler taking on the role of Lucy Gray Baird, a character described as the "anti-Katniss."
Scheduled for a November 17 release, the film explores the rise of a teenage Coriolanus Snow, played by Donald Sutherland in the original series and portrayed by Tom Blyth in this new installment.
It depicts his ascent to the role of the authoritarian president and primary antagonist, offering fans a fresh take on the dystopian world of Panem.