When it premiered in 2018, Yellowstone took the television world by storm.
Viewers instantly fell in love with the Kevin Costner-led drama, and it was only a matter of time before network executives ordered a spin-off series. American actress Kelsey Asbille Chow plays Monica Dutton in the Yellowstone TV series.
It's an old tactic – one that's been particularly effective in sitcoms such as Cheers and Frasier, as well as dramas like Breaking Bad and Better Call Saul, and more recently, Game of Thrones and House of the Dragon.
Tim McGraw and Isabel May star as father and daughter in the Western drama series 1883 (Credit: Paramount Global)
But Yellowstone's spin-off, 1883, is a bit different. The prequel to its predecessor is only slated for one season. However, as David Glasser, one of the show's executive producers, shared with Insider, the story will continue with more prequels, including 1923, which premiered in late 2022.
Though this news excited fans, it left others wondering about the fate of one of their favorite characters, Elsa Dutton, played by Isabel May. Here's everything you need to know about May's departure from the show, as well as May herself, and 1923.
Who is Isabel May?
Isabel May is an American actress who hails from Santa Monica, California. The young star began her career in earnest in the ninth grade when her parents let her pursue the craft more seriously.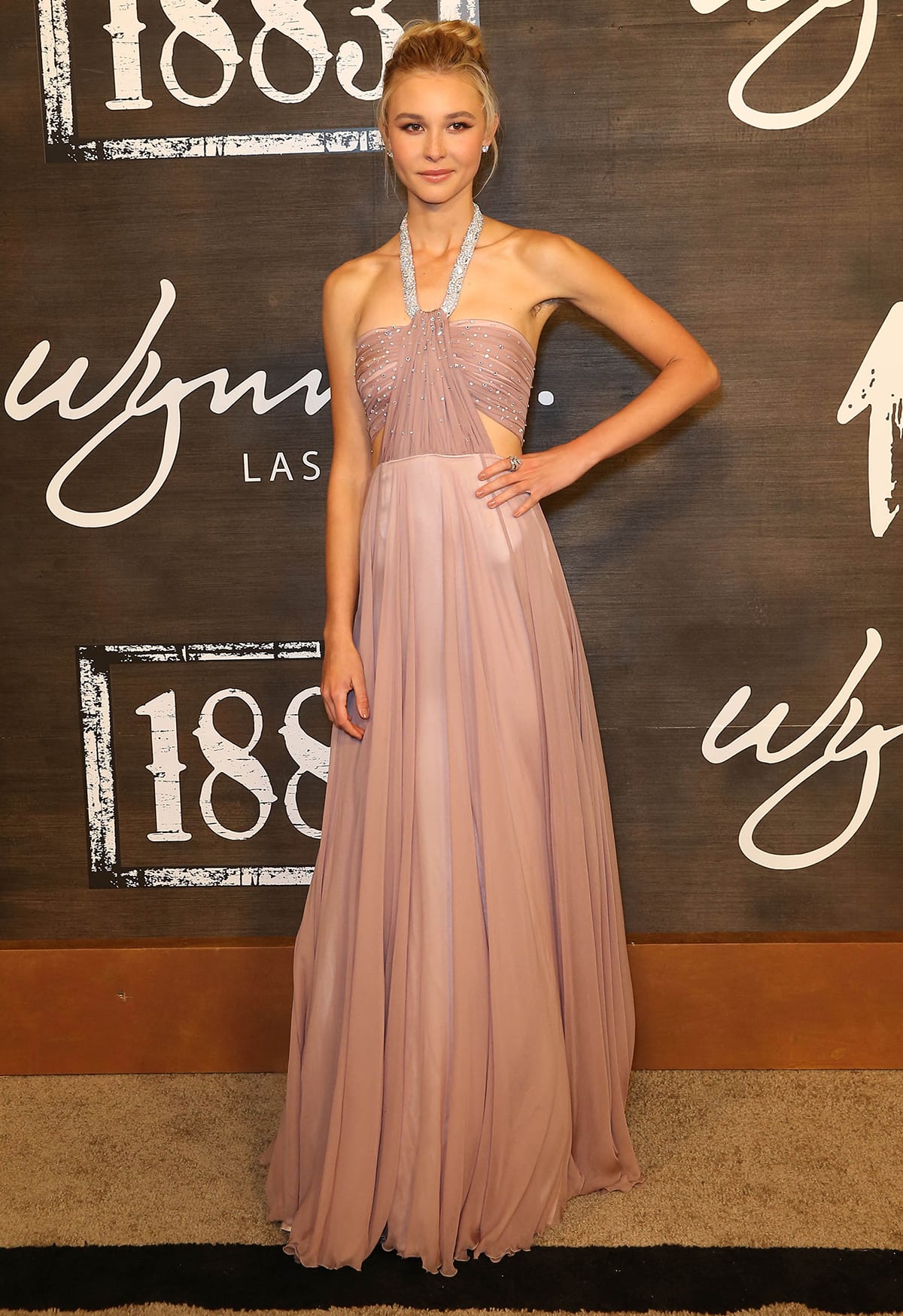 Isabel May has starred in famous productions, including CBS' series Young Sheldon and thriller film Run Hide Fight (Credit: startraksphoto)
"I did audition for three years, but I was devoted to school as were my parents. We kind of made a pact, that I had to wait until ninth grade to really commit to something like this," she said to Terroir Magazine. "After ninth grade, I started online schooling, and six months later I got Alexa & Katie. So that was very convenient, I was really happy about that, as were my parents," she added.
May, who stands at 5'9", has other impressive roles on her resume, too. Though she's only 22 and was 21 when she filmed 1883, May's already been in famous productions like the aforementioned prequel sitcom Young Sheldon, in which she played Veronica Duncan, Georgie Cooper's love interest.
Isabel May as Elsa Dutton in 1883
The story of Isabel May getting cast in 1883 is just as unbelievable as her performance in the show.
As Jennifer Lawrence's lookalike shared with THR, May auditioned for another Taylor Sheridan-run show, Mayor of Kingstown. May says she was wrong for the part, but she and Sheridan had a conversation that devolved into her part in the Yellowstone spin-off.
"I don't know what happened or what it was about myself or our interaction that sparked something in him, but Elsa came to life after our meeting.
He called two weeks later and said, 'You're Elsa Dutton. I want you to be Elsa Dutton. Please be Elsa Dutton.' And I said, 'Well, of course, I'll be Elsa Dutton because you're Taylor Sheridan and it's my dream to work with you,'" May said.
Isabel May stars as James and Margaret Dutton's (Tim McGraw and Faith Hill) resourceful 17-year-old daughter, Elsa Dutton, in 1883 (Credit: Paramount Global)
Though May quickly became a fan favorite in 1883, viewers of the show worried she wouldn't be returning for 1923, at least not in the same capacity she was in the show before.
May's character Elsa's time in 1883 ends with a heartbreaking death after being shot with an arrow. As a result, she contracts a fatal infection.
Major television buffs know that May had to leave the series, as upsetting as it was to watch, in order for the story to make sense. The Dutton ranch is established in Elsa's honor, so had she not died, the connection to Yellowstone wouldn't have fit.
Isabel May had to leave series 1883 following her character Elsa Dutton's death, which was vital for the storyline (Credit: Paramount Global)
May knew she wouldn't be a major part of the show before production on the show began, so she was at peace with the decision.
"It was the first thing that Taylor told me, so I already knew the trajectory of her story before I read anything. It was the first sentence he uttered when he called me, so I've had quite some time to just be comfortable with that," she told TV Guide.
May also sees the creative value in her character's fate. "And I think it's a beautiful, very real story. It's tragic, of course, but it's reflective of, unfortunately, most people's journeys at that time," she said.
What's Next for Isabel May?
Elsa Dutton narrated 1883, so although her character couldn't have an active part in the storyline, some fans theorized Isabel May would join 1923 as the narrator for that series, too – and they were (sort of) right.
Anyone who watched the 1923 premiere heard May's voice as the narrator. But per her IMDb page, May is only credited for one episode, likely meaning her time as Elsa Dutton has officially come to an end.
Isabel May narrated an episode in the series 1923 and is set to star in two movies, Wonder Twins and The Smack (Credit: John Eddy / INSTARimages)
Though her involvement in the second prequel is limited, her performance in the series has made a major positive impact on her career, and she's already been cast in two upcoming projects, Wonder Twins and The Smack, both of which are in pre-production.
More on Yellowstone and 1923
Yellowstone, 1883, and 1923 are all the brainchildren of Taylor Sheridan, and as mentioned, David Glasser opened up to Insider about the world and family Sheridan created.
"If you're a fan of the Dutton family and the saga bringing you to the current day, what will come is that continued saga," he said. It's possible there will be even more Yellowstone prequels set at different time periods.
As was stated, 1923, starring Harrison Ford and Helen Mirren, has already premiered, and it's supposedly going to take viewers into the following decade as it shows issues that arise from Prohibition and the Great Depression. We'll be waiting patiently to see what era of the Dutton family ranch Sheridan takes us to next.
1923, starring Harrison Ford and Helen Mirren, is a prequel to the Paramount Network series Yellowstone and serves as a sequel to the series 1883 (Credit: Paramount Global)
While we wait for that announcement, we'll continue watching Yellowstone, even more interested to see how the story ends, which, as Glasser noted, Sheridan has already decided.
"He knows every character and backstory. He told me the Yellowstone ending the day we started. When that happens, I don't know. But he knows where every character ends up," Glasser said. Whatever happens, we know it's going to be an unforgettable ending to an epic story.
Yellowstone, starring Kevin Costner and Luke Grimes, follows the conflicts along the shared borders of the Yellowstone Ranch, a large cattle ranch, the Broken Rock Indian reservation, and land developers (Credit: Paramount Global)