When Game of Thrones premiered in April 2011, it boasted a blended ensemble cast of established stars and rookies in the industry.
The series premiere of the fantasy drama television series Game of Thrones, entitled "Winter Is Coming," aired on April 17, 2011 (Credit: HBO)
The cast included experienced Hollywood and European actors such as Lena Headey, Sean Bean, Mark Addy, Peter Dinklage, and Charles Dance.
Some of the young relative newcomers with very small resumes up until that time included Kit Harington, Sophie Turner, and Emilia Clarke.
Of course, by the time the series concluded in May 2019, many of the show's younger stars ended up becoming household names due to the massive popularity the series enjoyed during its time on air.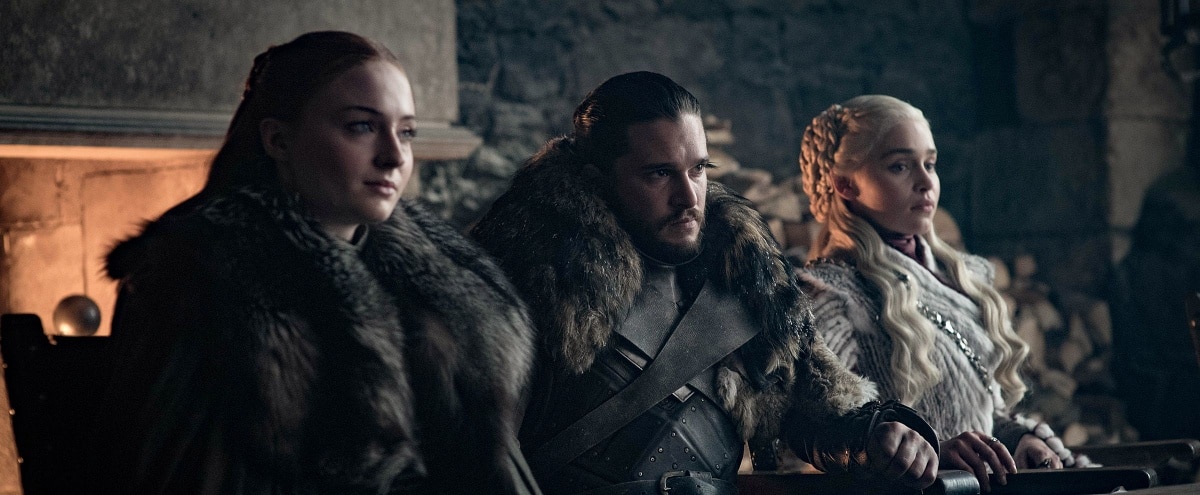 Sophie Turner as Sansa Stark, Kit Harington as Jon Snow, and Emilia Clarke as Daenerys Targaryen in the fantasy drama television series Game of Thrones (Credit: HBO)
But what about the talented actors with smaller parts to play in the fantasy epic series?
While many of us know English actor Joseph Quinn due to his role as Eddie Munson in Stranger Things, it may be a surprise that one of his earliest roles was actually in Game of Thrones.
Joseph Quinn as Eddie Munson in the fourth season of Stranger Things (Credit: Netflix)
In the seventh season of the show (filmed when Quinn was 23 years old, in 2016), Joseph Quinn played the small role of Koner, a watchman stationed at Winterfell.
When Arya Stark returns to Winterfell after being away for years, Koner scoffs at the lady of Winterfell, believing her to be an imposter.
Although only showing up in one scene of the show, Quinn went on to enjoy a successful career on television, culminating in landing an important role in Stranger Things.
At 23 years old, Joseph Quinn had a small part in one episode from the seventh season of Game of Thrones (Credit: YouTube)
Let's see how Joseph Quinn managed to turn a small part in Game of Thrones into a successful television career.
How Did Joseph Quinn Become an Actor?
Joseph Quinn was born in London, England, in 1993 and was raised in the city while attending private school.
In pursuing his acting career, he ended up enrolling in the London Academy of Music and Dramatic Art (or LAMDA, for short), where he graduated in 2015.
Quinn didn't have to wait long after he graduated to score one of his first roles, as Arthur Havisham in BBC One's television series Dickensian, which combines characters from across Charles Dickens' bibliography in a fictional tale, premiering in December 2015.
Promotional shot of Joseph Quinn as Arthur Havisham in the British drama television series Dickensian (Credit: BBC One)
Arthur Havisham was a main character of the show, although it would only last for one season and was canceled in 2016.
Shortly afterward, Quinn played the role of Koner in Game of Thrones.
Which Roles Did Joseph Quinn Have Before Stranger Things?
After appearing in Game of Thrones, Joseph Quinn acted in theater productions before landing the role of Enjolras, the popular leader of the revolutionary group Friends of the ABC, in BBC One's adaptation of Les Misérables in 2018.
Joseph Quinn as part of the ensemble cast of the 2018 British television series adaptation of Les Misérables (Credit: BBC One)
Following this, Quinn landed his first film role as Grunauer in the Nazi-horror film Overlord (2019), directed by Julius Avery and produced by J.J. Abrams. The film was only a modest financial success, grossing $41 million against a budget of $38 million.
After Overlord, Quinn continued with film roles, this time starring alongside Molly Windsor in a British film called Make Up (2019), directed by Claire Oakley. Despite having a limited release, Make Up was critically acclaimed by English critics.
Joseph Quinn as Paul Petrovich in the 2019 British-American miniseries Catherine the Great (Credit: Sky Atlantic / HBO)
Quinn then returned to television work, appearing as Tsarevich Pavel (Prince Paul I) in Catherine the Great (2019), a historical drama produced by Sky Atlantic.
He followed this role with an appearance in the television series Strike (2020) and the British historical drama film Mangrove (2020), both produced by BBC One.
After these roles, Quinn auditioned for the role of Eddie Munson in the fourth season of Stranger Things, Netflix's hit science fiction television series.
Joseph Quinn as Eddie Munson in the fourth season of Stranger Things (Credit: Netflix)
How Was Joseph Quinn Cast as Eddie Munson?
At this point in Joseph Quinn's career, he had limited exposure to American audiences, with his small appearance in Game of Thrones being the only role most Americans would have seen him in.
In auditioning for the role of Eddie Munson, Quinn described it as "pretty straightforward" in an interview with Vulture.
Quinn relayed that he had sent over an audition tape to the Duffer Brothers (the creative geniuses behind Stranger Things), then sent a new one in after the pair requested another tape. The Duffer Brothers then gave him the role after reviewing the second tape.
Joseph Quinn attending the premiere of Catherine the Great in London, England on September 25, 2019 (Credit: Keith Mayhew / IPA / INSTARimages)
"I had never worked in America before, and my friends and colleagues would talk about these grueling gladiatorial auditions…" Quinn shared with Vulture about the process. "I sent them off and they gave me the part. I don't understand why but I'm very glad they did."
Despite the seamless process of landing the role, Quinn revealed he initially felt "increasingly paranoid" while filming the series, as he believed "that they [the Duffer Brothers] were going to think that they'd made a mistake [in casting him]."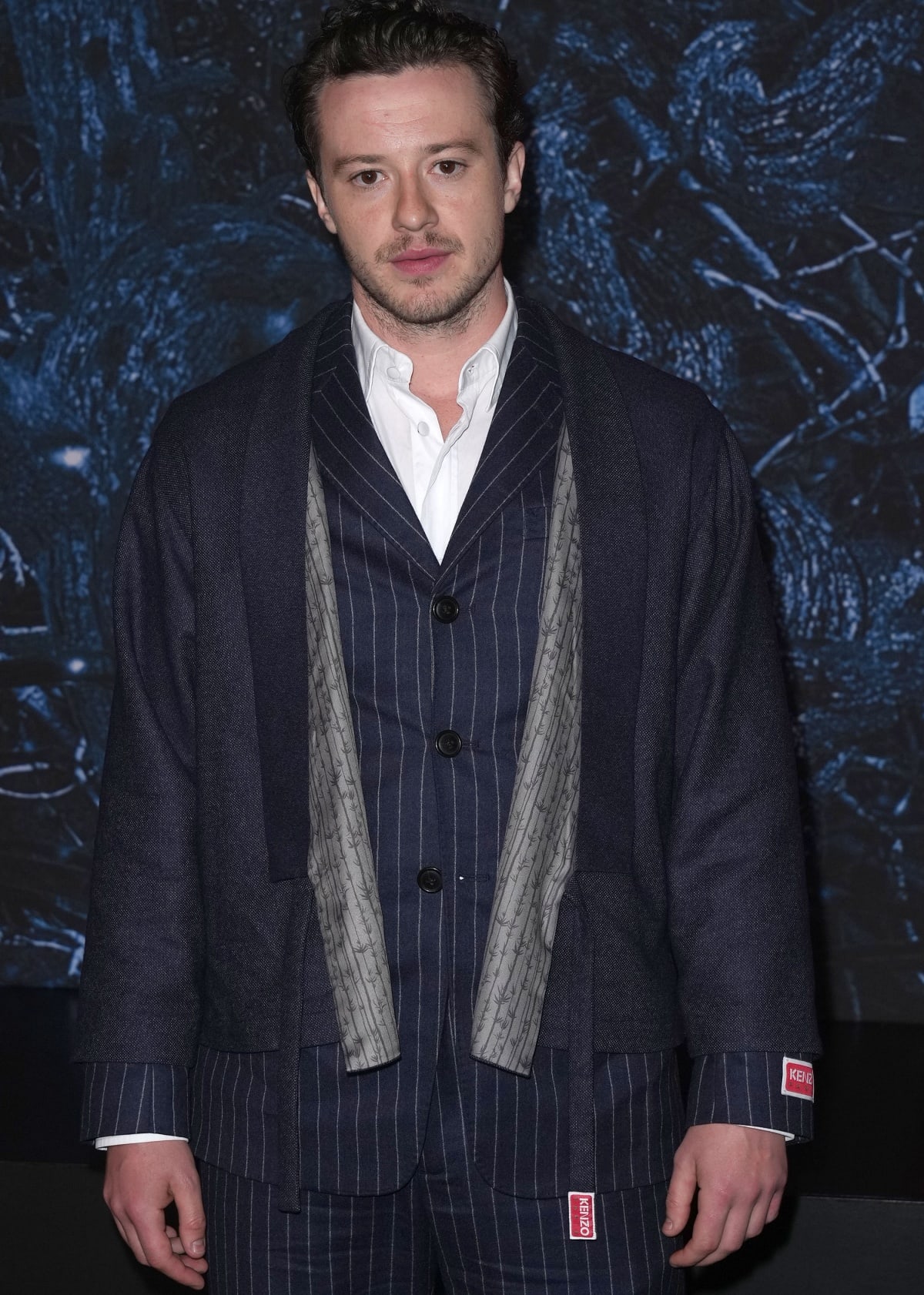 Joseph Quinn suited up at the world premiere of Stranger Things: Season 4 in Brooklyn, New York on May 14, 2022 (Credit: JOHN NACION / Startraksphoto)
Well, we now know that casting Quinn in the role of Eddie Munson was far from a mistake. Despite being a late addition to the wildly popular series, Munson has quickly become a fan favorite character, receiving as much fanfare as some of the original cast of the show.
Joseph Quinn plays the role with a ton of charm, becoming the lovable leader of the Hellfire Club, Hawkins High School's very own Dungeons and Dragons club.
Eddie Munson has quickly become a fan-favorite character from the fourth season of Stranger Things (Credit: Netflix)
In preparing for the role, Quinn reportedly listened to Metallica extensively, and he even spoke in an American accent when he wasn't being filmed.
While speaking in an American accent, Quinn stated that he felt "like a sociopath" and said that he felt "like an idiot, but you kind of have to do it. There's no way around it."
Despite [SPOILER ALERT] his character's demise at the end of Season 4, Eddie Munson will still be remembered as one of the best characters of the show, long after the series concludes with its fifth and final season, which likely won't air until 2025.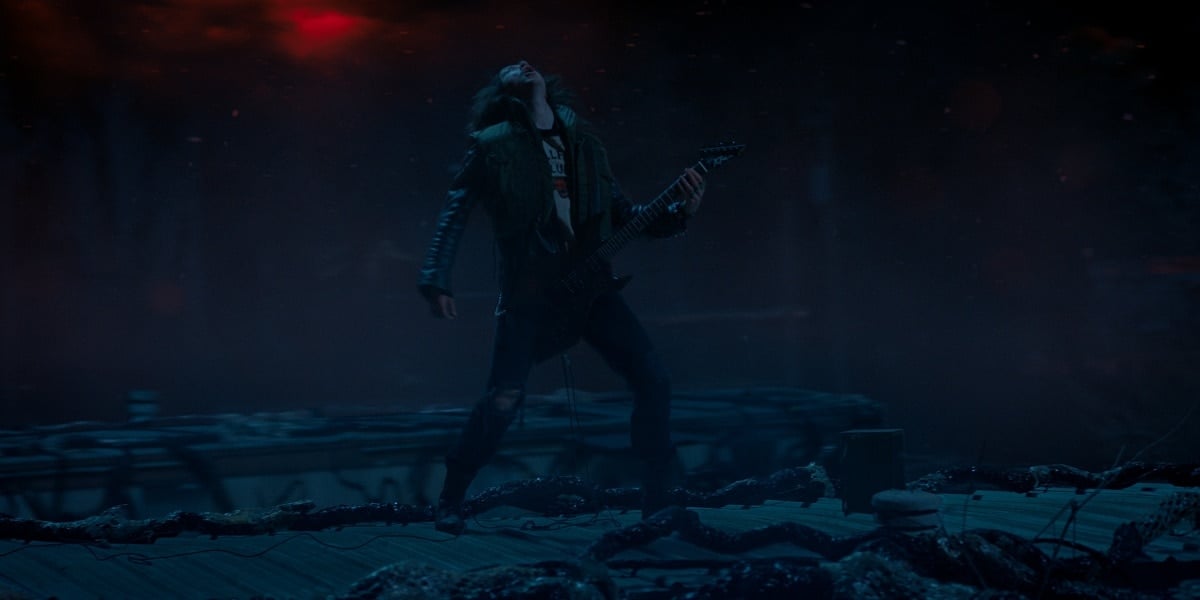 Joseph Quinn as Eddie Munson had an epic guitar-shredding scene to Metallica's "Master of Puppets" in the final episode of the fourth season of Stranger Things (Credit: Netflix)
It's a shame that he probably won't appear in the last season of the show, seeing as he's managed to skyrocket into one of the best characters to come out of Stranger Things.