Put your Uggs away. It's time for the moon boots to reign supreme. These celestial-inspired boots have skyrocketed back into the spotlight as one of the most prominent Y2K trends, cementing their position as the must-have boots for 2023.
The resurgence of moon boots has not gone unnoticed by the fashion-savvy crowd, including notable celebrities like Miley Cyrus, Dua Lipa, and Paris Hilton. These style icons have been confidently striding out in these cozy yet chic shoes, solidifying their status as a fashion statement that demands attention.
View this post on Instagram

While moon boots may look like they belong on the slopes, they're a versatile style that deserves to be your go-to during winter.
You'll find moon boots in various sizes and fabrics, with many incorporating the latest in footwear innovation. These cold-weather boots feature everything from fleece lining to technology from astronaut suits.
Moon boots gained popularity after the Apollo 11 landing in 1969 and experienced a resurgence as a captivating retro-futuristic trend in the early 2000s (Credit: Tinxi / Shutterstock)
We're deep diving into the world of moon boots, asking whether these Y2K boots are still popular in 2023, and answering the most common questions about moon boots.
The Best Moon Boots to Wear in 2023
Moon boots are the comfy, chunky shoe that will make you feel like you're walking on air. While these shoes will have you ready for skiing down the slopes, they're just as versatile for a city trip as a winter vacation.
The most popular moon boots come from the Italian brand 'Moon Boot,' which originally launched the shoes in the early 1970s. While the brand sits at a more attainable price point than most designer brands, other labels sell shoes with a similar silhouette and look.
These are the best moon boots to add to your shopping list in 2023.
1. Moon Boot Icon Rainbow Printed Faux Leather Snow Boots, $195 at Net-a-Porter
Bring a rainbow wherever you go with these iconic Moon Boot Icon shoes. They're the brand's signature snow boot with a playful rainbow motif and water-repellent shell for ultimate versatility.
The rubber sole and faux leather are designed to keep you moving through snowy conditions.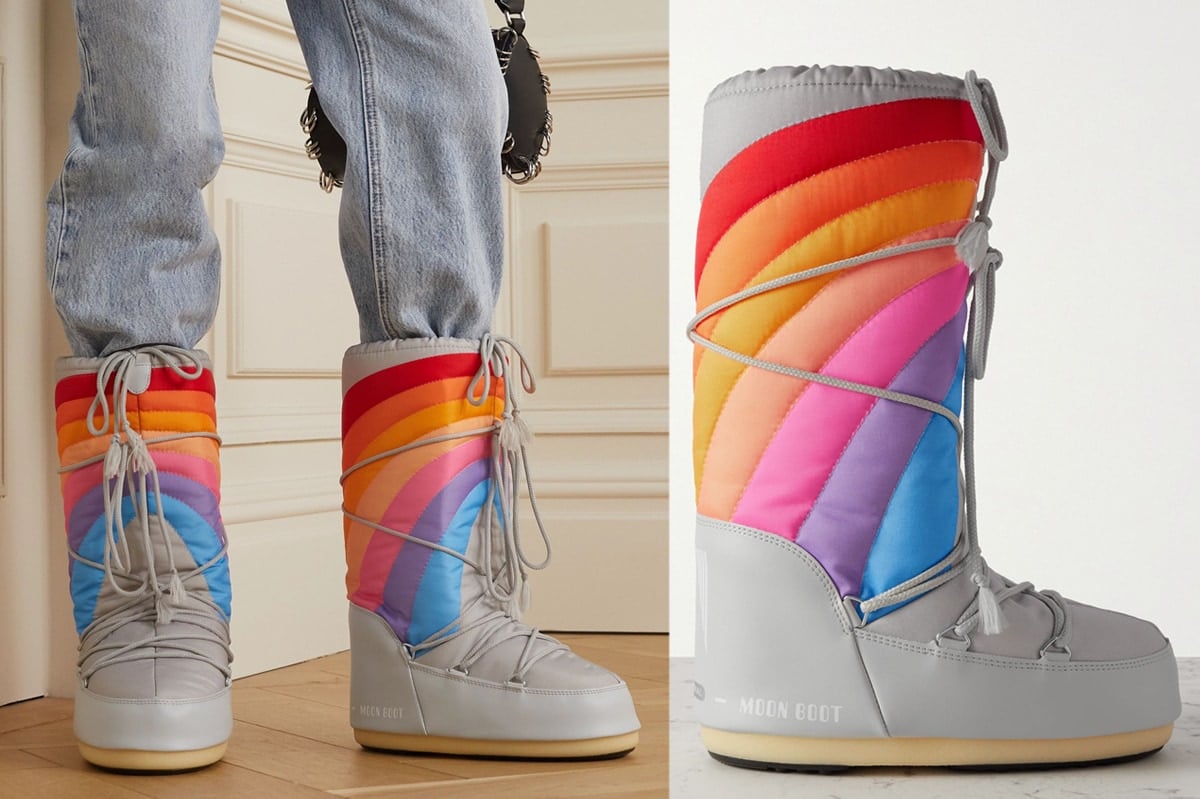 The Moon Boot Icon Rainbow showcases the brand's iconic silhouette adorned with a vibrant rainbow motif
2. Moon Boot Icon Logo-Print Nylon Skin Boots, $185 at Farfetch
The most recognizable shoes from the brand are their Icon Logo-Print ski boots. These nylon boots are easy to care for, making them ideal for avid skiers or those in snowy climates.
We love these moon boots for their contemporary look and logomania aesthetic.
Crafted from a durable and padded nylon shell, these Moon boots provide an exceptionally snug sensation while ensuring long-lasting wear
3. See by Chloe Charlee Shearling and Leather Boots, $276 (from $395) at Matches Fashion
Choose a more traditional style of moon boots with this alternative style from See by Chloe. They feature natural beige curly shearling for extra comfort, whether running errands in the city or jumping on the slopes at an apres-ski resort.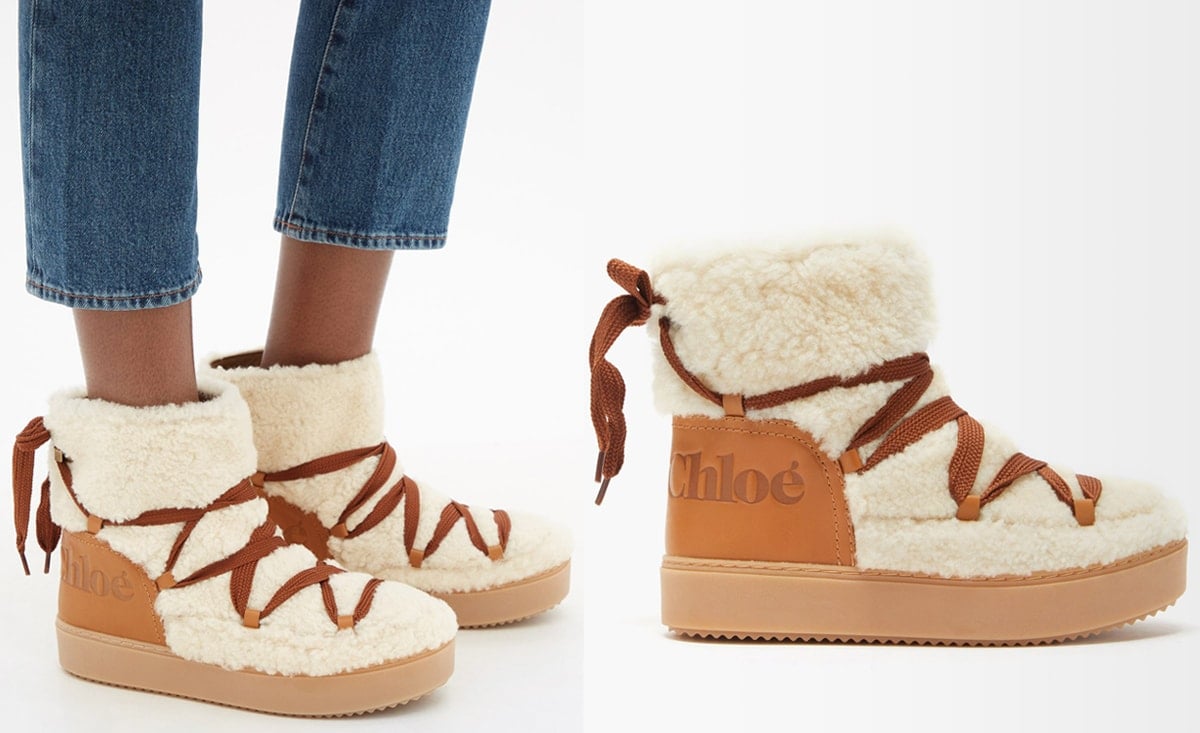 These chic moon boots are crafted from natural beige curly shearling and feature a padded collar, brown lace-up straps, and tread flatform rubber soles
4. SPYDER Camden Faux Fur Trim Waterproof Insulated Boots, $165 at Nordstrom
Keep the moon boot aesthetic but add extra functionality with this waterproof style by SPYDER. They're designed with outdoor adventures in mind, featuring a waterproof membrane, PrimaLoft insulation, and plush faux-fur lining.
Available in several colors, the SPYDER Camden moon boots are designed with plush faux-fur lining, PrimaLoft insulation, and a waterproof membrane
5. Moon Boot x Stranger Things Icon Vines Winter Boots, $250 at Nordstrom
Are you a fan of stranger things or military prints? Check out these boots from the Moon Boot x Stranger Things collaboration. They feature the show's logo on the back and give the brand's classic boots an army-inspired update.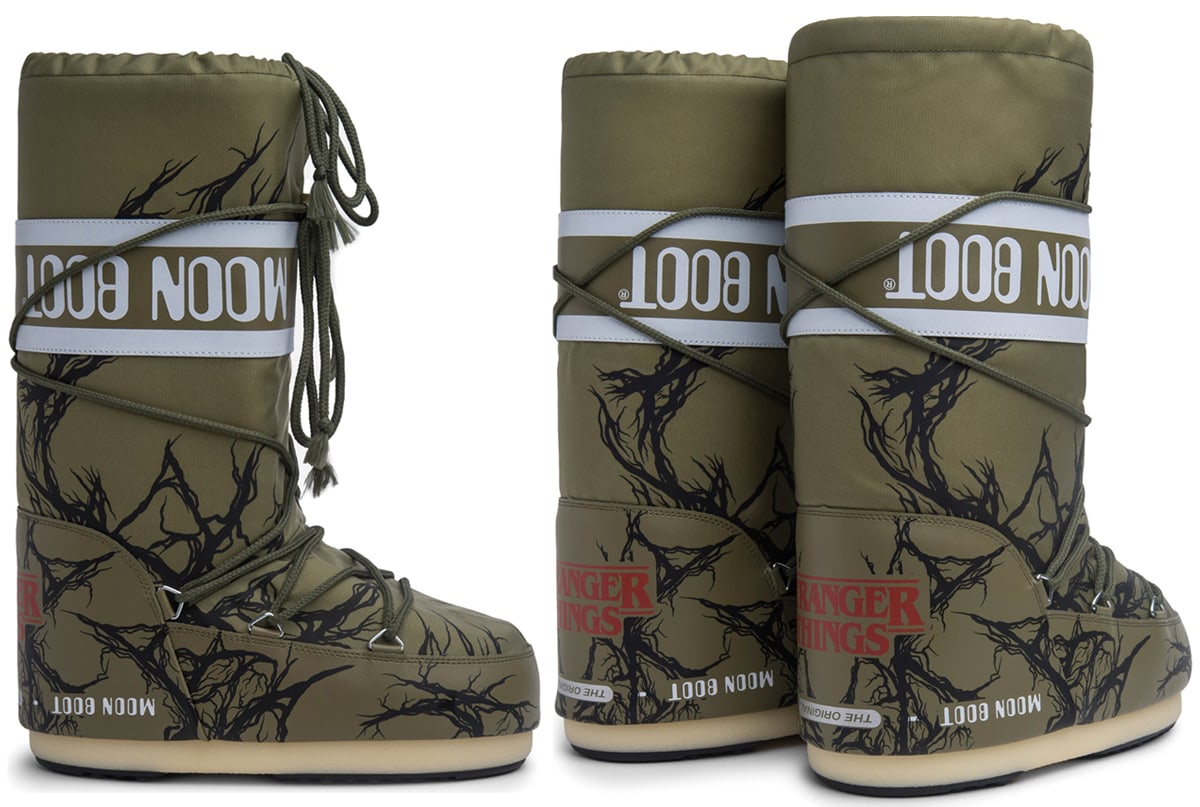 Moon Boot collaborates with Netflix's Stranger Things for a winter boot set in the Upside Down, featuring dark vines and a reversed Moon Boot logo
6. Bogner La Plagne Logo-print Rubber-Trimmed Shell Snow Boots, $460 at Net-a-Porter
Bogner is one of the nearest alternatives to Moon Boot but sits at a slightly higher price point. These lightweight boots have gripped soles designed to keep you going through any weather.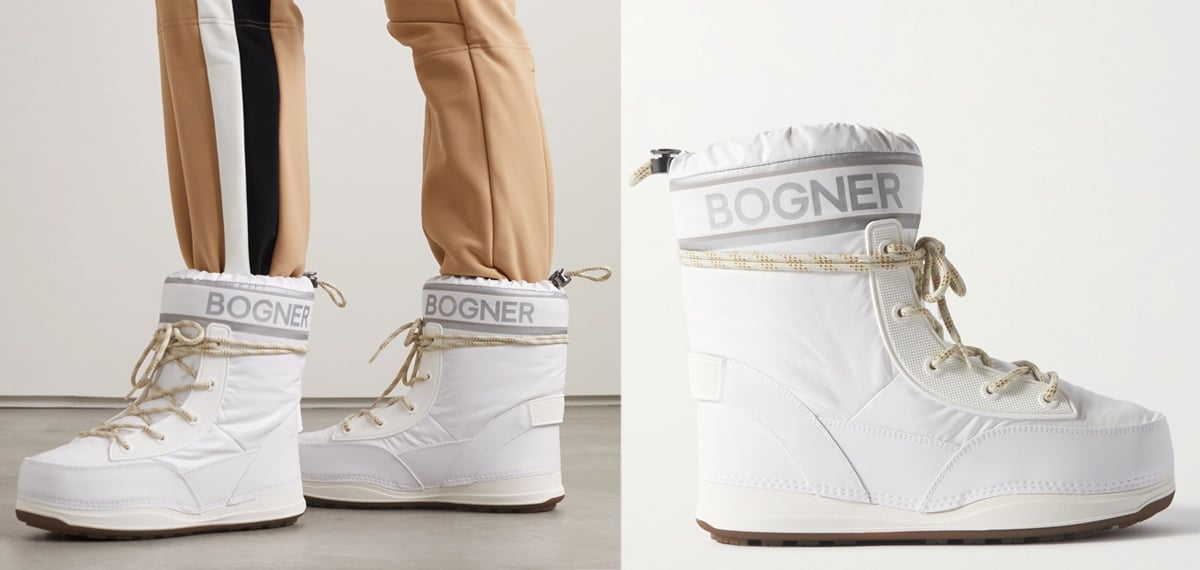 Bogner's La Plagne boots are made from lightweight, padded shell with rubber trims and gripped soles for traction
FAQs about Moon Boots
Moon boots can be daunting if you're not used to wearing snow boots. If you're a fan of Ugg boots, you'll feel right at home with this Y2K style. We're answering the most common questions about moon boots to help you decide if they're right for you.
How to style moon boots
Moon boots work with almost everything, whether you're wearing miniskirts or low-rise jeans. Your styling options largely depend on whether you're wearing knee-high or ankle moon boots.
Taller moon boots lean more toward skirts and dresses, just like traditional knee-high boots. Shorter moon boots are perfect options for athleisure and skiwear.
1. Lulus Fall Festivities Cable Stitch Turtleneck Sweater Dress, $78 at Nordstrom; 2. Capezio Studio Basics Tight, $13.30 at Zappos; 3. Moon Boot Icon Snow Boot, $185 at Farfetch; 4. Moncler Grenoble Striped Knit-Sleeve Quilted Down Jacket, $930 at Matches Fashion; 5. Hue Ultra Leggings, $40 at Zappos; 6. Moon Boot Icon Ankle Boots, $275 at Farfetch
How to clean moon boots
Moon boots are designed to see you through some of the toughest elements, including snow. You'll want to choose a style that is easy to clean to maintain the lifespan of the shoes.
Most moon boots can be cleaned using a soft and dry brush to remove excess dirt before taking a damp cloth with a mild detergent to remove any marks. Give the soles a little TLC with a brush and water before allowing the shoes to air dry.
Are moon boots heavy?
While ski boots tend to be heavy, moon boots are relatively lightweight. You'll want to consider the climate you live in when deciding which type of material to choose for your moon boots. Heavier moon boots will be more resilient against the elements, particularly rain and snow.
When should you wear moon boots?
Moon boots are winter and snow-day essentials. You'll want to invest in moon boots before going on a ski trip or to prep your closet for extreme weather.
Are moon boots still in fashion in 2023?
Moon boots first jumped into the fashion industry in the '70s, reappearing again in the early 2000s as part of the après ski aesthetic before celebrities like Paris Hilton brought it into mainstream streetwear.
Moon boots are back in fashion in 2023 as part of the Y2K trend, with brands like Loewe, Chanel, Jimmy Choo, and Moncler re-introducing the style to their main collections.
Jimmy Choo Yuzi Padded Snow Boots, $1,125 at Farfetch; Moncler 8 Moncler Palm Angels x Moon Boot Shedir Snow Boots, $895 at Mytheresa
Who is the target audience for moon boots?
The target audience for moon boots is fans of streetwear who want boots that will see them through autumn and winter.
Moon boots are an ideal investment for those who live in colder climates, especially where it snows. They're an ideal alternative to traditional ski boots if you want a more versatile style.
Why are moon boots called moon boots?
The name "moon boots" comes from the association of the shoes with astronauts.
Moon boots were first created in the '70s, inspired by the Apollo 11 moon landing in 1969. Giancarlo Zanatta is widely credited for bringing the silhouette into the fashion mainstream, taking inspiration from the technology and shape used for the anti-gravity boots worn by the mission's astronauts.