Fall is right around the corner – meaning it's time to dig around the back of your closet to find your favorite boots. While we think boots work in any season, they're a footwear staple that comes into its own during fall.
With the always-changing weather and unpredictability of the season, you want a shoe that can take you through a rainstorm, snow, and everything in between.
Fall boots are the perfect investment piece, but you don't have to break the bank to find the right pair for you. There are dozens of styles to choose from, meaning that you're guaranteed to find one that works for your shape and silhouette.
Rosalia, Chrissy Teigen, Irina Shayk, and Elle Fanning in chic fall boots (Credit: Mega / Avalon / WENN)
Riding boots are a signature piece in the 'preppy' fashion niche, while ankle boots are amongst the most versatile styles.
We're taking a look at the fall boots that will help you transition your closet from summer to fall, whether you plan on living in dresses or relaxing in athleisure.
You don't need to break the bank to get your hands on stylish fall boots, but they're one of the best investments that you can make in your closet. If there's one thing you should treat yourself to in fall, it's a new pair of boots.
With fashion trends focusing on more laidback and casual aesthetics, we predict that boots are going to be an even bigger staple this fall than ever before. They're the 'it' accessory that you need in your closet, acting as a transitional and versatile staple for any occasion or outfit.
This guide takes you through the most popular boot styles for fall, including the different types that you should be on the lookout for. Whatever your budget is, there are fall boots out there for you.
The 5 biggest boot trends for fall
While you'll always have your classic boot styles of combat and riding boots, there are new and exciting silhouettes that promise to dominate the niche this fall.
We're rounding up a few of the most popular fall boots that we're seeing everywhere, from the runway to our Instagram feed.
1. Tall slouchy boots
If there's one trend that is going to dominate the industry for fall, it's tall boots with an above-the-knee silhouette that help to elongate your figure.
These boots typically have a slouchy aesthetic to fit in with the more relaxed and laidback look that we've been seeing across the fashion industry in recent months.
Proenza Schouler 'Boyd' Leather Over-the-Knee Boots, $975
The Boyd by Proenza Schouler is made in Italy from supple black leather and feature a slouchy silhouette and comfortable rounded toes
These fall boots will remind you of your favorite leather trousers and act as the perfect accessory for jeans, miniskirts, and maxi dresses.
If you want to splurge, check out the Boyd boots by Proenza Schouler or the Aimee boots by Staud for a mid-tier option.
Black Staud 'Aimee' Boots, $495 at Shopbop
Staud's Aimee is made from slouchy faux leather and has trendy square toes and block heels
2. Sleek knee-high boots
It's clear that tall boots are here to leave their mark in fall. It should come as no surprise that sleek knee-high boots are another shoe trend that we've seen all over the runway.
They're a classic fall staple and the perfect investment piece, whether you live in the city or are chilling in the countryside. What makes this new style more unique is the sleek finish to the boots.
Schutz 'Maryana' Pointed Toe Boots, $238 at Nordstrom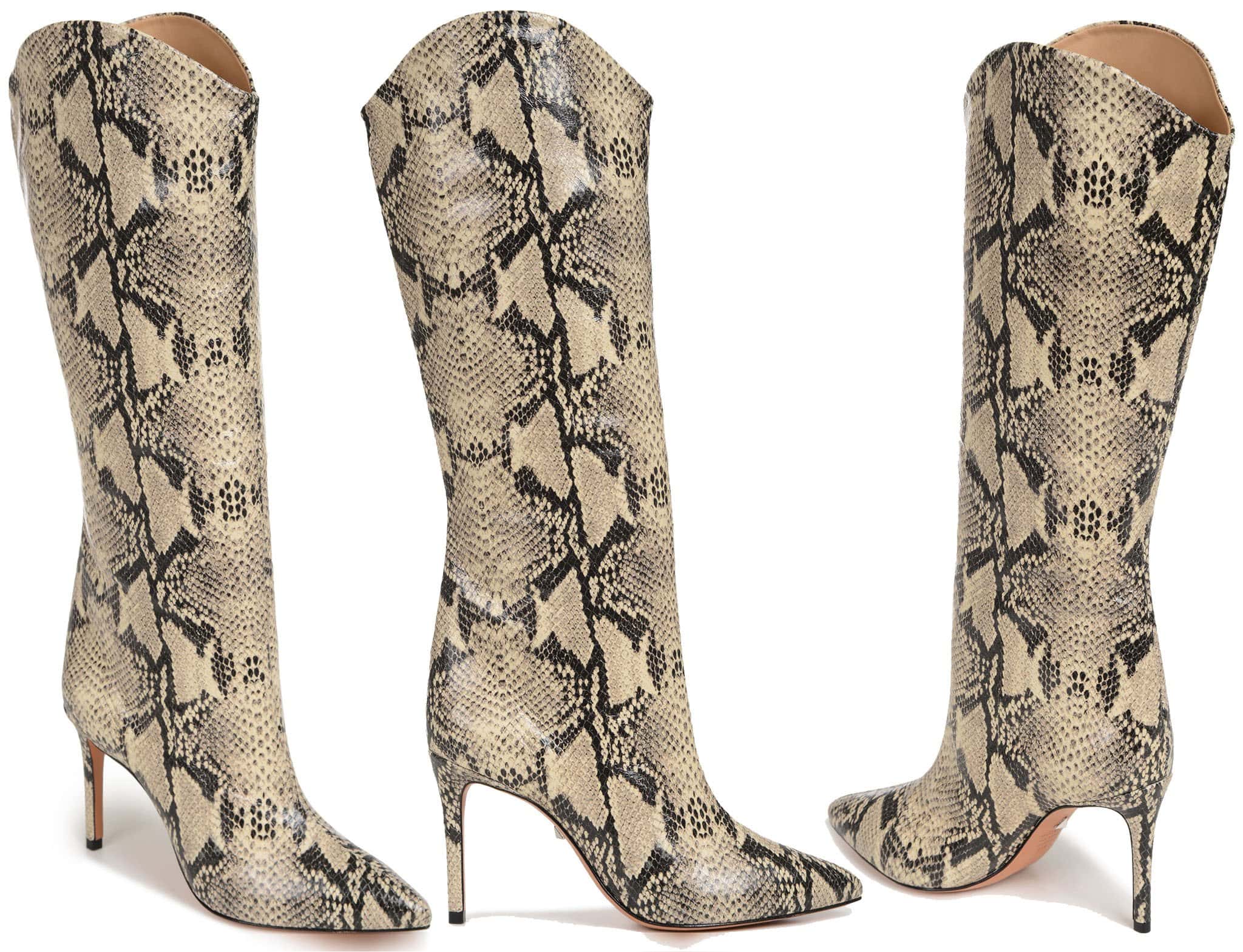 Snakeskin-embossed leather adds Southwestern style to a pointy-toe boot silhouette lifted by a slimmed-down heel
This sleekness and more distinctive shape elevate the shoes, making them evening-appropriate for extra versatility. You can easily style these boots for a night on the town or with a black skirt suit for an office-ready look.
You can jump on this trend and add texture to your fall boots with these reptile-textured Maryana tall boots by Schutz. They sit at an attainable luxury price tag, meaning you can invest in them without spending thousands of dollars on shoes.
3. Over-the-knee boots
Remember what we said about tall boots being the biggest trend for fall? This silhouette is different as the boots go over the knee, giving you a more formfitting shape that hugs the curves of your legs to accentuate your silhouette.
These boots are usually made using smooth leather and have a mid-thigh rise to give your boots a polished finish.
Bottega Veneta BV Lean Leather Over-the-Knee Boots, $1,950
Bottega Veneta's BV OTK boots feature an elongated Chelsea silhouette with overstated welts, slanted block heels, and the brand's signature square toes
One of the biggest names in footwear right now is Bottega Veneta. If you've been searching for the perfect pair of Bottega Veneta shoes to buy, it's your lucky day.
Their over-the-knee boots are amongst their most versatile and best-selling styles. If you want functionality without compromising on style, look no further than these versatile boots.
H&M Leather Over-the-Knee Boots, $399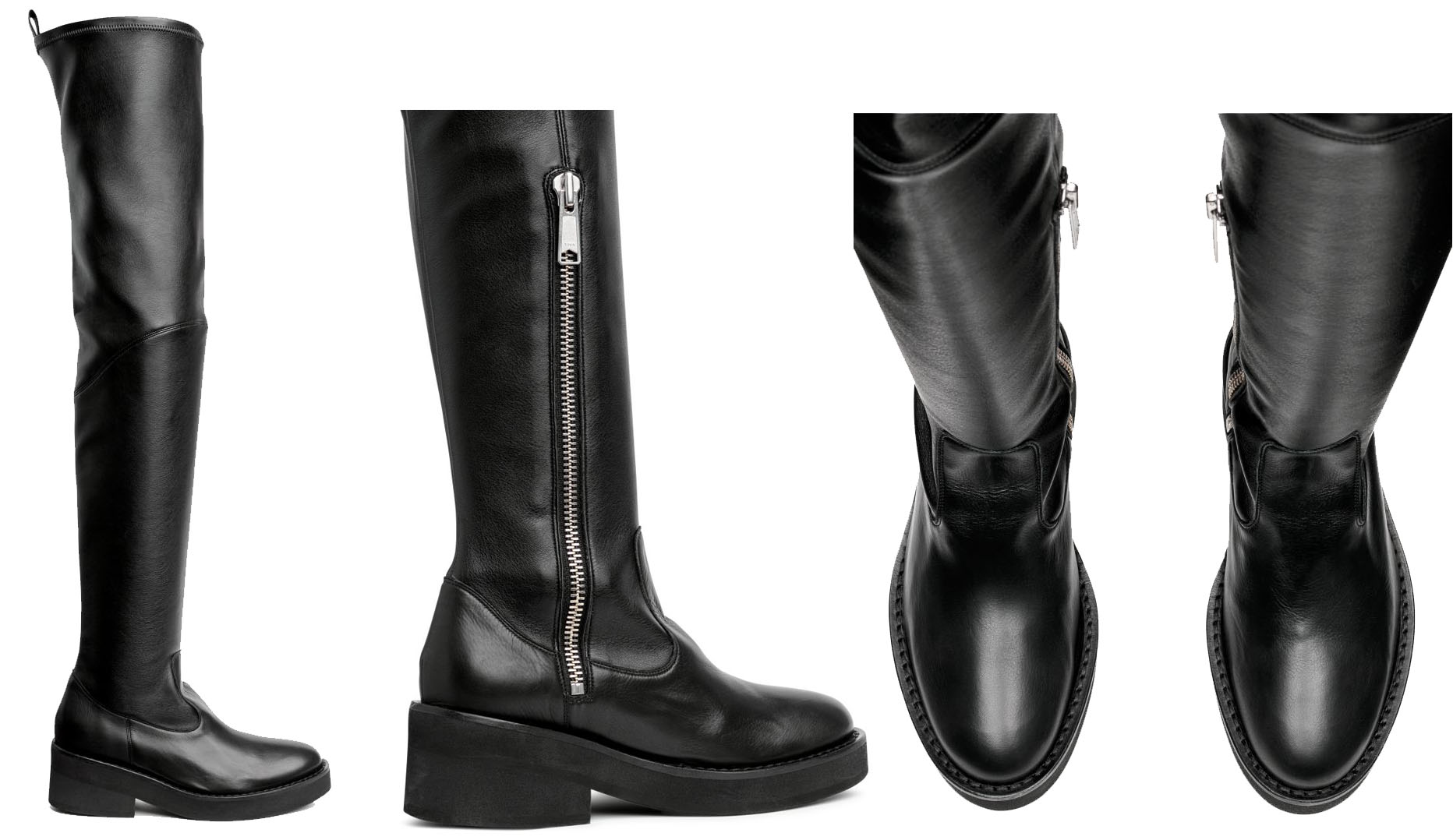 A more affordable pair of OTK boots featuring elastication at the top and chunky visible zip on one side
Don't worry. You don't need to break the bank by buying designer boots. If you don't want to go the whole nine yards with an over-the-knee look, you can get a similar shape and silhouette with these thigh-high boots by the Swedish multinational clothing retail company H&M.
4. Platform boots
It's not just the height in the shaft that we're looking at in fall. One of the biggest boot trends is platform shoes. We'd like to thank Mamma Mia for making us fall back in love with platform boots and heels.
If you're not afraid to go out of your comfort zone and try something new, this treat can give you a big reward by putting you ahead of the curve. Platform boots are a statement to the world that you're here and mean business.
Franco Sarto 'Janna' Over-the-Knee Boots, $169 at Nordstrom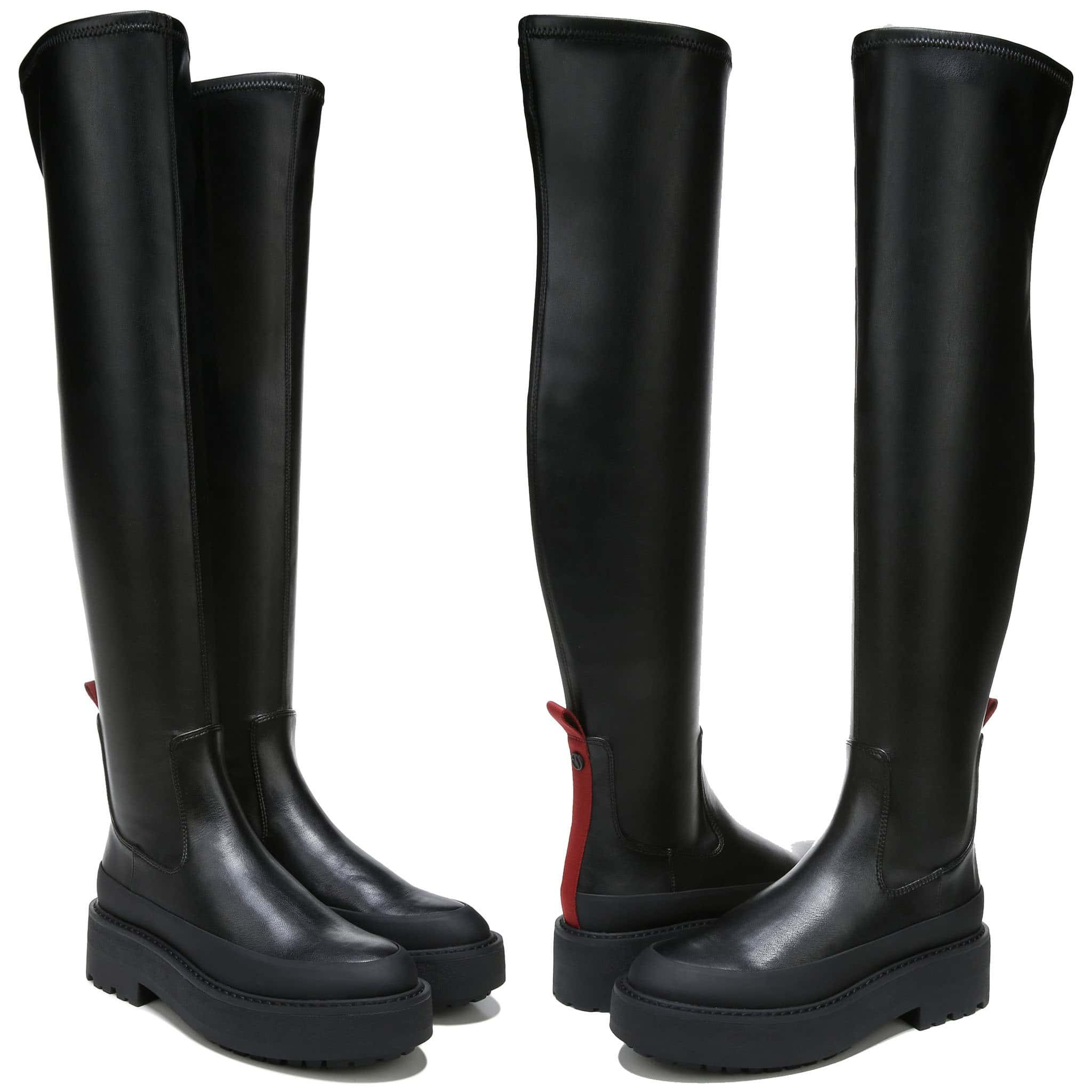 The Janna is pair of utility-inspired boots grounded by a chunky lugged platform with an extended welt
You want to consider the practicalities of platform boots and whether they suit your lifestyle before jumping off the deep end and buying your own.
The good thing about the platform boots trend is that you can add a platform sole to virtually every style of boots for an instant on-trend twist. If you want the over-the-knee aesthetic with a platform sole, check out the Janna boots by Franco Sarto.
Eytys 'Ortega' Chelsea Boots, $556
Eytys' Ortega boot features chunky platform soles that add a contemporary twist to the classic Chelsea silhouette
We also like the Eytys Ortega leather boots with chunky platforms that provide a contemporary twist to the classic Chelsea boot.
5. Moon Boots
Channel your inner astronaut or your favorite sci-fi movie with moon boots. While these boots may be a little more niche, as they're not the most functional style on this list, there's no denying that they're fashion-forward.
What we love about moon boots is that they captured the vision and feeling of the Fall/Winter runways.
One group of people who can take advantage of the moon boots are those who are always going skiing as the boots were designed to be worn with each designer's ski-wear collection.
The good news is that moon boots won't set you back the eye-watering ticket price that you'll see elsewhere during the holiday season.
Moon Boot Icon Snow Boots, $165 at Farfetch
Perfect for any winter activities, the Moon Boots Snow boots have a green paneled design with logo tape detailing and front lace-up fastening
The snow boots by Moon Boots are a classic silhouette and feature everything we love about this style of footwear.
If you prefer a sleeker and more contemporary look, check out the Ozone Park waterproof boot by The North Face. It jumps on the logo-mania trend while keeping the classic silhouette of the moon boots.
The North Face Ozone Park Winter Pull-On Boots, $149.95 at Zappos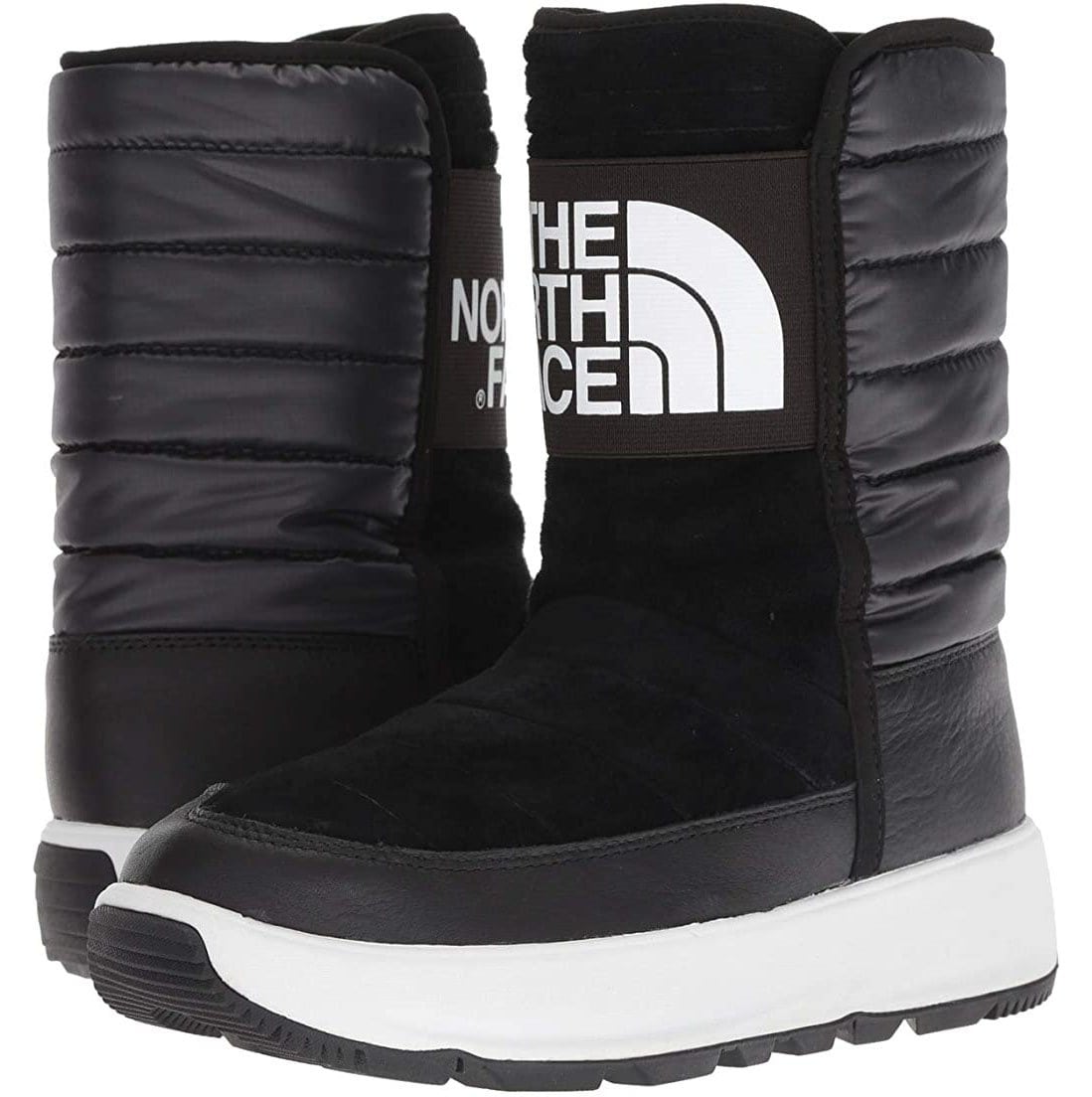 The Ozone Park is a sleeker pair of winter snow boots made from waterproof suede with a rich, textured waterproof leather overlay
The 5 fall boots you need in your closet
It's easy to get caught up in the trending boot styles and forget to check in with classic and timeless designs. Whatever your style aesthetic is, there is a classic style of boots out there waiting for you.
These boots are the style that you'll keep at the front of your closet, reaching for them once the temperatures start to drop.
Here are the classic and signature boots that everyone needs to look at buying in fall:
1. Chelsea boots
What we love about Chelsea boots is that they're easy to pull on due to their elastic goring. Even when the temperatures start to rise, Chelsea boots will see you through everything.
They're a versatile style of boot that works for both laid-back and dressed-up occasions. Chelsea boots are an invaluable closet staple and worth investing in if you think you'll wear them all season long.
Tory Burch Chelsea 70mm Lug Booties, $398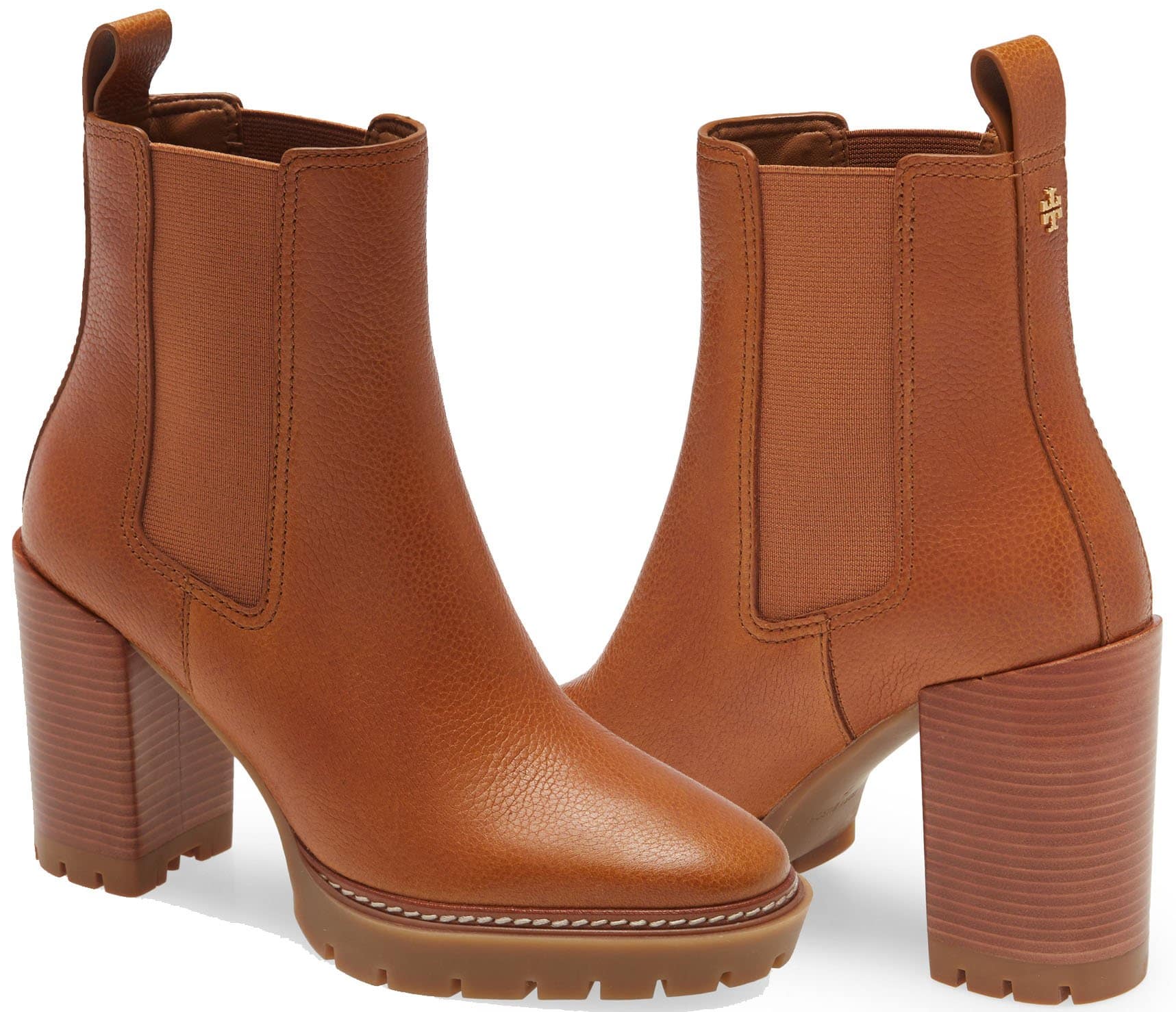 A classic Chelsea-style boot elevated on a block heel and treaded sole
Swap up your Chelsea boots with the almond finish of these Tory Burch ankle boots. The 70mmm heel gives you extra height without being uncomfortable to wear on the go.
The Rover Chelsea boot by Rag & Bone is another lust-worthy style of fall boots that everyone is talking about.
Rag & Bone 'Rover' Chelsea Boots, $395 at Nordstrom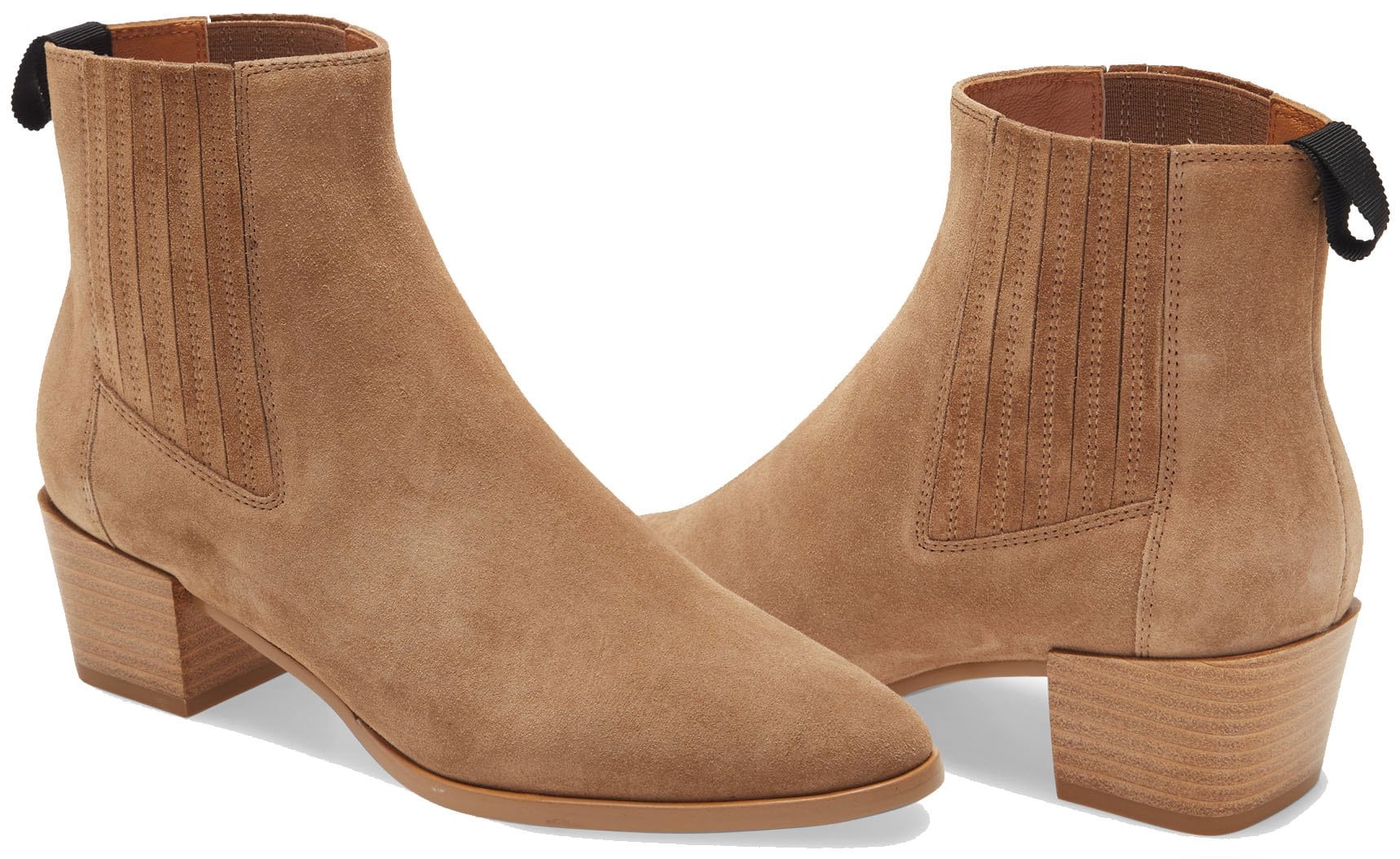 The Rover boots feature almond toes, covered elastic goring, and chunky stacked heels
2. Military boots
One style of boots that makes a comeback year after year in fall is the military or combat-inspired boots.
While these boots take their inspiration from the military, they're designed to see you through just about anything. If you're going on a hike or are dealing with snow, these military boots will see you through everything.
Don't be afraid to juxtapose the masculine silhouette of your friend's outfit with the sleek finish of the table when we're done at the restaurant. You can add a feminine twist to your military boots by styling them with a skirt or mini dress for a fun twist.
If regular military and combat boots are too much for you, try a style that features a laceless design. You get all the functionality of traditional Chelsea boots but with a more wearable silhouette for your lifestyle needs.
Sam Edelman 'Nina' Lace-Up Boots, $159.95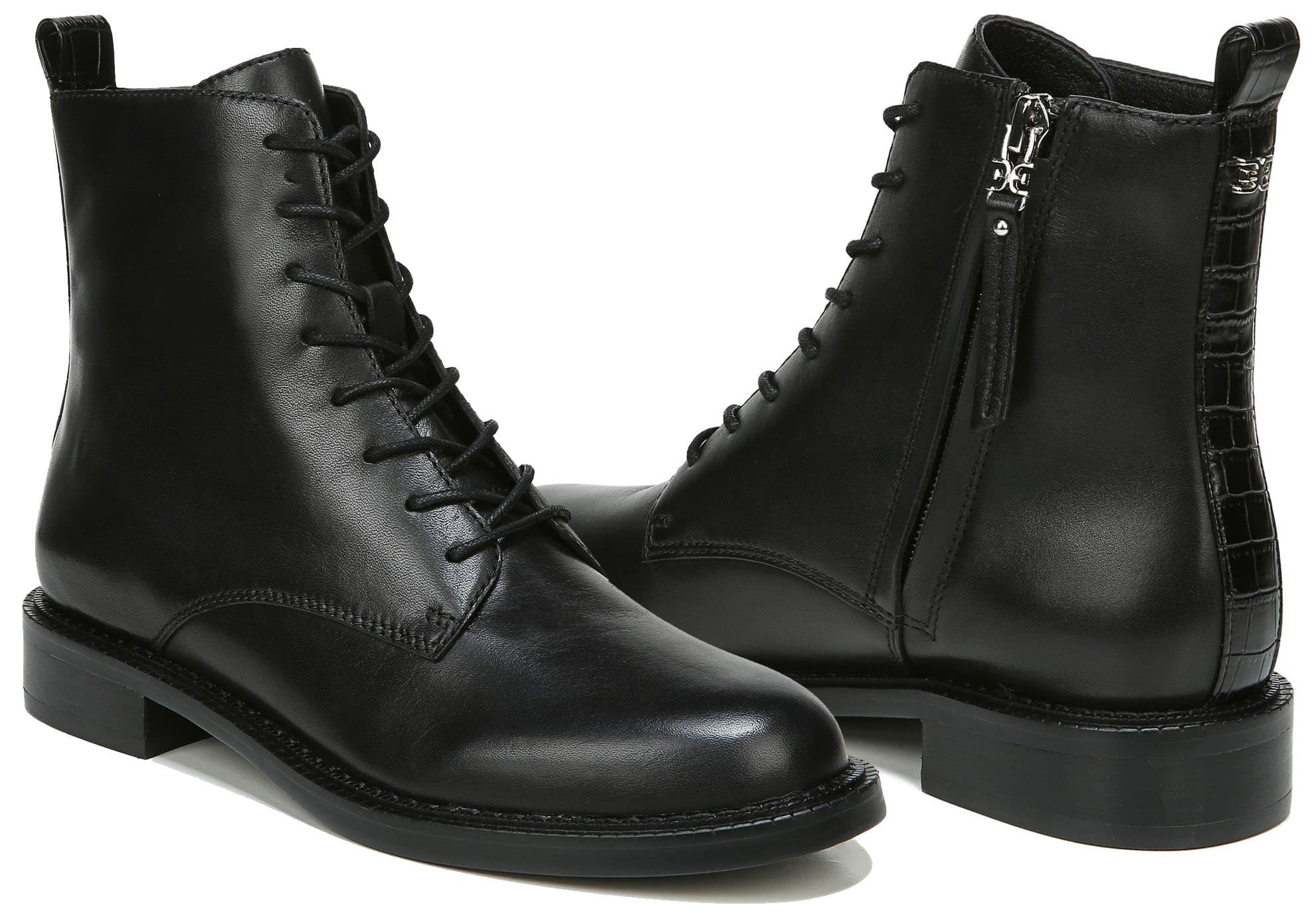 Sam Edelman's Nina boots are a chic pair of combat boots with a croc-effect design at the rear, a textured stitched welt, and a low stacked heel
A mid-tier option for these shoes is Sam Edelman's budget-friendly Nina lace-up boots. You can purchase these boots in either classic black or white, depending on your preference.
For the ultimate road trip, we recommend trying the women's Veronica lace-up combat boots by Frye. They're a budget-friendly option that is available in five color options for ultimate versatility and wearability.
Frye 'Veronica' Combat Boots, $277.95 at Zappos
The Veronica combat boots from Frye feature a pebbled full-grain leather upper with a burnished finish
3. Western-inspired boots
When in doubt, go Western. We know that this trend doesn't work for everyone, but it's one of the easiest to incorporate into your December calendar, especially if you plan on heading south with your family to visit your relatives.
What we love about western-inspired boots is that they try to pack in as much investment as possible. You'll usually find your western-inspired boots covered in intricate detailing, including embroidered leather and pointed silhouettes.
Marc Fisher 'Stefani' Western Boots
These ankle boots by Marc Fisher give you a western-inspired aesthetic without screaming it too loudly.
They're an understated style and perfect for someone who wants to keep their outfits as light and colorful as possible through the fall and autumn.
4. Knee-high boots
Our trend highlight section has already spotlighted this, but it's worth featuring them again.
Knee-high boots are one of our absolute favorites, and they seem to be your most popular style as well! These shoes are flying off the shelves, especially those made with crystals.
You can style these boots with everything from a mid-length dress to jeans and a t-shirt, depending on your mood and the social events you have on your calendar.
Sam Edelman 'Olly' Knee-High Boots, $225
Square toes bring a contemporary look to these supple knee-high boots that feature a streamlined silhouette
We're dreaming of these 'Olly' knee-high boots by Sam Edelman that have a square toe for a contemporary look and feel for the boots.
5. Sock booties
Sock booties – also known as stretch boots – are amongst the most versatile and easy-to-style boots for fall. If you're looking for transitional boots that you can wear every season, look no further. These boots are the perfect style for you.
They're universally flattering and fit tightly against your ankle for a tailored and sleek look. As they're slimmer, these boots help to show off the smallest part of your leg. You can style your sock booties with everything from dresses and skirts to denim jeans.
Everlane 'Glove' Boots, $115
A flattering pair of boots made from textured re-knit fabric with chic rib detailing and comfy heels
If you want sock booties with a sustainable twist, the Glove Boot from the American clothing retailer Everlane is a must-have style for your closet. You can also pick these boots up in toffee or white if you prefer a more laid-back aesthetic and a calmer lifestyle.
Just like that, we've covered all the must-have boot styles and trends for fall. If you're looking to shake up your closet but don't know where to start – boots are the perfect investment.
Whether you're buying cocktail or maxi dresses, flat shoes are a must-have all-in-one.
Which of these fall boot trends will you be trying out?