It's no secret that over-the-knee boots (also known as thigh-high boots) are among the trickiest shoes to wear. To some, they're the kind to stay away from. Others love them too much and wear them with little care, so they end up looking nasty or, worse, like "Pretty Woman"!
Yes, we've all seen "Pretty Woman". And the image of Julia Roberts in her micro-mini skirt and super-shiny over-the-knee boots is probably what's keeping the majority of the women on this planet from trying on that extra "tall order." But here's the thing, while thigh-high boots are considered a fashion risk, they are also head-turningly sexy. If you wear them right (that is, in a tasteful manner), the rewards are close to priceless.
Remember that these boots are already considered quite a statement, so you really do not need to over-accessorize or add a lot of extras to your outfit. With this in mind, here are 5 simple tips to follow so you can rock those boots with class. We're laying these out not for the seasoned stylistas, but for the completely clueless and (fashion) confused.
1. Keep Away From High Shine
This is a very simple rule to follow. Stick to suede boots. You can go with classic leather, but avoid the ones that are glazed or buffed to shine. Of course, forget patent leather as well. Like we said earlier, thigh-high boots are already a major fashion statement, so you don't really need to add high-shine drama to get noticed. Besides, the goal is to veer away from looking like "Pretty Woman", right?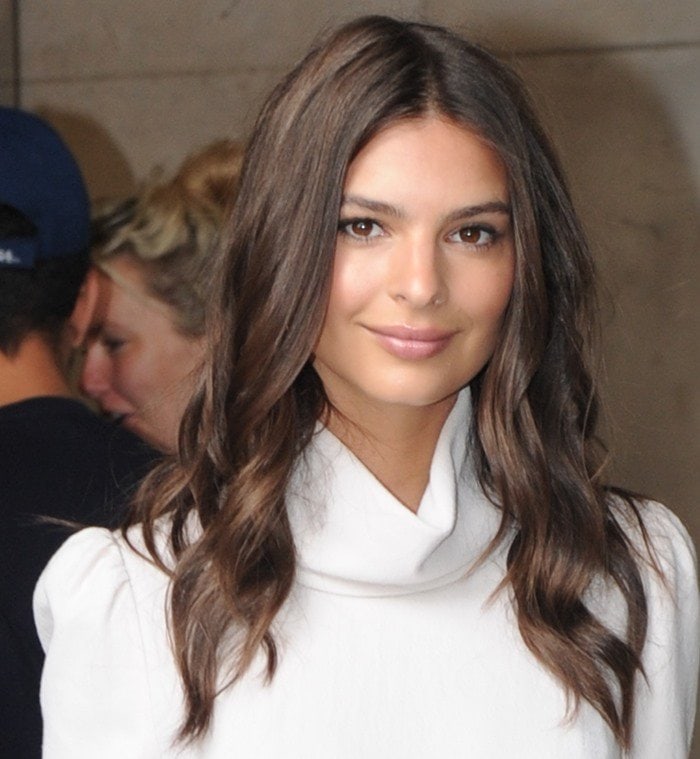 Emily Ratajkowski at BBC Radio on August 11, 2015 in London wearing a Zimmermann "Esplanade" crepe body dress and Brian Atwood "Odille" suede thigh-high boots
2. Strike a Balance
It's no secret that short skirts (or dresses) look great with over-the-knee high boots — but only in moderation. Showing a bit of your thighs is very alluring, but keep it to 3 inches max. If you want to push it, try maybe 5 inches.
Once you do that, remember to cover up on top. Go for a long-sleeved mini dress, or top your outfit with a chunky coat or sweater to tone down the sexiness. A good example is how Ruxandra Ioana of From Brussels with Love styled her super tall boots.
Ruxandra keeping it sexy yet prim by topping her skirt and boots with a tailored jacket
And, of course, who can forget the way Olivia Palermo stylishly finished her structured suit with gray over-the-knee boots at the Carven presentation during Paris Fashion Week last September.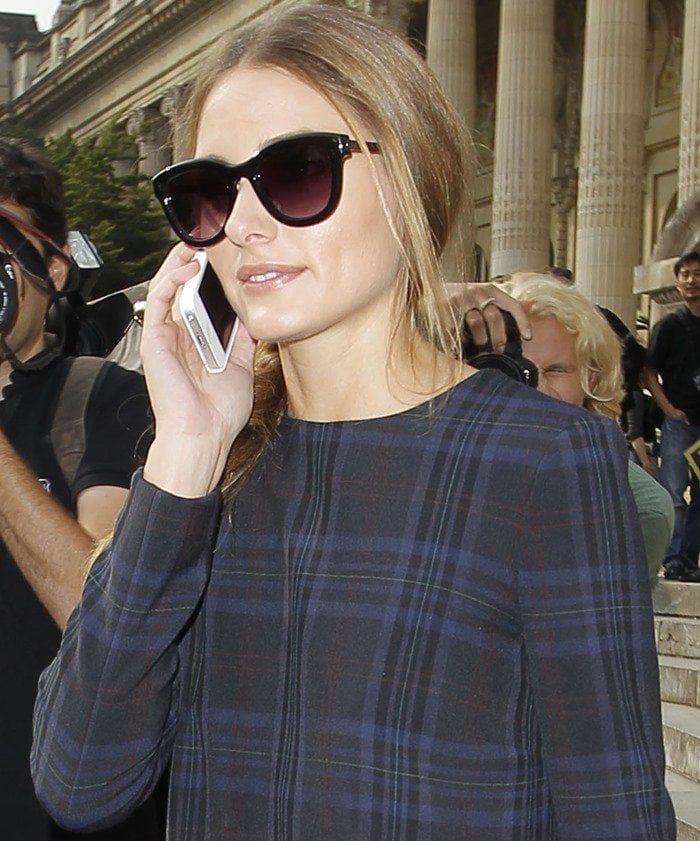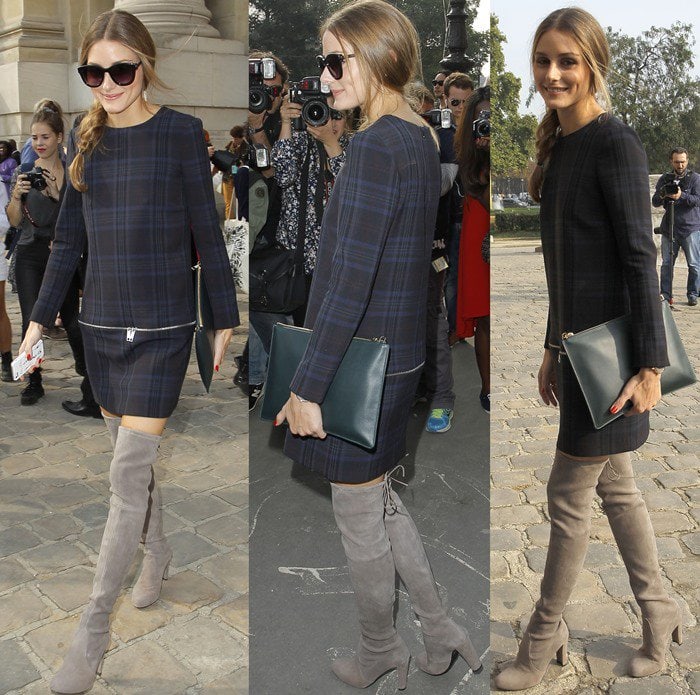 Olivia Palermo capping off her structured outfit with gray suede over-the-knee boots at the Carven show during Paris Fashion Week in France on September 26, 2013
3. Keep it Monochromatic
The easiest way to wear over-the-knee boots is by pairing them with skinny jeans or leggings. But do yourself a favor by keeping the ensemble monochromatic. Not only will you look classier, but you will look taller, too. Go black-on-black for that leg-lengthening effect. If you want to be a little playful, try dark tones with some print or texture to give you just a little bit of contrast without making it too obvious.
Nika Huk of Fashion Agony elongating her legs by pairing her black thigh-high leather boots with black leggings 
4. Stay Away From Extreme Heels and Platforms
Platforms and sky-high stilettos are great, but when it comes to over-the-knee boots, you actually don't need such extras. While it is a matter of personal preference and opinion, we here at YNS think it's so much easier to rock extra tall boots when they're not too high, not too pointy, and with heels that are not as needle thin.
5. Try Other Colors
Don't be afraid to try (thigh-high) boots in other colors. If you're not that adventurous, go with neutrals, such as camel, tan, brown, or gray. If you want more drama, red and purple boots aren't that hard to find as well.
That said, always remember to go for monochromatic to avoid looking like your legs were cut in half. In case of brighter boots, let them be the focal point or highlight of your outfit by wearing them with classic or neutral separates.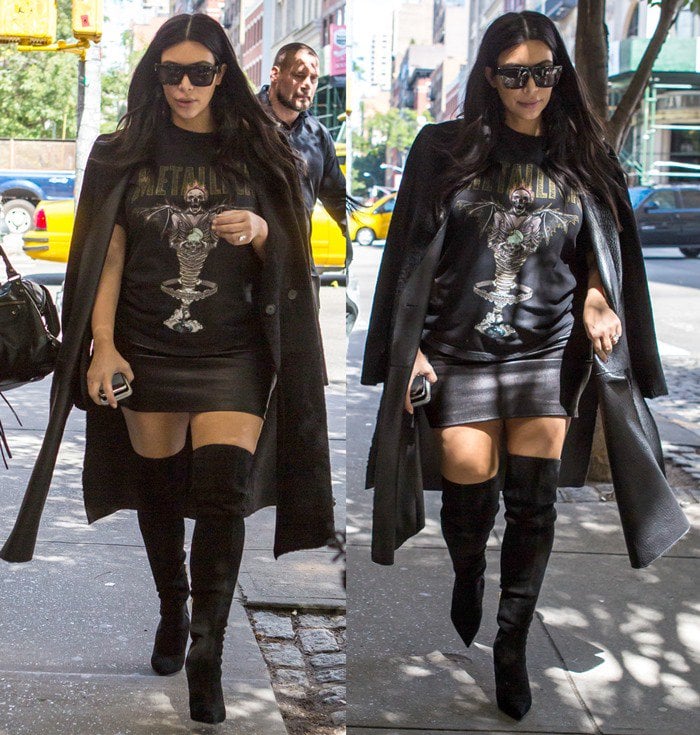 Kim Kardashian, wearing a long black coat, black knee high boots and a Metallica t-shirt, heads out for dinner with a friend in Soho during New York Fashion Week on September 11, 2015
So, are you ready to sport some over-the-knee boots this season?
Credit: WENN