Wondering what shoes to wear this winter? Take a look at our favorite fashion bloggers who have showcased amazing holiday and winter outfits with remarkably unique heels.
Winter means different things to different areas, but we hope these chic looks will inspire you!
1. Blertina in Color-Block Pumps
Blertina of Brite Souls strayed from wearing dark outfits this cold and gloomy winter season. She instead braved the snow in a colorful mini dress and kept herself warm with only a bronzy coat. We love the play of colors in this outfit.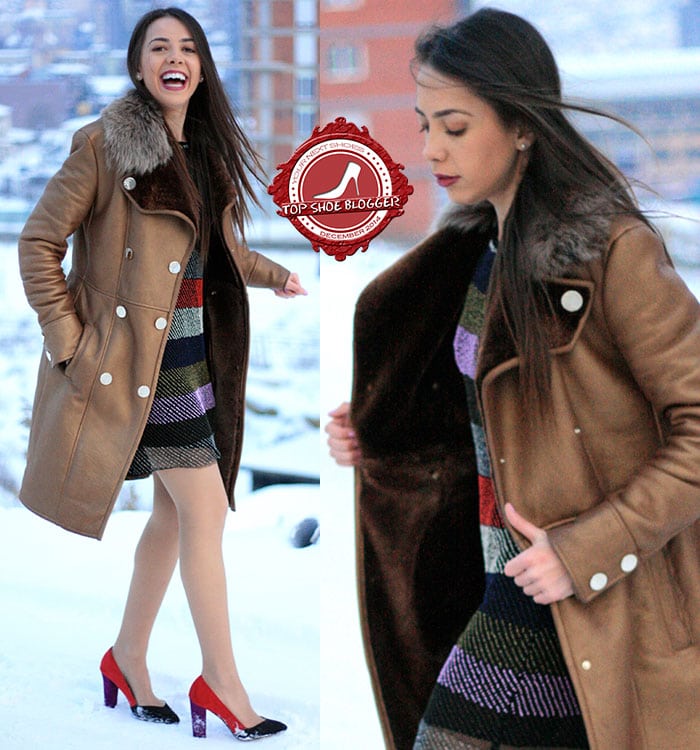 Blertina braved the snow in a colorful mini dress
We were most especially drawn to her color-blocked pumps by Zara, which stood out from the white snow. Would you dare wear pumps instead of boots in the snow?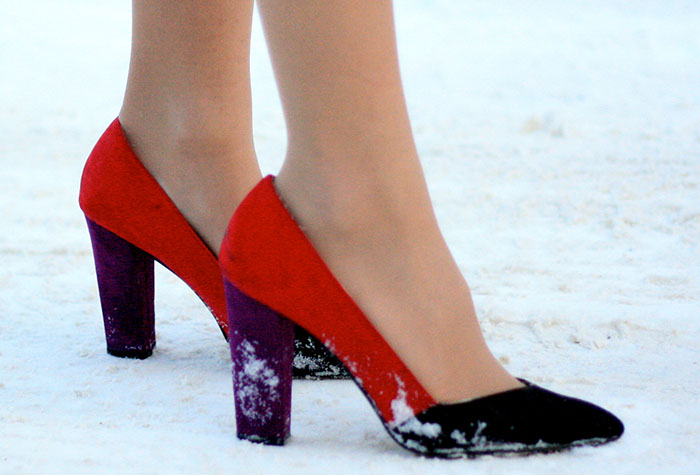 Blertina's color-blocked pumps stood out in the snow
2. Francesca in Chic Blue Heels
New Year's Eve is all about anything that sparkles — flowing sparkling wines, never-ending fireworks, and even glimmering outfits!
Francesca of The Sparkling Cinnamon added sparkle to her New Year's Eve celebration by wearing a glittery blue top, which was a nice contrast to her black pants and gray fur coat.
Francesca styles a glittery blue top with black pants and a gray fur coat
Matching her top's color, but in a softer hue, was a pair of Zara pumps. They are chic and hard to ignore, but you wouldn't want to wear them outdoors in the cold.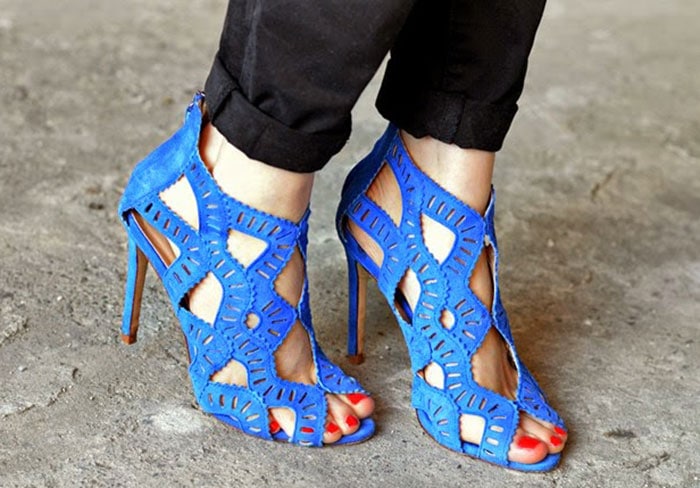 Francesca shows off her feet in blue heels
3. Wendy in Gladiator Sandals
We've been keeping an eye on chic Christmas party ensembles since November. And we can say that Wendy of ThankFiFi wore one of the most stylish holiday outfits.
Wendy in a white floral lace pencil skirt and a knit top
She boldly paired a knit top with a white floral lace pencil skirt, and the result was fantastic. On her feet was a pair of hard-to-miss Kurt Geiger gladiator sandals, which made her getup more appealing.
Wendy's hard-to-miss Kurt Geiger gladiator sandals
4. Lynne in Red Holiday Pumps
Lynne of Whatever Is Lovely was pretty and feminine in one of her holiday outfits, which included a floral dress and a lace coat.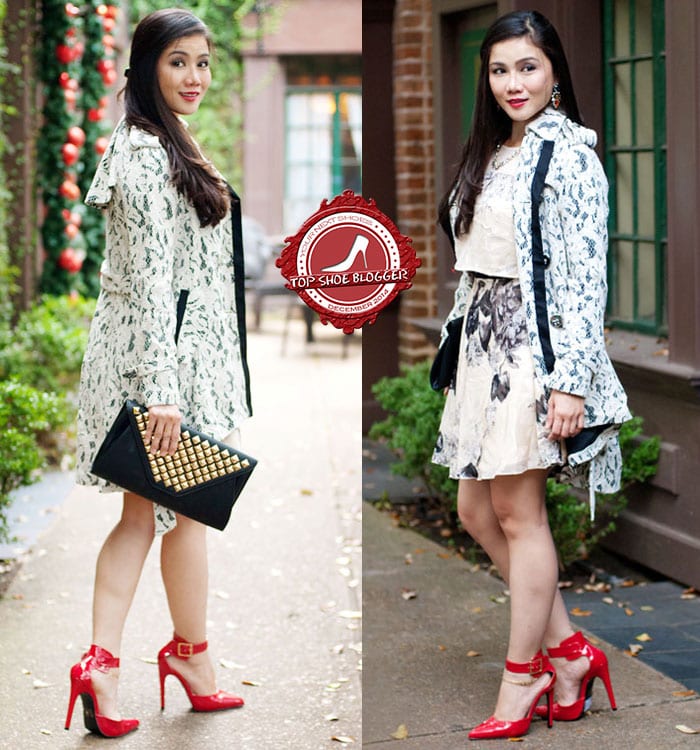 Lynne styled a floral dress with a lace coat
She balanced the muted colors of her clothes with a striking pair of red heels. Note that wearing a hint of red in an ensemble is very trendy during the holidays!
Lynne's striking red pumps
5. Laura in Over-the-Knee Boots
Thigh-high boots are especially hot these days. But in case you're not sure how to wear a pair without looking like "Pretty Woman," check out how Laura of Laura Badura rocked her boots.
She flaunted her long legs in a green knit sweater, a black lace-hemmed miniskirt, and Stuart Weitzman over-the-knee boots.
Laura flaunts her legs in a green knit sweater paired with a black lace-hemmed miniskirt
Laura looked as hot as her shoes, but interestingly, her whole appearance was kind of modest as well.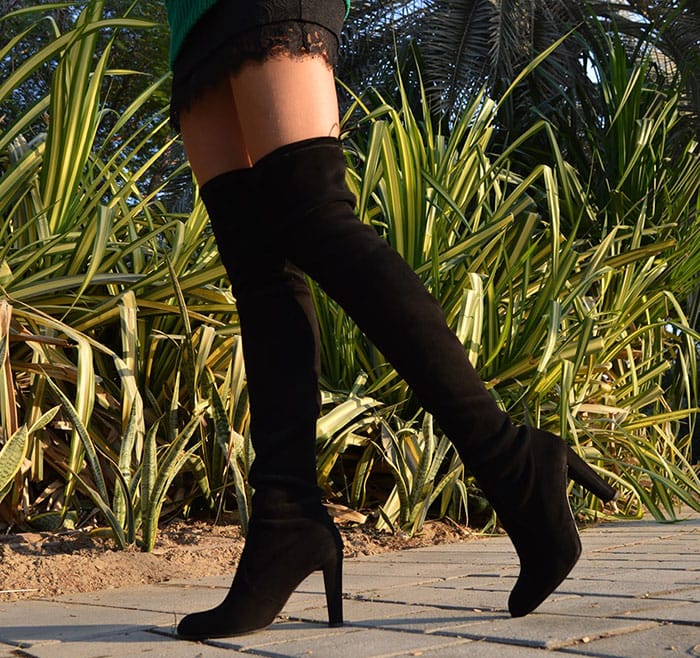 Laura's sexy black Stuart Weitzman over-the-knee boots
6. Sarah in Animal Print Shoes
Leopard print and sequins for the holidays? Why not? Sarah of Sarah Styles Seattle was the epitome of holiday glamour in a black sequined mini dress, a leopard jacket, and a pair of leopard pumps by Lanvin.
Her outfit was stunning, but we're particularly drawn to her shoes, which are both fierce and feminine with bows at the back and crystal stud details at the cone heels.
Sarah's crystal-embellished cone heels
7. Nika in Over-the-Knee Lace-Up Boots
Nika of Fashion Agony must be feeling the winter blues as she's getting less attracted to colors these days. Fortunately, her preference for nude articles of clothing this season doesn't translate to a boring style.
In fact, she managed to put together a really chic nude ensemble that included a knit sweater, a knee-length flowy skirt, a coat, and over-the-knee lace-up boots. She was fab and elegant in this number!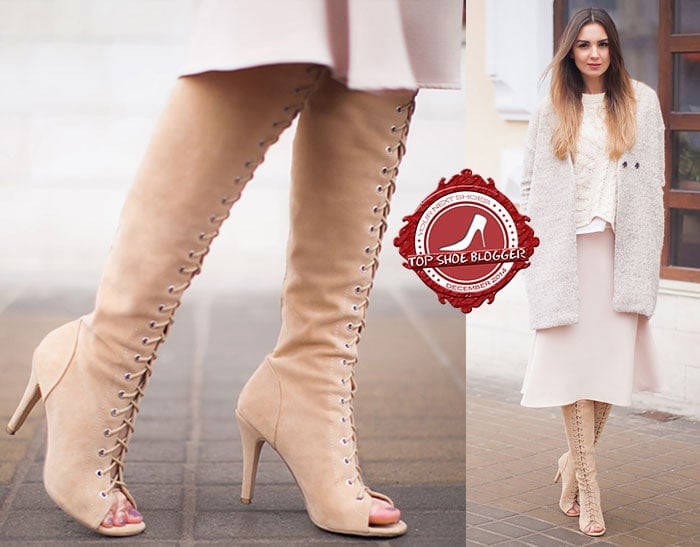 Nika rocks nude over-the-knee lace-up boots
8. Gaby in Fringe Sandals
A little black dress is a staple in every woman's closet. Gaby of Moda Capital wore one as a Christmas Eve outfit idea.
She looked classy in the dress, which she styled with a furry jacket and fringe sandals. The edgy shoes offset the classic LBD.
Gaby styles a black dress with fringe sandals
9. Alexandra in Red Booties and Thigh-High Boots
Got so many clothes yet nothing to wear? That's every woman's problem! Well, if you're wondering what to wear to the next occasion, you can simply bring out your favorite plain dress and build your ensemble from there. Accessorize to transform your look.
Alexandra Dieck of Lexicon of Style wore the same fringe dress with different pairs of shoes to create two different holiday looks.
Alexandra's favorite plain dress styled with Saint Laurent shoes
In the first, she styled the dress with metallic red Saint Laurent booties, which created an edgy rock-and-roll vibe.
Alexandra flaunts her legs in metallic red booties
In the second, she was a hot chick in Stuart Weitzman thigh-high boots.
Alexandra's Stuart Weitzman thigh-high boots
10. Alice Hernandez from the United States
Metallic heels are great for the holidays!
Alice added edge to her holiday outfit with spiked heels
Alice's pumps gave her lovely outfit some added edge with snakeskin metallic vamps and spiked heels. Unfortunately, her fashion blog is no longer available.
Alice shows off her feet in shoes with snakeskin metallic vamps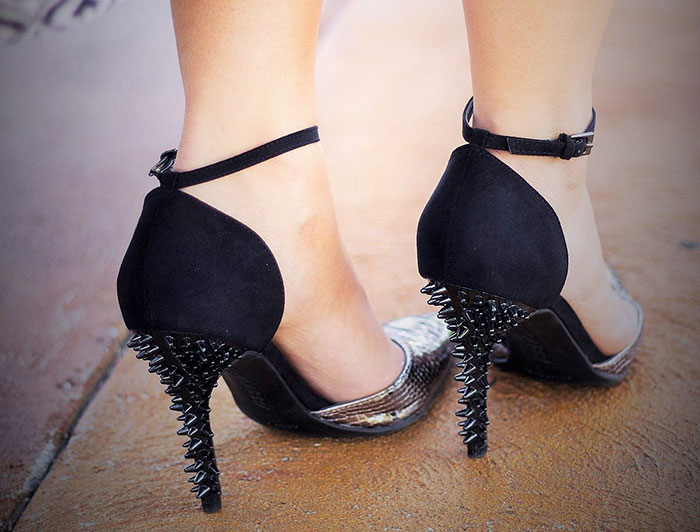 Alice's shoes also boast edgy spiked heels