A video showing Justin Bieber seemingly screaming at his wife Hailey in Las Vegas went viral last weekend.
The Peaches hitmaker was filmed having an animated conversation with Hailey while passing through the Wynn Las Vegas lobby after his live gig at the hotel's XS nightclub. He was seen putting his hands up, pointing, and "yelling" at his model wife while surrounded by their entourage.
The now-deleted TikTok video caused quite a stir among fans, questioning Justin's behavior towards Hailey.
However, fans who apparently witnessed the incident came to Justin's defense and said that the singer was just amped up from his performance.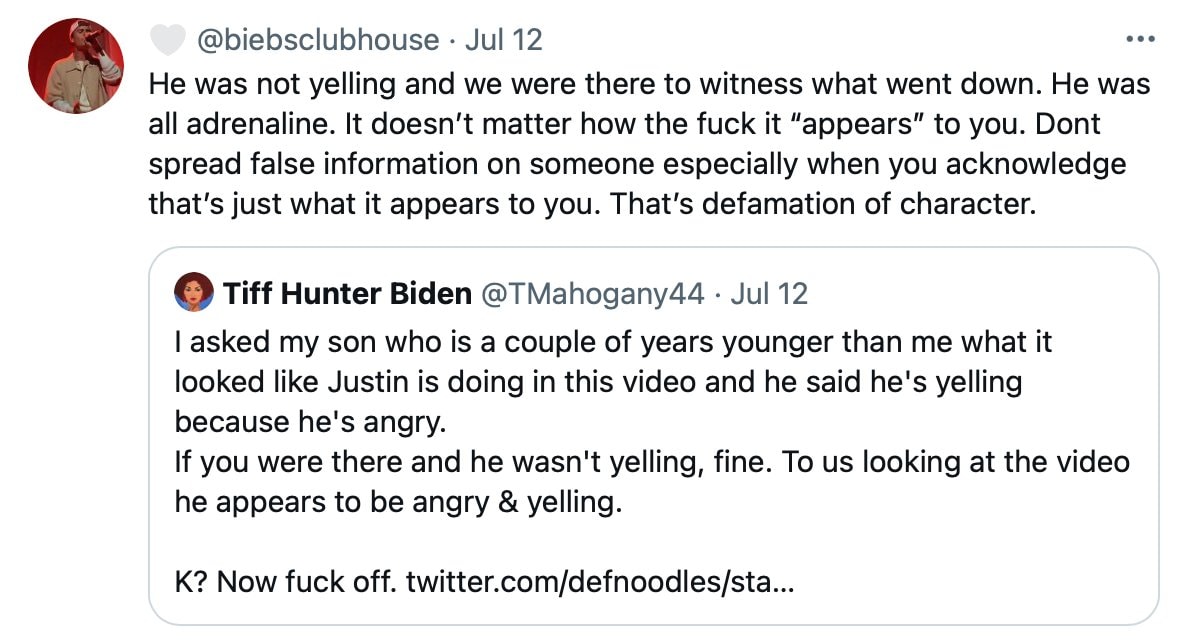 A fan defends Justin Bieber over a viral video that shows him seemingly screaming at Hailey Bieber in Las Vegas
Another fan posted a video of Justin looking all hyped while on stage. The fan said: "He was on STRAIGHT adrenaline from performing. He wasn't mad at Hailey and he wasn't yelling at her. I hate how he's always painted as the bad guy when he's the furthest thing from it."
A few days later, Hailey took to her Instagram stories to address the rumors. She shared a photo of them kissing along with the caption: "Reminiscing on how amazing last weekend was. Had the best time surrounded by so much love."
"Any narrative floating around is beyond false. Don't feed into the negative b*sh*t peeps," she added.
It's not the first time Justin was seen screaming at Hailey. Last year, Justin was also accused of shouting at the model after losing an arcade game.
Prior to the event, Hailey and Justin were spotted leaving a skincare clinic in Beverly Hills.
Justin went for a casual look with a white long-sleeved top and a pair of gray sweatpants. Carrying a black backpack, he finished off his relaxed getup with Nike shoes in blue, white, and gold colorway.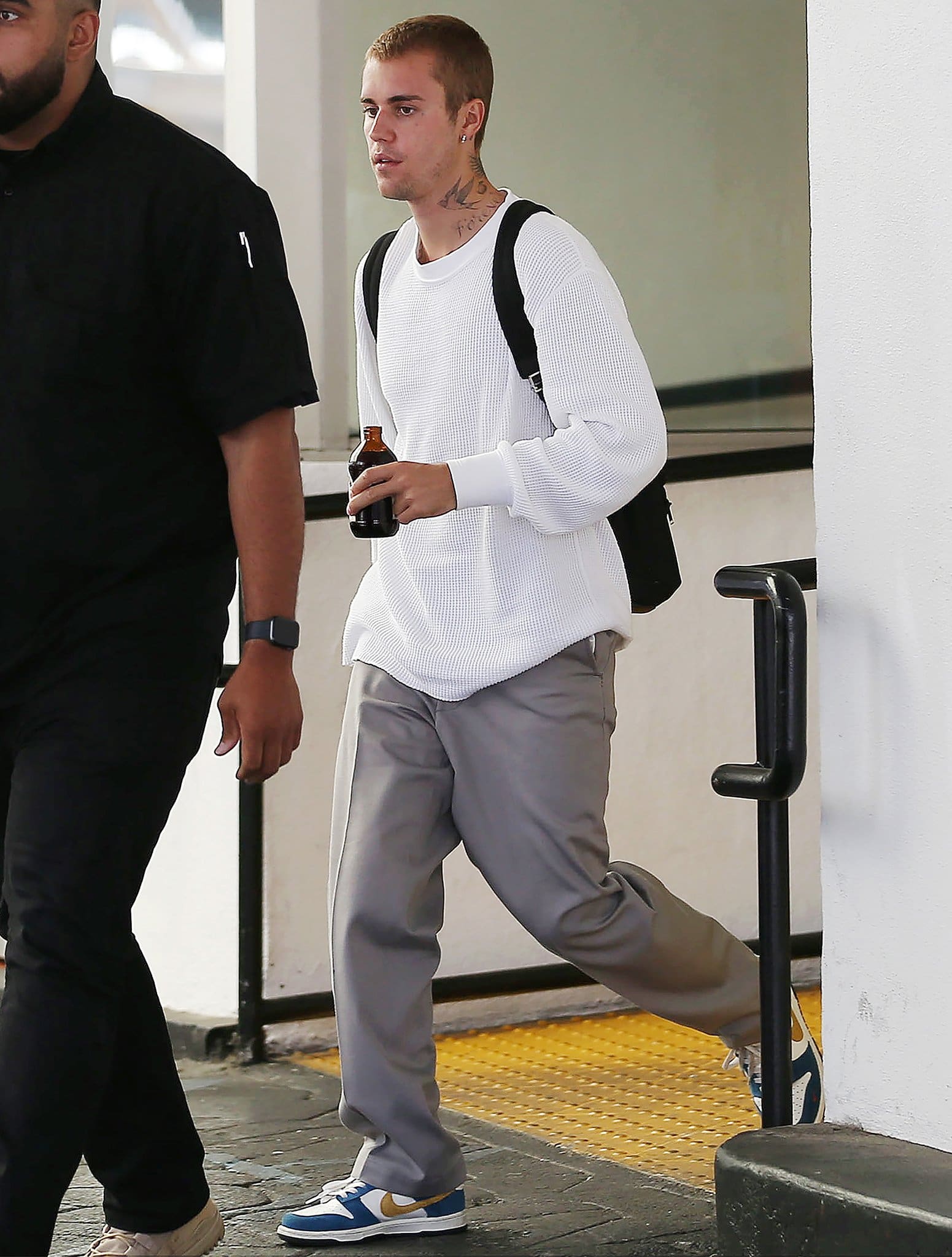 Justin Bieber leaving a skincare clinic in Beverly Hills with his wife Hailey on July 6, 2021 (Credit: Mega / WENN)
Meanwhile, the 24-year-old model showed off her post-vacation glow in a $270 Jacquemus "La maille Neve" brown cropped cardigan held together by a tiny logo clasp at the front.
The trained ballet dancer wore nothing underneath her plunging knit top, putting her cleavage and taut abs on full display.
Looking runway-ready, Hailey teamed the fuzzy number with high-waisted plaid baggy pants that obscured her toned legs.
Hailey Bieber shows off her cleavage and abs in Jacquemus crop top and high-waist plaid pants (Credit: Mega / WENN)
Drawing further attention to her cleavage, Hailey accessorized with a Fallon Short Herringbone chain necklace and a Jennifer Fisher 14K long link chain necklace with a diamond letter B pendant.
She also wore a tiny pair of gold hoop earrings, hid her eyes behind a pair of Saint Laurent sunglasses, and carried her belongings in a $699 Rylan 4.2 cognac shoulder bag.
Going for a casual beauty look, Hailey rocked her signature slicked-back bun with a center parting and highlighted her natural beauty with minimal makeup.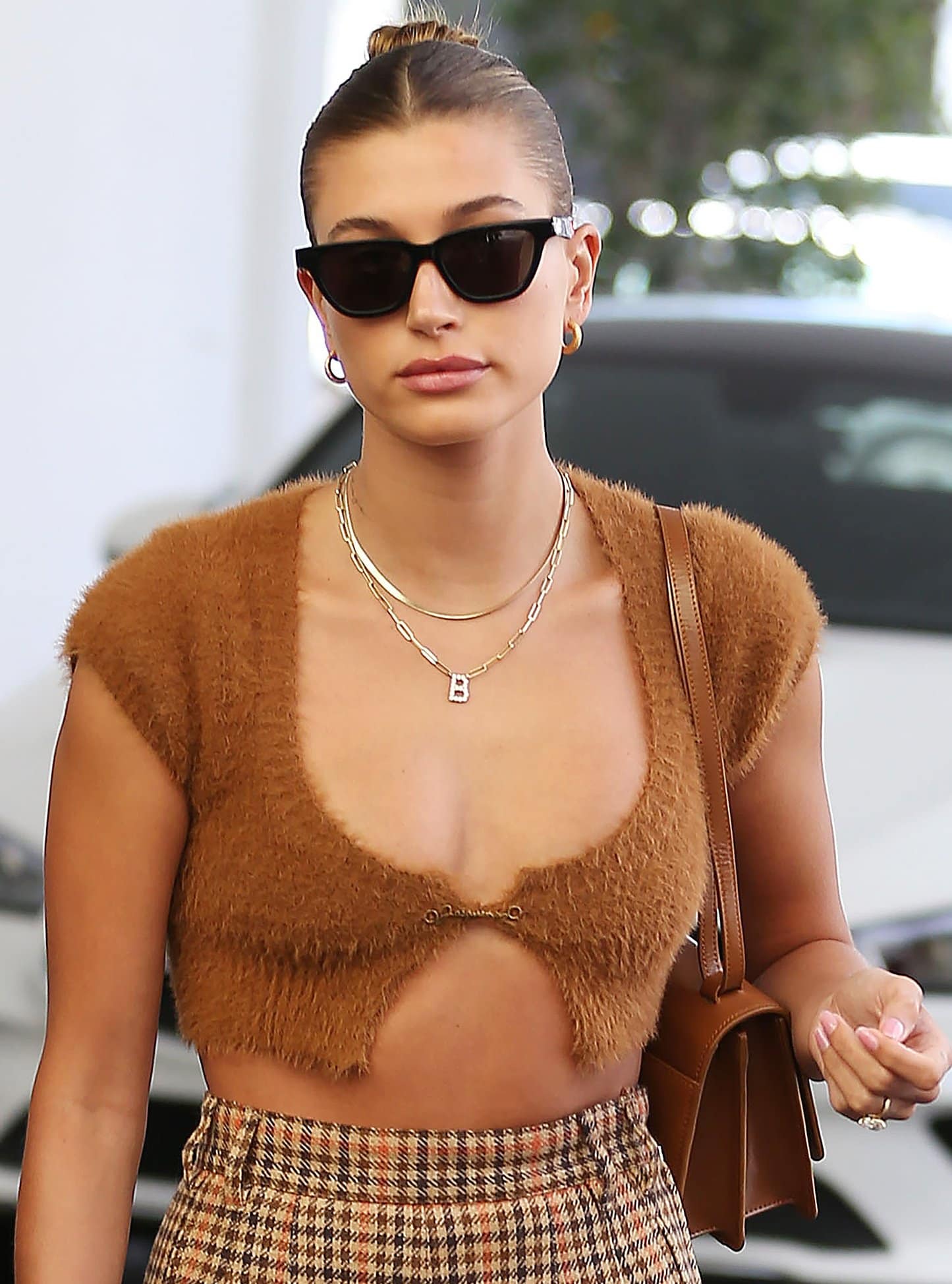 Hailey Bieber wears her signature sleek center-parted bun with barely-there makeup (Credit: Mega / WENN)
She then gave her chic outfit a touch of sporty edge with Nike Air Jordan 1 High in Dark Mocha colorway, released in October last year.
Originally priced at $170, these shoes are now being sold at secondhand markets like Stockx for $374 – $526.
Hailey Bieber gives her chic outfit a touch of sporty vibe with Nike Air Jordan 1 High in Dark Mocha (Credit: Mega / WENN)