She is set to portray a suburban housewife named Connie Kaminski, who starts a $40 million coupon scam with her best friend Jojo (Howell-Baptiste) in the comedy film Queenpins. Recently, the sloth lover got candid about her home life and kids' bathing habits during an appearance on The View.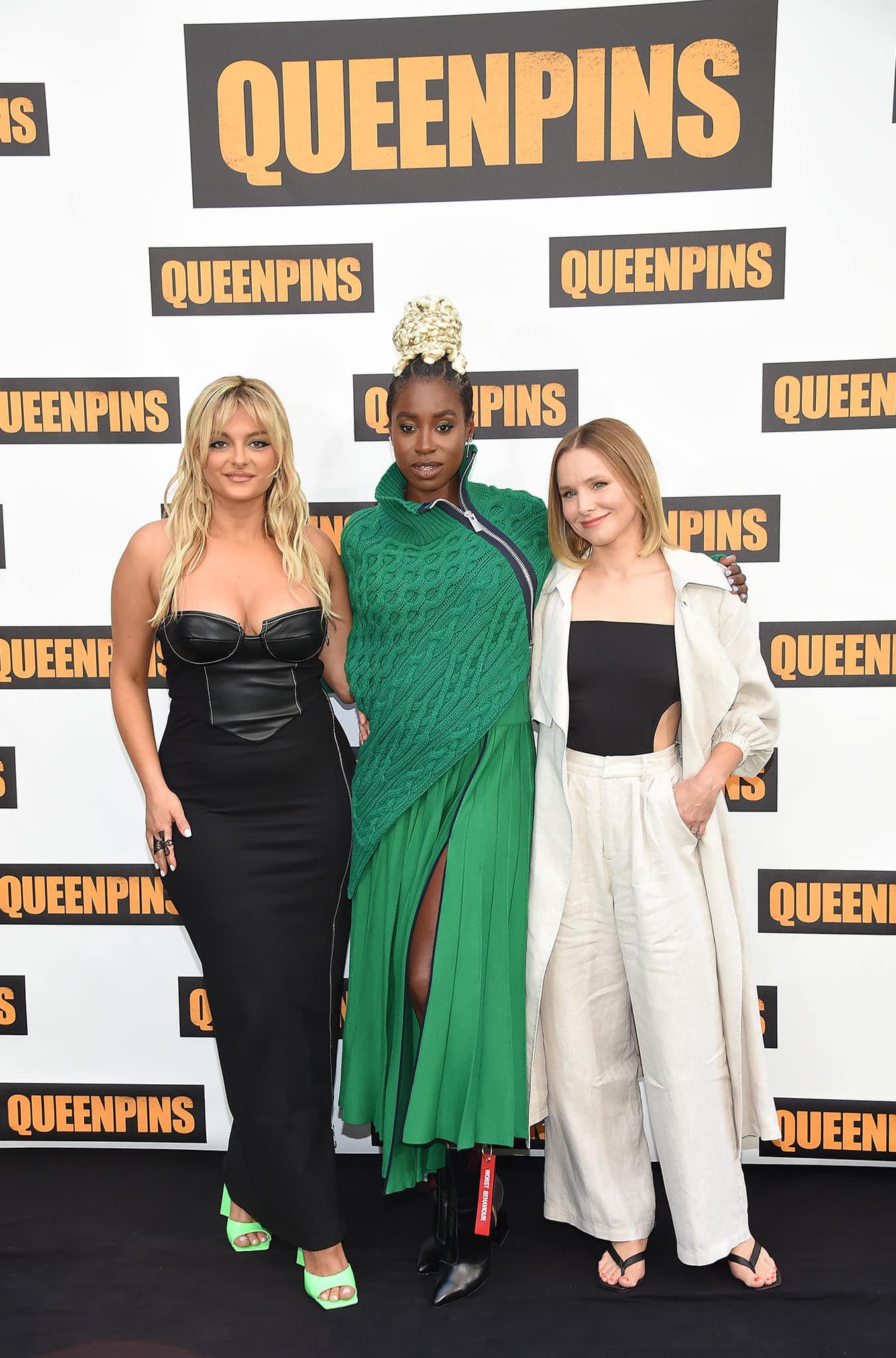 Bebe Rexha, Kirby Howell-Baptiste, and Kristen Bell at STX films Queenpins photocall held at the Four Seasons Hotel Beverly Hills on August 25, 2021 (Credit: Mega / WENN)
"I'm a big fan of waiting for the stink," Kristen Bell jokingly said about bathing her daughters Lincoln, 8, and Delta, 6.
"Once you catch a whiff, that's biology's way of letting you know you need to clean it up."
"There's a red flag. Honestly, it's just bacteria; once you get bacteria you gotta be like, 'Get in the tub or the shower,'" she added.
"I don't hate what they're doing. I wait for the stink," Kristen referenced friends Mila Kunis and Ashton Kutcher, who also only bathe their kids when they are visibly dirty.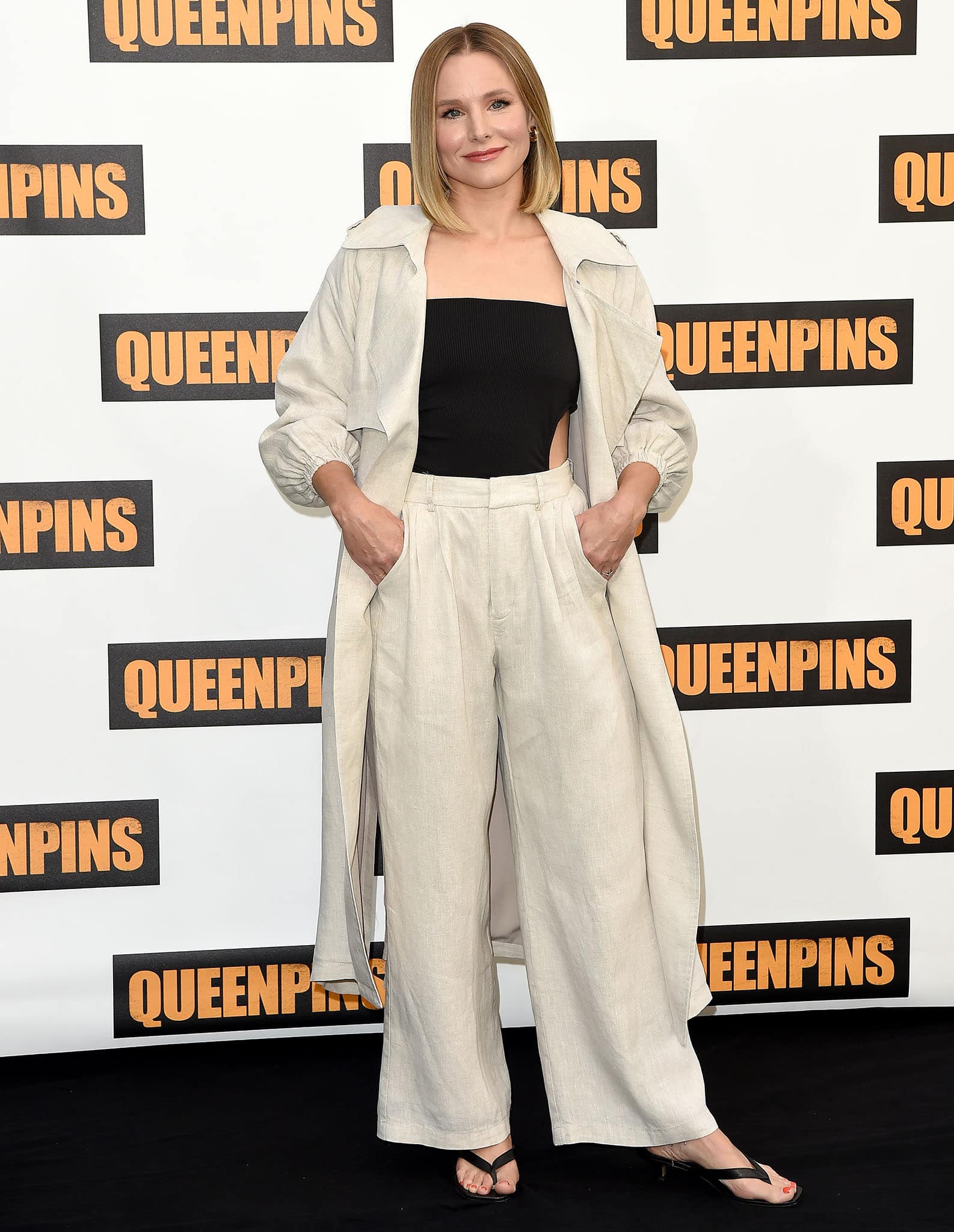 Kristen Bell wears a cutout bodysuit with linen pants and a duster coat (Credit: Mega / WENN)
"I don't wash my body with soap every day," Mila said during an appearance in July 2021 on Dax Shepard and Monica Padman's podcast, Armchair Expert. "But I wash pits and tits and holes and soles."
"I wash my armpits and my crotch daily, and nothing else ever. I got a bar of Lever 2000 that just delivers every time. Nothing else," Ashton added.
"I can't believe I'm in the minority here of washing my whole body in the shower," podcaster Monica Padman responded. "Who taught you to not wash?"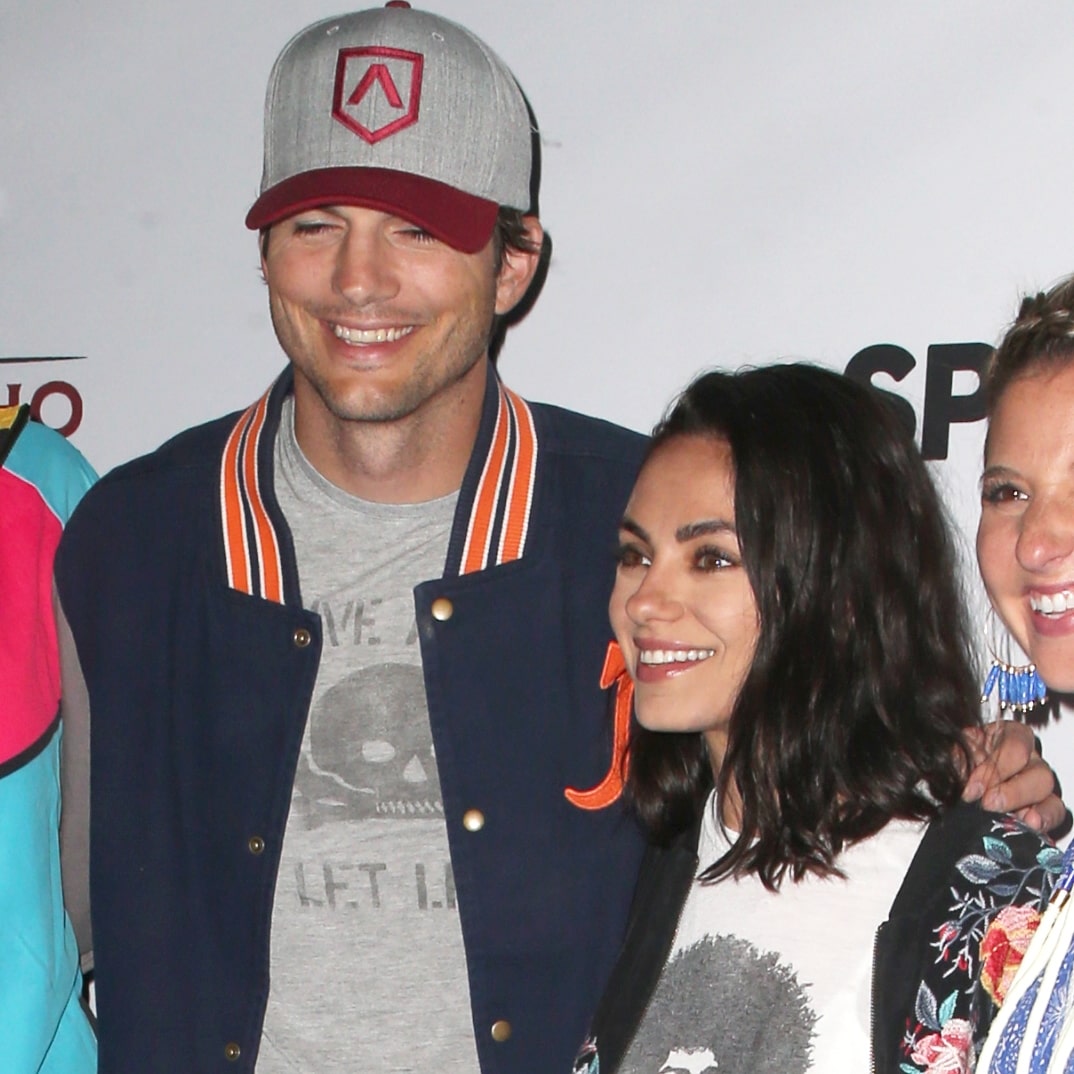 Ashton Kutcher and Mila Kunis say they don't bathe their kids every day (Credit: FayesVision / WENN)
"I didn't have hot water growing up as a child, so I didn't shower very much anyway," Mila insisted. "When I had children," she said about her kids, daughter Wyatt, 6, and son Dimitri, 4, "I also didn't wash them every day. I wasn't the parent that bathed my newborns—ever."
"We could care less about their cleanliness," Ashton chimed in. "We haven't washed them since. It's been like six years."
"That's how we feel about our children. We're like, 'Oof, something smells.'," Ashton joked.
"Here's the thing—if you can see the dirt on 'em, clean 'em. Otherwise, there's no point," Mila agreed.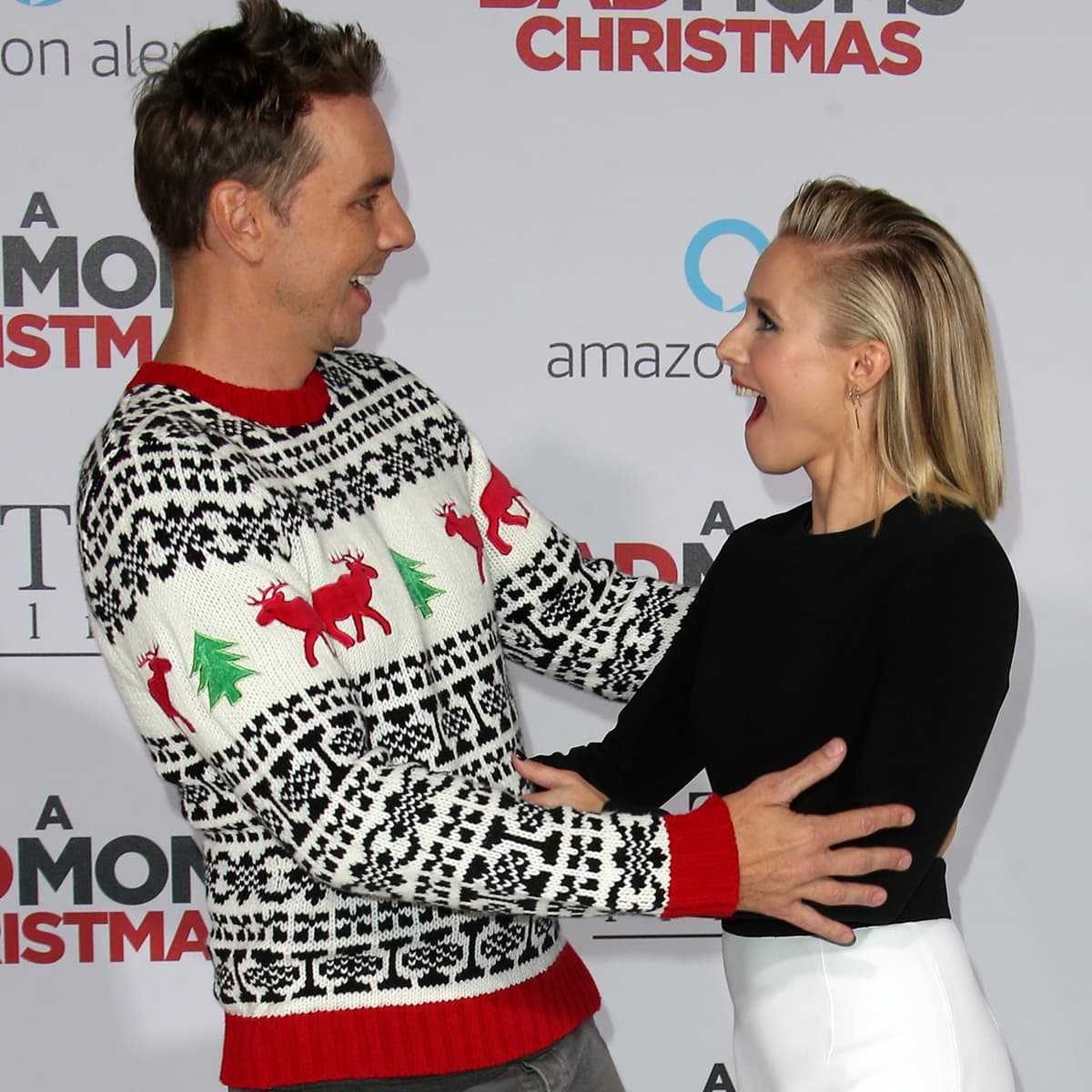 Dax Shepard and Kristen Bell don't regularly bathe their kids (Credit: FayesVision / WENN)
"We bathed our children every single night prior to bed as their routine, then somehow they just started going to sleep on their own without their routine and we had to start saying [to each other] like, 'Hey, when was the last time you bathed them?'," Dax added during his August 3, 2021, appearance on The View.

"I thought, 'America is not going to dig deep into this and want all the intel on how often people bathe, right?' Because there are much more important topics. It was kind of funny when we started being asked about it and then the interviewers didn't even know thatDax's podcast was the one that started the questions," Kristen made clear in an interview with Access Hollywood.
"By the way, of a room full of four comedians, Dax, Monica Padman, Ashton Kutcher, and Mila Kunis, who were 'joking' about bathing and then the world took it seriously. I lost a lot of faith in the human race," she said.
Inspired by a true story, Queenpins is based on one of the largest counterfeit coupon scams in US history. It also stars Paul Walter Hauser, Vince Vaughn, and Grammy-nominated singer Bebe Rexha, who's making her feature-film debut in the movie, scheduled to be released on September 10 by STXfilms.
Last week, Kristen Bell led the style pack at the Queenpins photocall held at the Four Seasons Hotel in Los Angeles.
The 41-year-old actress opted for a sexy yet classy outfit, pairing a black cutout bodysuit with cream linen pants and a matching duster coat with elasticated cuffs.
Keeping her accessories to a minimum, the Veronica Mars star styled with only a pair of chunky gold earrings and two rings.
Opting not to wear her fake tattoos, she glammed up by wearing her signature blunt bob hairstyle and highlighting her eyes with mascara and eyeliner.
Kristen Bell wears her signature blunt bob hairstyle with soft pink makeup (Credit: Nicky Nelson / WENN)
When it came down to her footwear, the Burlesque actress wore one of this summer's must-have silhouettes. She slipped her feet into a pair of black thong sandals that allowed her to showcase her red pedicure.
The minimalist sandals are made of leather and feature trendy square toes and kitten heels.
Kristen Bell shows off her red pedicure and feet in black thong square-toe sandals (Credit: Mega / WENN)
Kristen also posed alongside her costars, Bebe Rexha and Kirby Howell-Baptiste.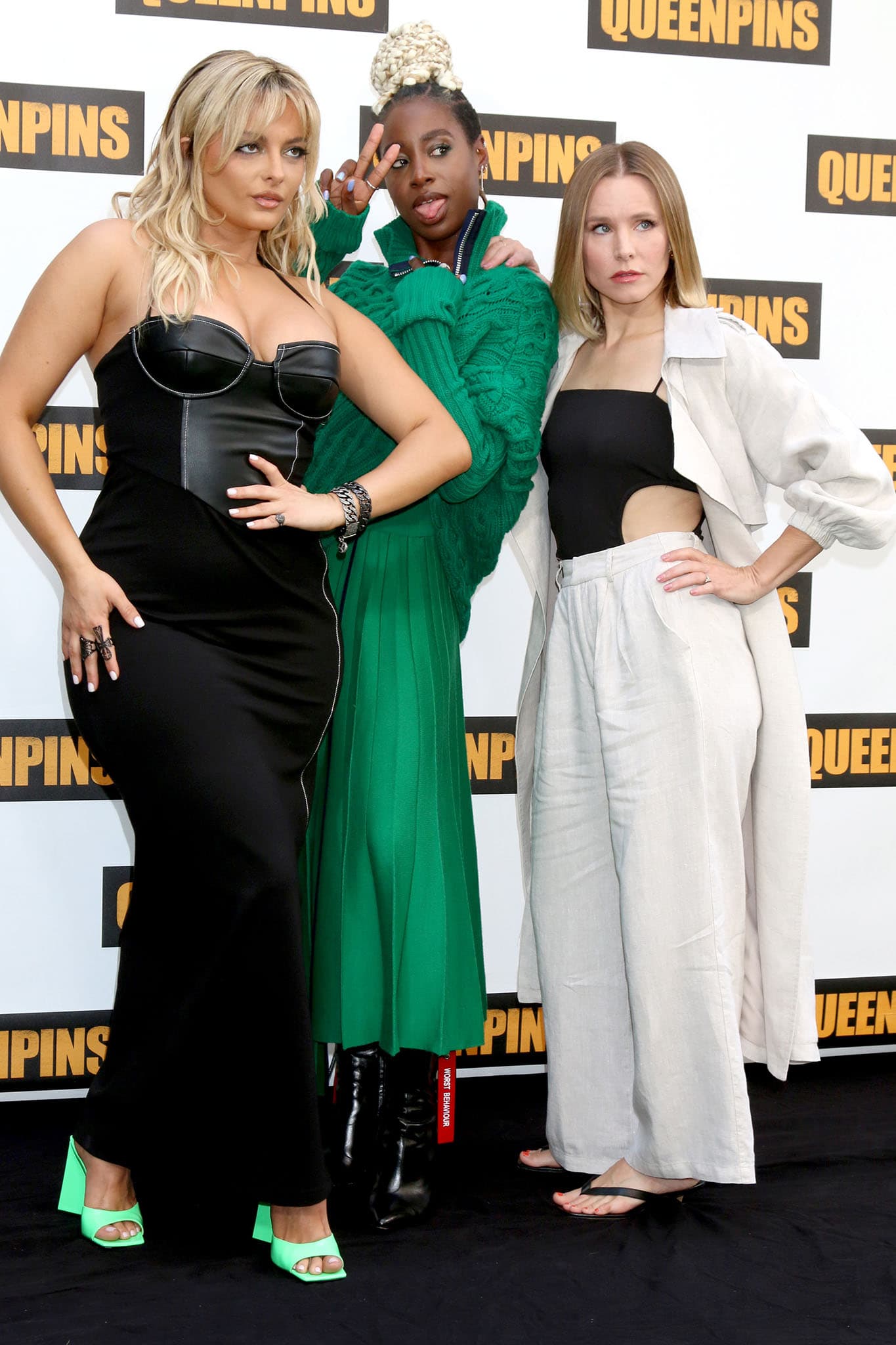 Bebe Rexha, Kirby Howell-Baptiste, and Kristen Bell pose for photos at the Queenpins photocell (Credit: Nicky Nelson / WENN)
The 32-year-old singer looked hot in her form-fitting black Hindley dress from Staud that put her cleavage and hourglass figure on full display. It has a bustier-style top and a fitted ankle-length skirt with a zipper running down one side.
Bebe Rexha wore her blonde hair in loose waves and highlighted her natural beauty with neutral makeup that featured winged eyeliner and subtle smokey eyeshadow.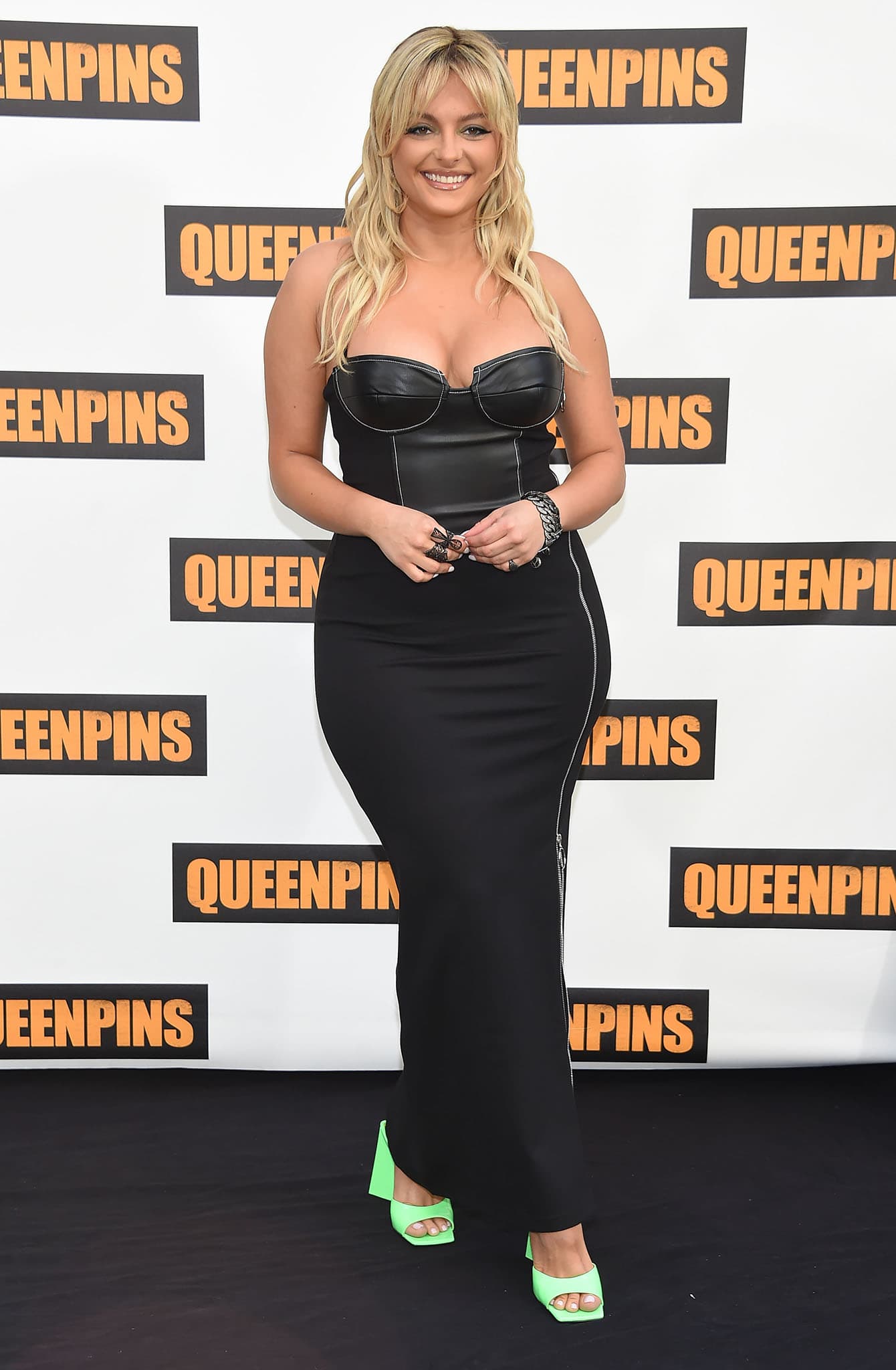 Bebe Rexha flaunts her cleavage in a fitted black dress (Credit: Mega / WENN)
She then added a quirky element to the look with a pair of green sandals that boast open square toes and hourglass heels. Her neon green The Attico Devon patent leather mules have sold out at Farfetch.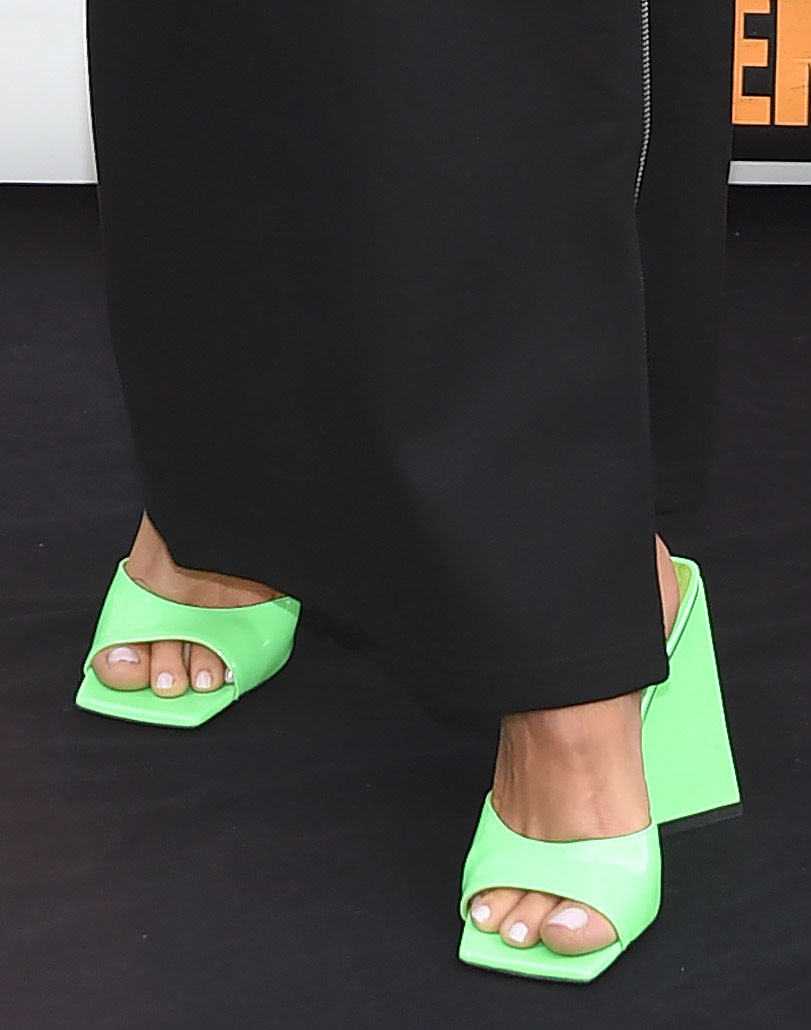 Bebe Rexha adds color to her black outfit by showing off her feet in green square-toe sandals (Credit: Mega / WENN)
Meanwhile, the 34-year-old actress, who's known for her role in Killing Eve, opted for a striking green-and-black ensemble. She layered a thick cable-knit asymmetrical sweater over a green pleated dress with a thigh-high slit.
Kirby Howell-Baptiste wears a striking green sweater over a pleated dress (Credit: Mega / WENN)
A pair of black pointed-toe boots from Havva completed Kirby's look. They have a sleek silhouette with flared heels and two detachable "Worst Behavior" tags in red and black.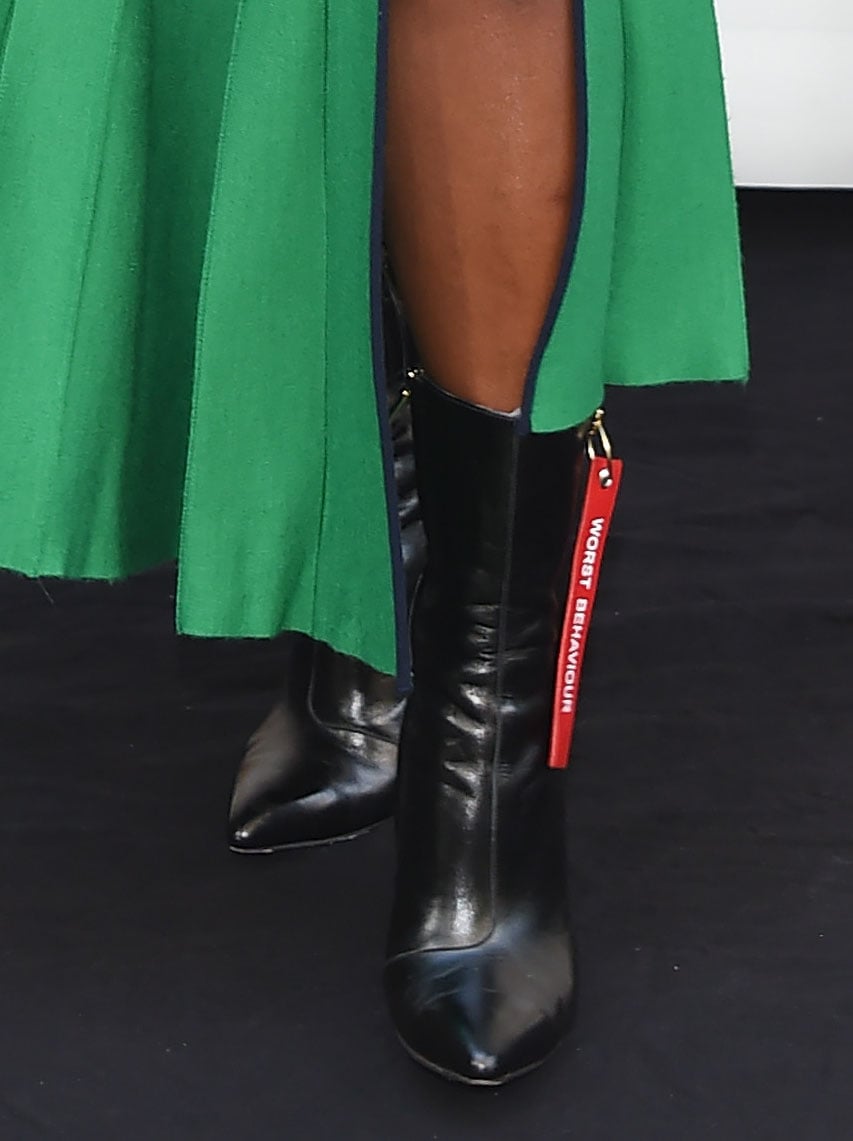 Kirby Howell-Baptiste pairs her green frock with Havva Worst Behavior boots (Credit: Mega / WENN)