Zendaya towered over her shorter boyfriend Tom Holland and Jacob Batalon on Sunday at a photocall for Spider-Man: No Way Home at The Old Sessions House in London. They recently joked about their height difference on The Graham Norton Show.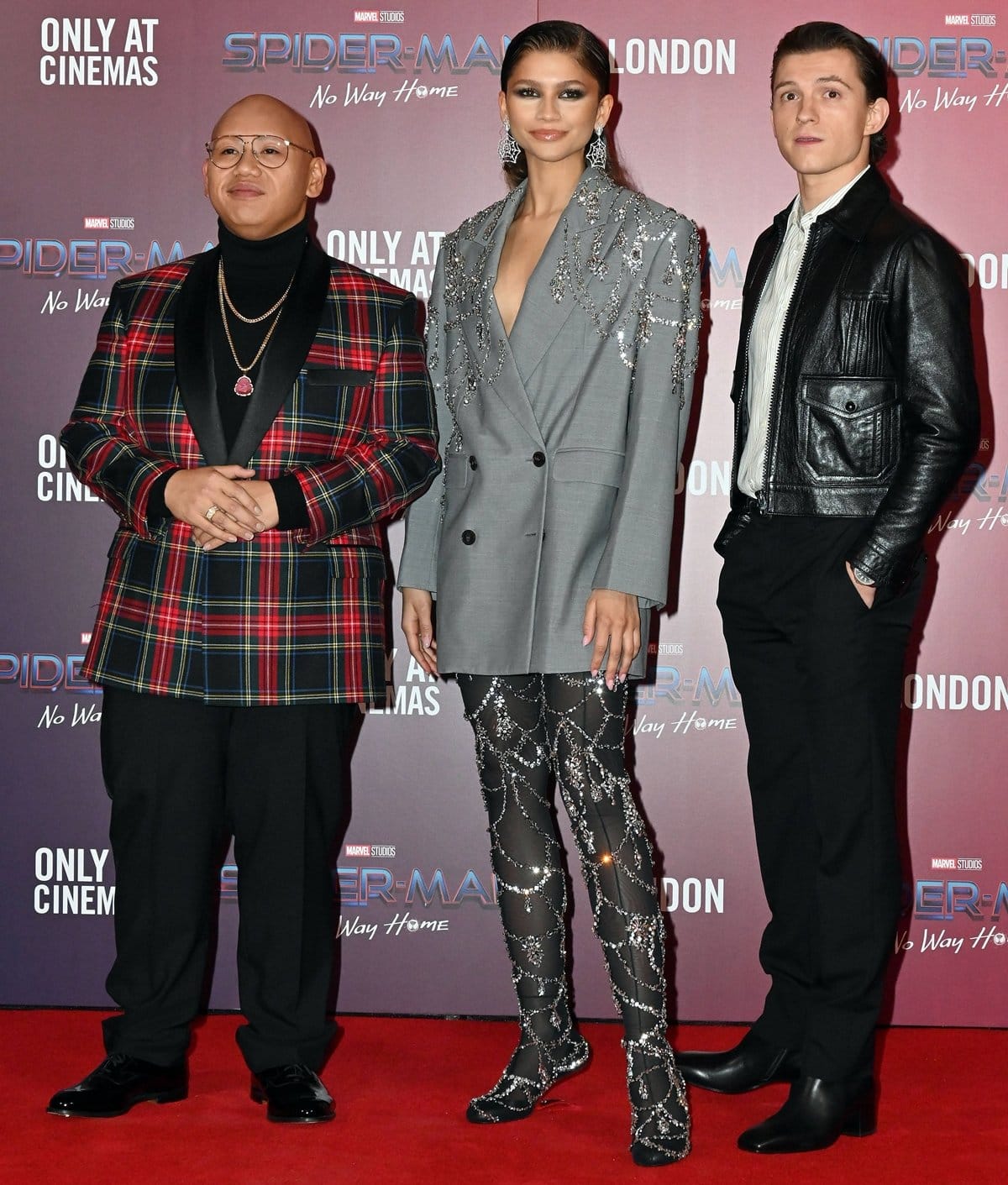 Zendaya towers over Jacob Batalon and her boyfriend Tom Holland at a photocall for Spider-Man: No Way Home at The Old Sessions House on November 5, 2021, in London, United Kingdom (Credit: MEGA / WENN)
The "Shake It Up" star wore a bold gray Alexander McQueen Spring 2022 blazer featuring wide shoulders, large lapels, crystal raindrop embroidery, and black double-breasted buttons.
Styled by Law Roach, she paired her statement blazer with chandelier-embroidered thigh-high Arc boots from the same British fashion designer, sparkling web earrings by Jacob & Co., and a Bvlgari Magnifica ring.
Tom Holland is happy he has Zendaya's shoulder to cry on (Credit: MEGA / WENN)
Her crystal-embellished thigh-high boots feature sheer stocking-like uppers, leather capped toes, and sculptural asymmetrical heels.
Tom Holland wore a black Celine loose blouson jacket, a white shirt, black pants, and shoes. He says his relationship with Zendaya started with 'companionship' and led to more.
Zendaya checks out the crystal raindrop embroidery on her grey wool jacket (Credit: WENN / MEGA)
"Two friends coming together, experiencing this world, going through the same problems at the same time, having a shoulder to cry on, has been a huge thing for the pair of us, and with Jacob (Batalon) as well. We really are a family," Holland said and referred to Zendaya as a "wise owl."
"Becoming famous at the age of 19 … this is a different kind of fame. There's not a corner of the world that Spider-Man hasn't touched. It's a lot to take in, so it's really nice for me to have a family to share that with," Holland added about the half white and half black actress.
"I think just sometimes you have to be a person to vent to, someone to just be there and listen," Zendaya said about her boyfriend and emphasized that their rise to fame has been completely different. She slowly became famous as a child actress while he suddenly achieved stardom through the Spider-Man franchise.
Zendaya's spiderweb earrings by Jacob & Co. feature two white pearl-and-diamond spiders (Credit: WENN / MEGA)
"I was lucky enough to where my life didn't change overnight. I started when I was young. And so it was kind of like a slow progression, you know? So I kind of got to learn it as I went and figure it out and get my footing a little bit."
"You're Spider-Man and your life changes. I have an extreme amount of empathy for that, so anything I learned, or have learned or continue to learn, I share with him, and anything he learns he shares with me," the K.C. Undercover star added.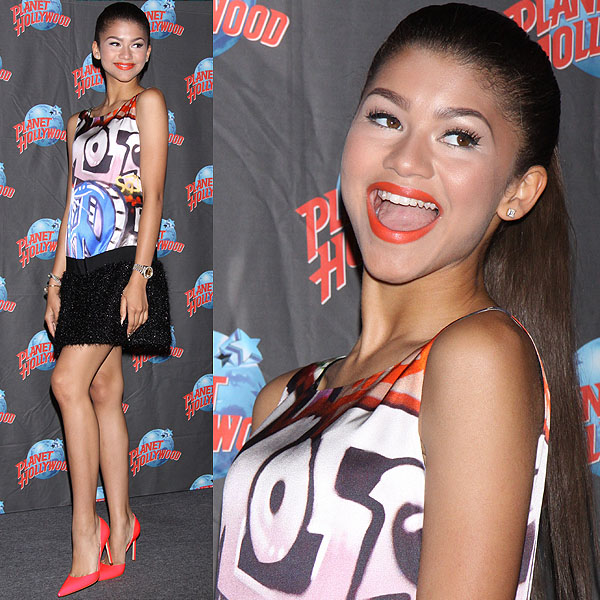 Zendaya flaunts her legs in a graffiti-print Moschino drop-waist dress paired with a black metallic tinsel skirt (Credit: Joseph Marzullo / WENN / Dan Jackman)
One week after she showed off her feet in Christian Louboutin's "Dos Noeud" pumps, in July 2013 she stepped out in a fresh and fun outfit to promote "Replay," the lead single from her self-titled debut studio album, Zendaya.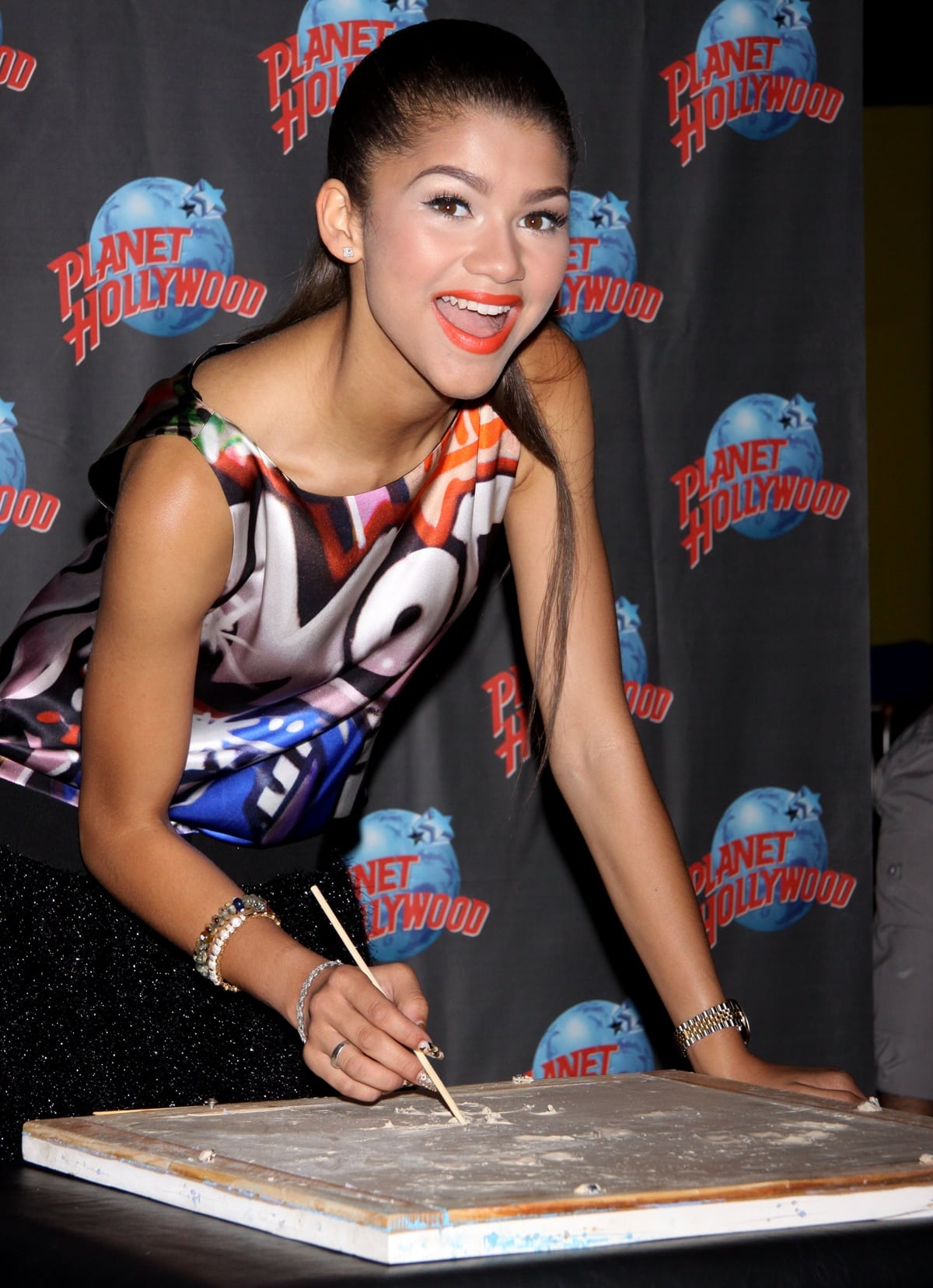 Zendaya Coleman promoted her new song, "Replay," with a handprint ceremony at Planet Hollywood Times Square in New York City on July 15, 2013 (Credit: Joseph Marzullo / WENN)
If you aren't sold on the idea of matching your shoes to your bra, this one might be more idea to consider. It's best done with bright colors — like Zendaya's juicy watermelon hue — so the pairing will really pop.
We think this is an adorable styling idea that's fit for the summer. Dare to pair bold-colored lips with bold shoes?
Zendaya reveals toe cleavage in watermelon-hued d'Orsay pumps (Credit: WENN)
Zendaya's amazingly talented stylist, Law Roach, has added these Manolo Blahnik "Tayler" pumps to the list of fab shoes Zendaya has been spotted in.
Tayler D'Orsay Pumps in Watermelon, $695
These are simple, classically styled shoes, but the color really makes them youthful and exciting.
Once you're done admiring or shopping for the Manolo Blahnik "Tayler" pumps at Nordstrom, hit on the play button on the video below to listen to Zendaya's song, "Replay"!