She's a proud mom to her twins, Emme and Max. And on Sunday, Jennifer Lopez was pictured spending some quality time with her daughter in Santa Monica.
The mother-and-daughter duo showcased their fashion prowess while grabbing some ice cream together at Sweet Rose Creamery.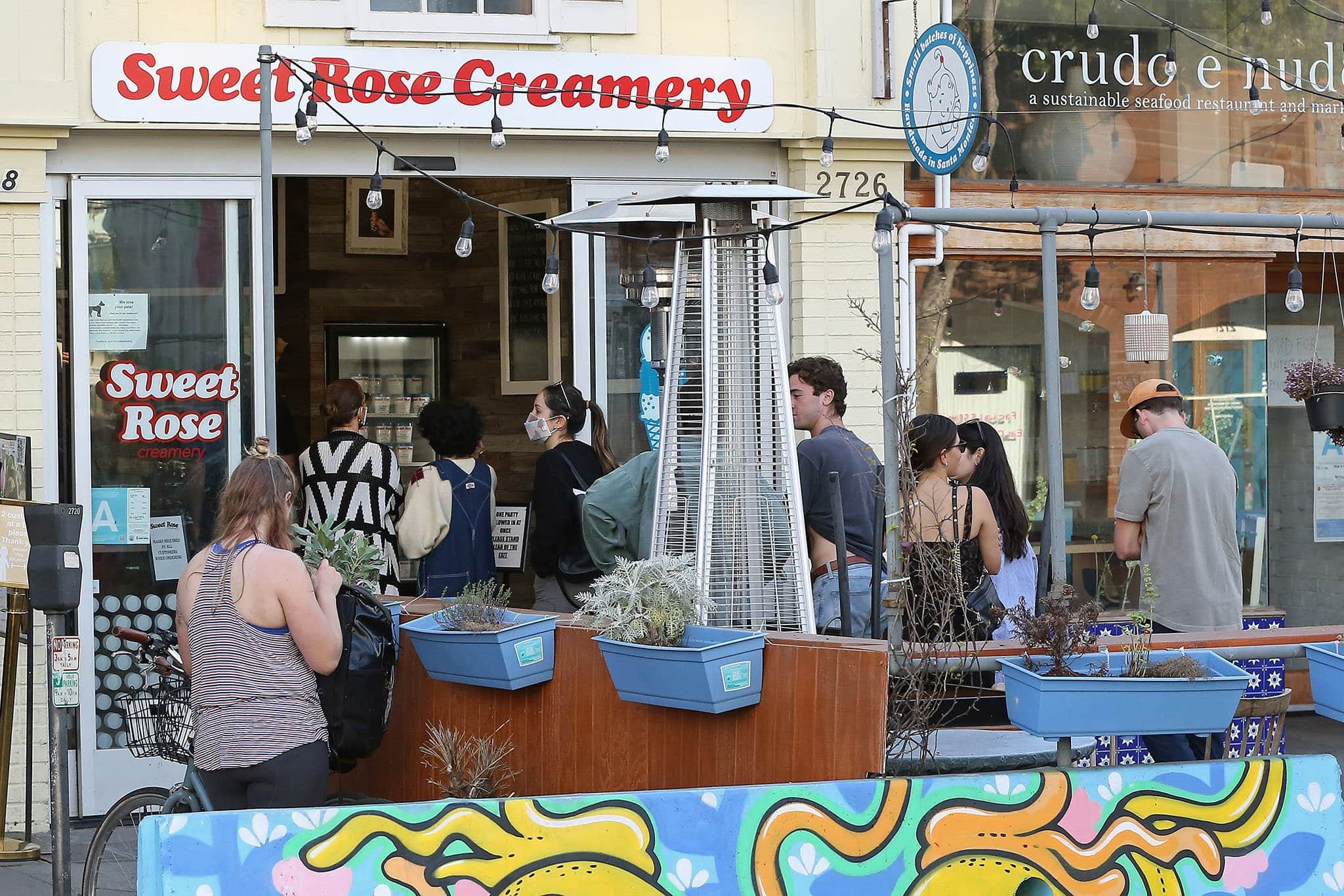 Jennifer Lopez grabbing ice cream with her daughter Emme at Sweet Rose Creamery on January 16, 2022 (Credit: Mega / WENN)
Emme, 13, who's already trying to develop her own personal style, showed her kooky fashion sense by pairing a cream argyle sweater with loose-fitting Dickies denim overalls that were cuffed at the bottom.
Wearing round eyeglasses and a gray face mask, the teenager styled her cool and cozy ensemble with black leather shoes that feature white stripes.
Emme shows off her kooky style in Dickies denim overalls and a cream argyle sweater (Credit: Mega / WENN)
The multihyphenate star, on the other hand, showed her sophisticated take on casual dressing in a comfy yet cozy black jumpsuit.
It features a flowy silhouette with wide sleeves, billowing pants, and buttons down the bodice, which she left undone to show a glimpse of her cleavage.
She highlighted her trimmed waist with a Hermes Constance belt and topped off her outfit with a long black-and-white cardigan from Valentino for extra warmth.
Now on sale for $2,030 (from $2,900) at Mytheresa, this striking cotton knitwear boasts a monogram logo jacquard design, an oversized fit, front buttons, and slit pockets.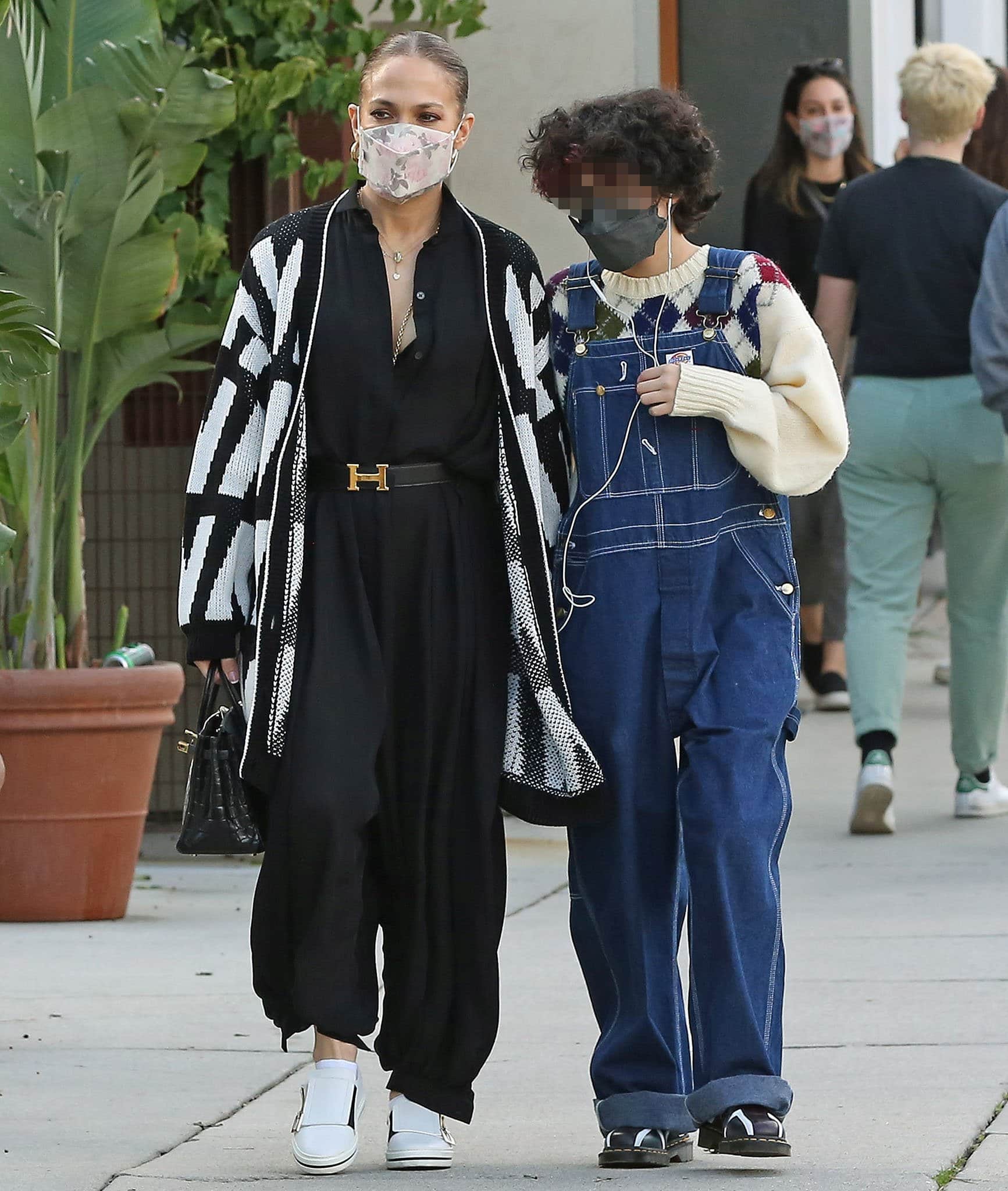 Jennifer Lopez looks classy in her casual flowy black jumpsuit and Valentino cardigan (Credit: Mega / WENN)
For a cohesive look, the Maid in Manhattan star paired her outfit with white slip-on shoes and gold jewelry. She layered several gold necklaces around her neck and added a pair of $295 Jennifer Fisher Mini Gold Samira hoop earrings.
She was also seen carrying a Hermes Crocodile Birkin bag and sporting a pair of gradient oversize geometric sunglasses, available for $249 at Nordstrom.
Adding some color to the look, J.Lo covered her mouth and nose with a Henry Divine pink floral mask.
Jennifer Lopez teams her jumpsuit with white slip-on shoes, Hermes Birkin bag, Hermes belt and a Henry Divine face mask (Credit: Mega / WENN)
Earlier in the day, the former In Living Color Fly Girl was spotted on a lunch date at the Hotel Bel-Air with her kids.
Jennifer opted for her usual chic outfit. She paired a black Wolford Colorado String bodysuit, available for $238 at Shopbop, with a white maxi skirt that has buttons running halfway down the front, offering a peek at her legs.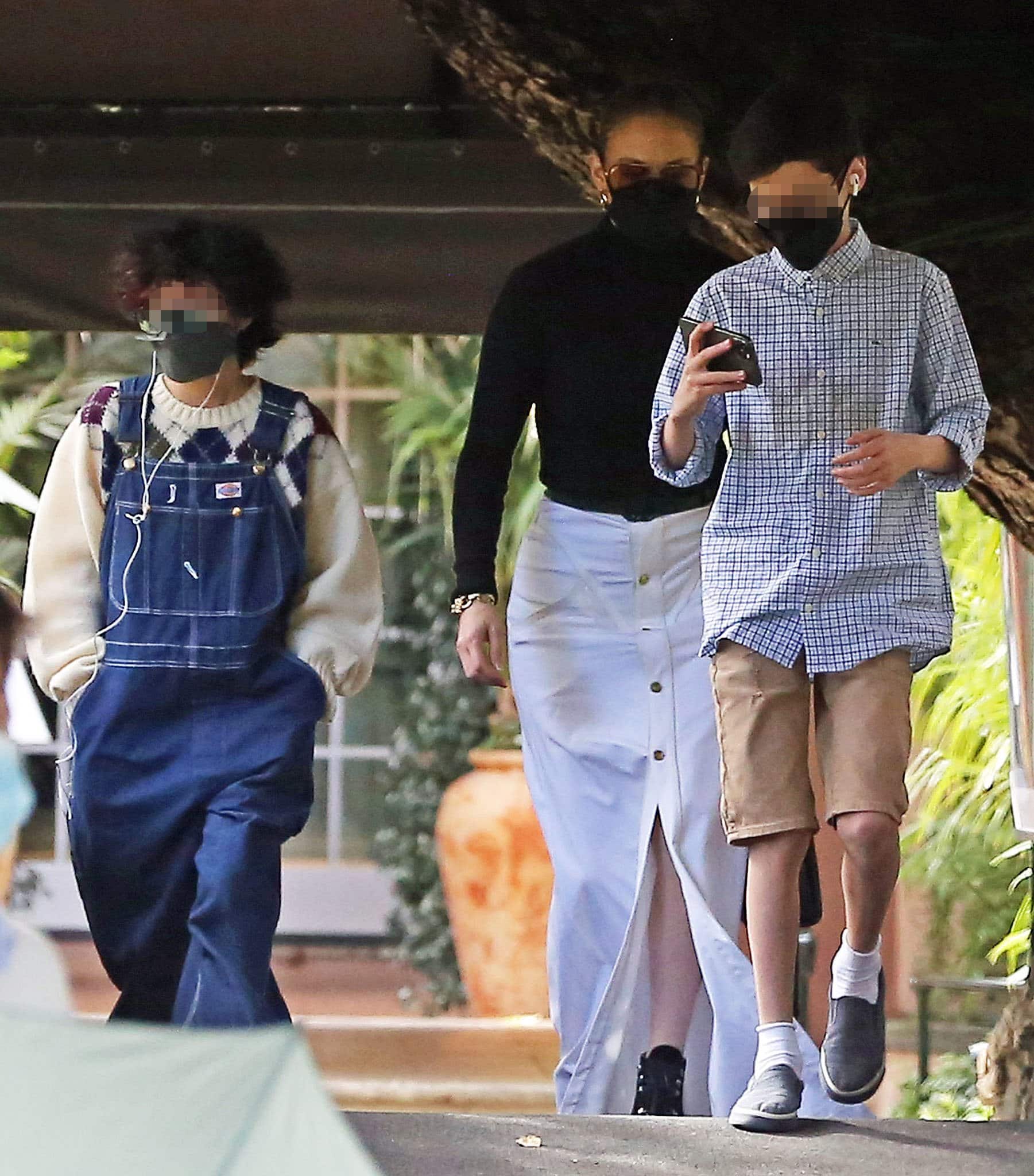 Jennifer Lopez lunches with her twins, Emme and Max, at Hotel Bel-Air in Los Angeles (Credit: Mega / WENN)
Wearing her hair in a tight bun, J.Lo styled the look with Jennifer Fisher earrings, a gold bracelet, a Gucci green leather belt, a pair of aviators, and a black face mask.
She then boosted her 5'5" height with a pair of Alaia velvet platform lace-up boots.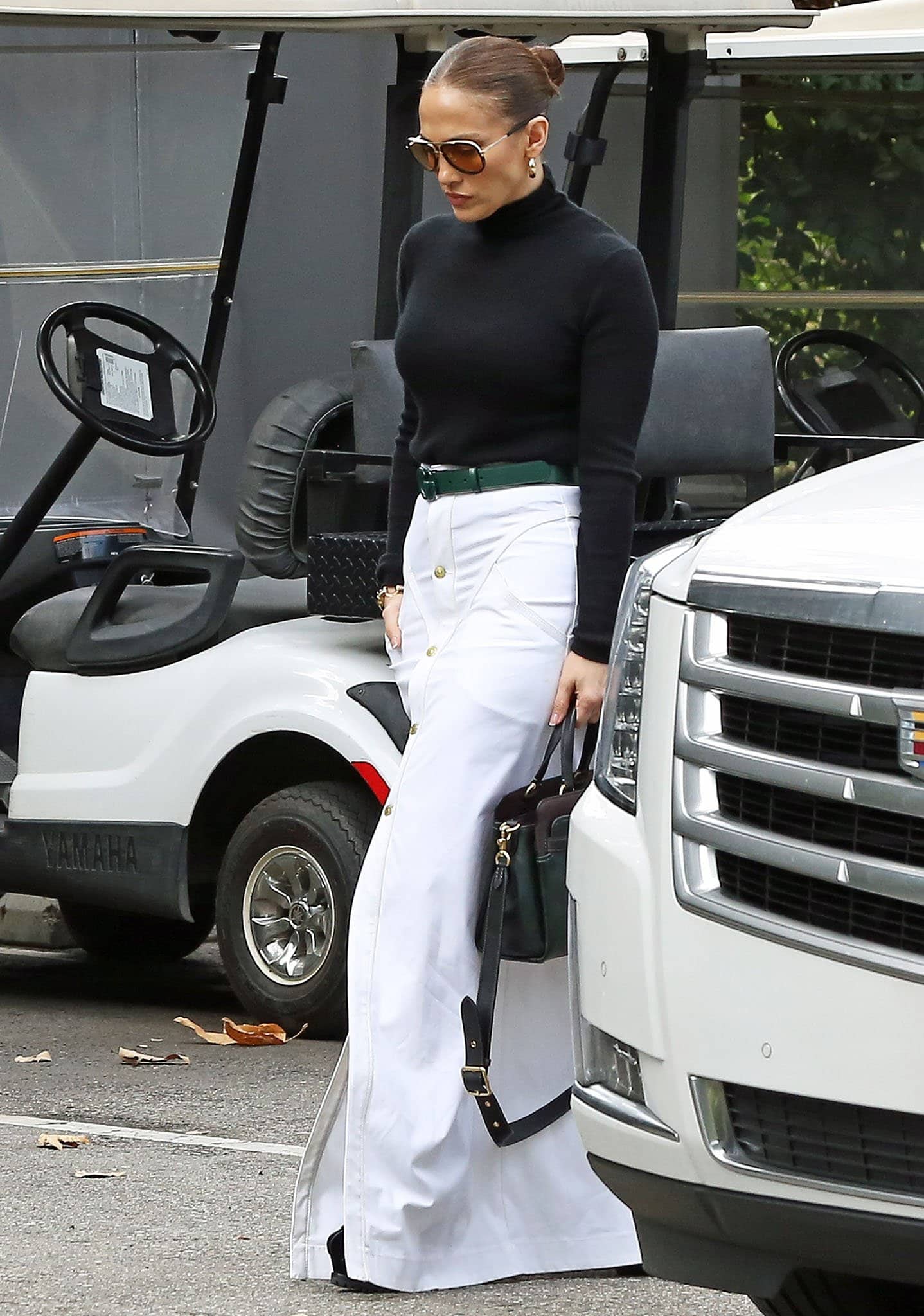 Jennifer Lopez looks chic in a black Wolford bodysuit and white maxi skirt styled with a green Gucci belt (Credit: Mega / WENN)
As a Coach ambassador, J.Lo, of course, carried the "Tate" carryall from the mid-luxury American design house.
On sale for $446.25 (from $595) at Saks Fifth Avenue, the Coach Tate bag is crafted of smooth colorblock green and maroon leather and features the iconic Horse and Carriage hardware.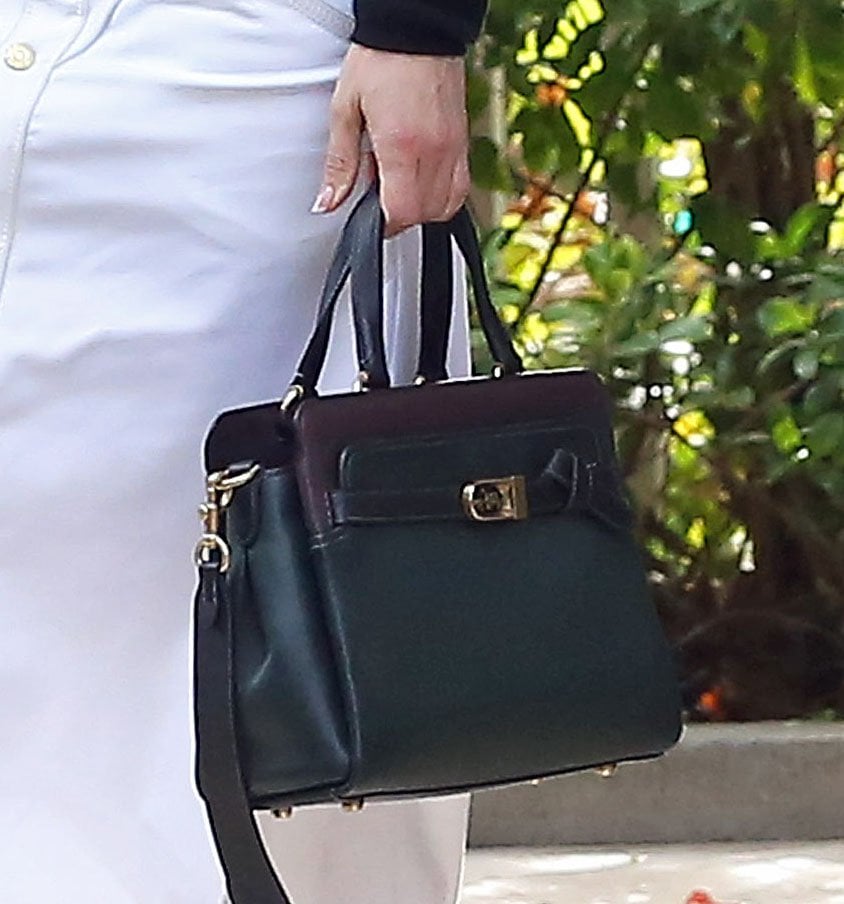 Coach ambassador Jennifer Lopez carries her stuff in a Coach Tate carryall (Credit: Mega / WENN)
A day before their outing, the pop icon went the Western Boho route during a shopping trip with her daughter, Emme, at The Grove in Los Angeles.
The 52-year-old star showed a hint of her abs in a $555 Orseund Iris chunky knit oatmeal crop sweater paired with a denim maxi skirt.
The Dior creation, which we first saw on the actress in June while shopping with her son, Max, features a patchwork effect in various denim washes.
Jennifer Lopez goes Western-Bohemian in Orseund Iris crop sweater and Dior denim maxi skirt (Credit: Mega / WENN)
Continuing with the Western theme of her outfit, J.Lo slipped her feet into a pair of Ralph Lauren distressed cowboy boots that feature dark brown wooden block heels.
She further styled her look with $295 Jennifer Fisher Mini Samira gold hoops, several rings, and Max Mara gradient oversize geometric sunnies that you can buy for $249 at Nordstrom.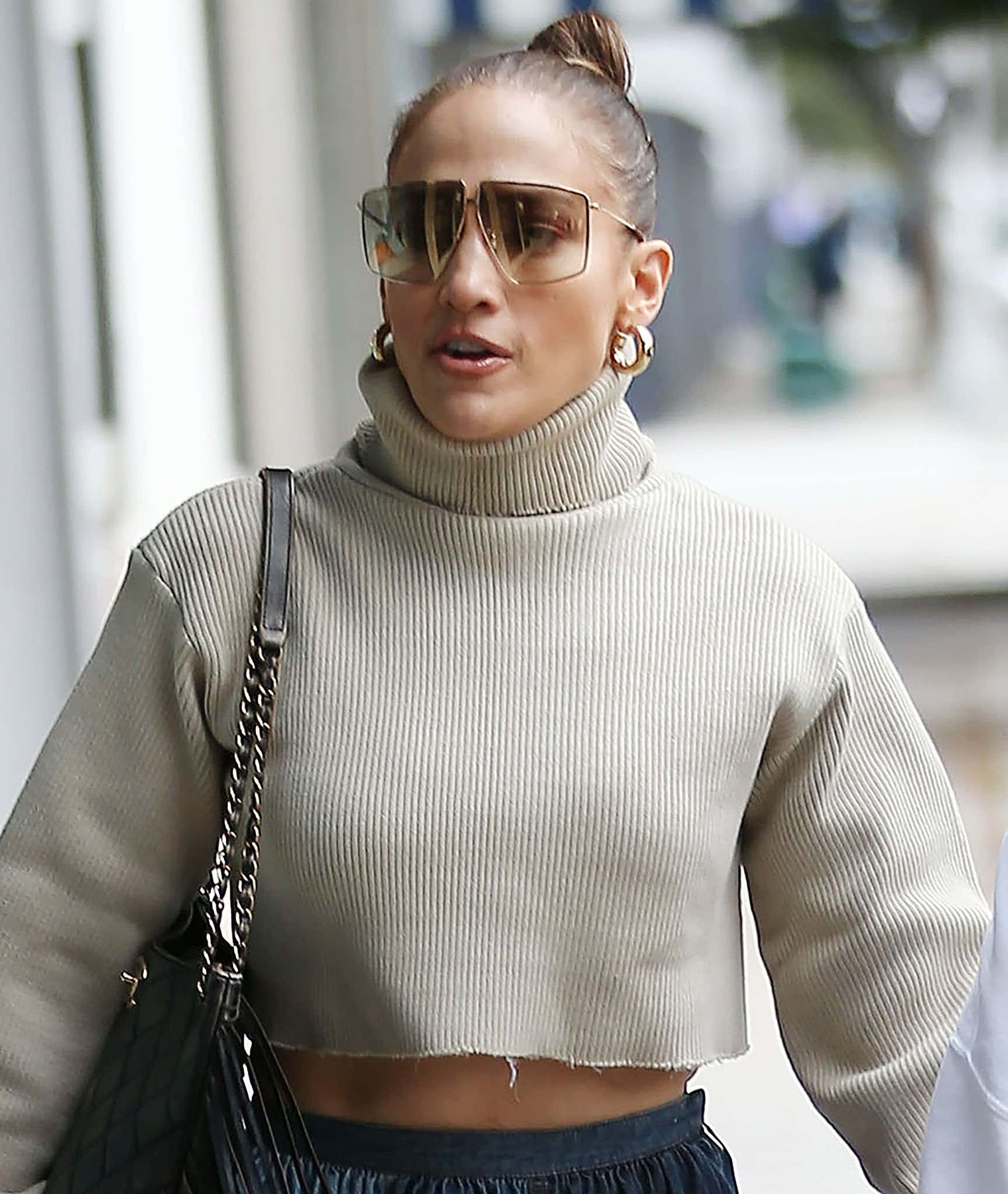 Jennifer Lopez carries a Chanel pre-fall 2014 fringe hobo bag and wears a pair of Max Mara oversized sunnies (Credit: Mega / WENN)
Sweeping her hair into a slick high bun, J.Lo carried her essentials in a Chanel Pre-Fall 2014 Metiers D'art Paris-Dallas leather fringe hobo bag.
Her daughter, meanwhile, kept things simple in a large white crewneck sweater, a pair of loose-fitting acid wash jeans, and white Converse sneakers.
Missing from their outing was J.Lo's beau Ben Affleck, who recently faced backlash for "blaming" Jennifer Garner for his alcoholism.
Jennifer Lopez's daughter Emme pairs an oversized white sweater with loose-fitting jeans and white Converse sneakers (Credit: Mega / WENN)