The City of Light shone even brighter as Hollywood's finest graced the front row of the Christian Dior Spring/Summer 2024 womenswear collection runway show on Tuesday afternoon during Paris Fashion Week in Paris, France.
Among the stars, Jennifer Lawrence, a longstanding embodiment of Dior's timeless elegance, took her place front and center at this dazzling event.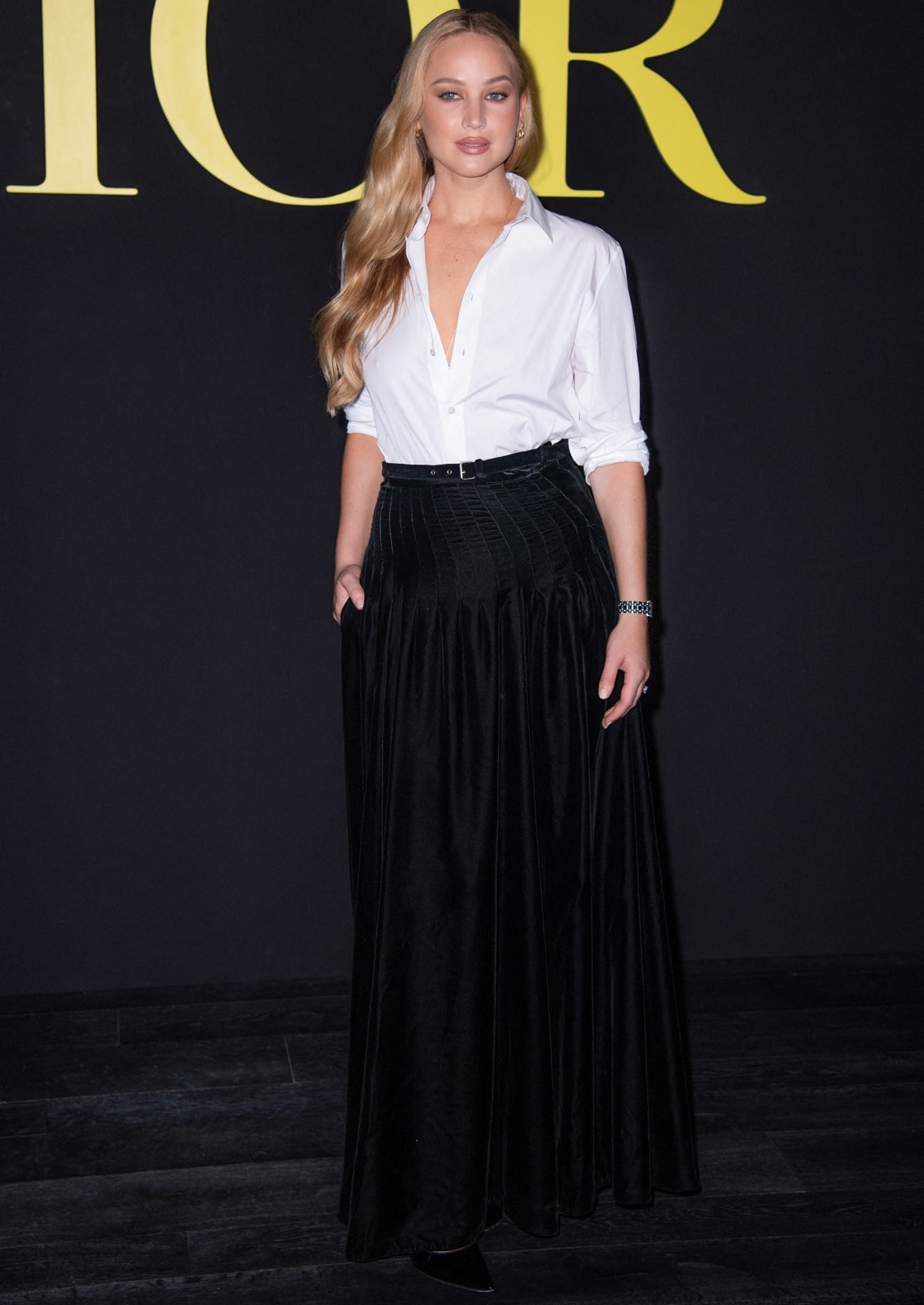 Jennifer Lawrence gracing the Dior Spring/Summer 2024 photocall with her stunning presence during Paris Fashion Week in Paris, France, on September 26, 2023 (Credit: Abaca Press / INSTARimages)
The 33-year-old movie actress' association with the French luxury fashion house began in 2012, aligning perfectly with her meteoric rise following The Hunger Games. In 2014, she renewed her partnership with the expensive brand for another three years, sealing the deal with a remarkable $15 million contract.
Seated alongside luminaries like Rosalía, Anya Taylor-Joy, Alexa Chung, Charlize Theron, Robert Pattinson, Elizabeth Debicki, and Jenna Ortega, Jennifer Lawrence added a cinematic aura to the front row, creating an atmosphere of true glamour.
The No Hard Feelings star effortlessly led the fashion pack in her striking black-and-white ensemble as she graced the red carpet, exuding understated refinement.
With her shirt sleeves casually cuffed below the elbow, Lawrence captured attention with her crisp white blouse, subtly unbuttoned to reveal just the right hint of skin on her chest.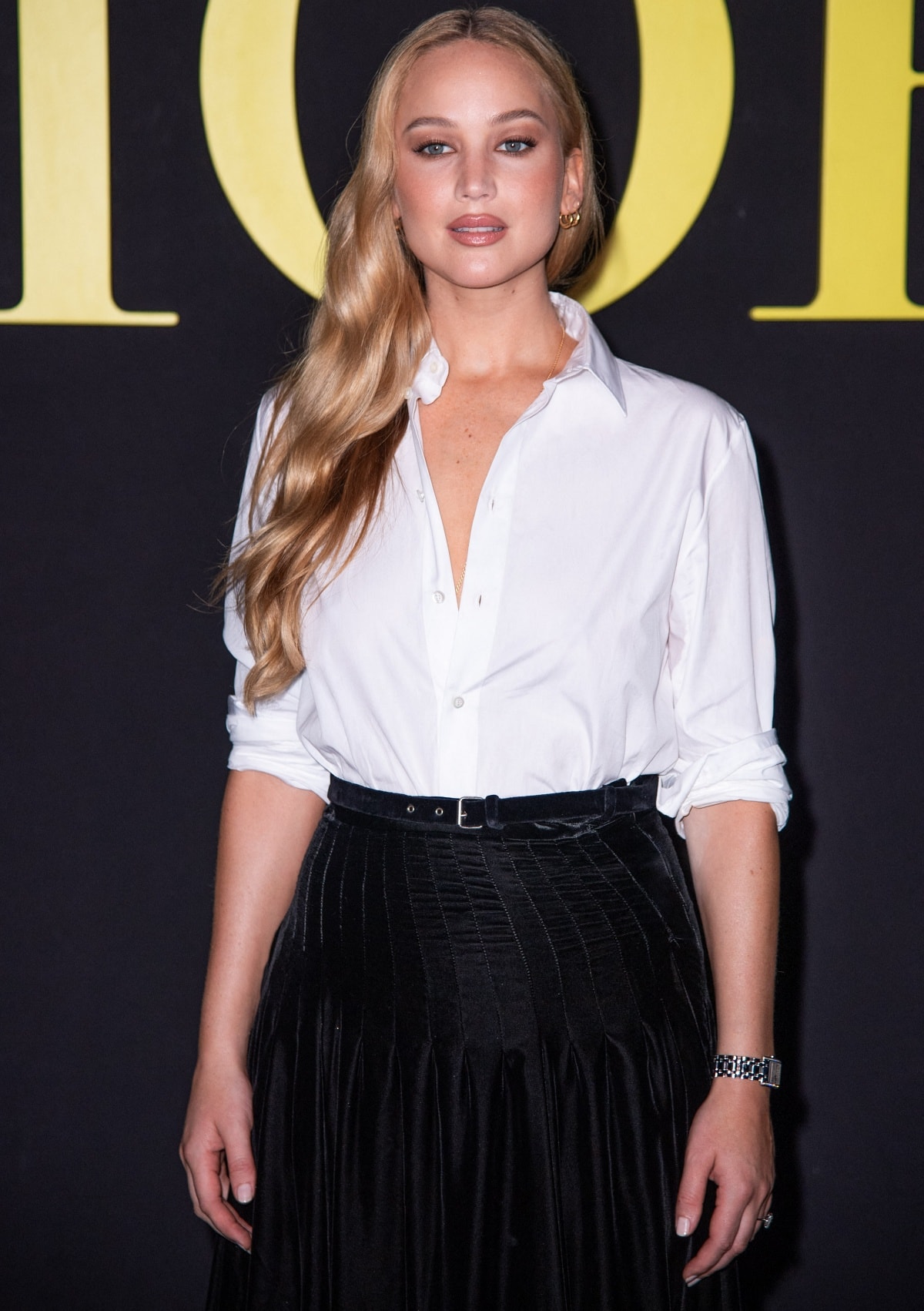 Jennifer Lawrence wearing a crisp white blouse that was subtly unbuttoned for a hint of skin (Credit: Abaca Press / INSTARimages)
Elevating a timeless, polished, and minimalistic look to old-school chic, she tucked the classic white collared top into a high-waisted black velvet skirt fresh from Dior's Resort 2024 collection, radiating an aura of pure sophistication.
To complete her ensemble, The Burning Plain actress cinched the flowing maxi skirt, boasting stylish and practical side pockets, with a slender belt that accentuated her waist.
Her silver Longines Dolce Vita watch, chunky gold hoop earrings, and the dramatic cat-eye Khaite x Oliver Peoples 1968C sunglasses further highlighted her impeccable taste. She also accessorized with a Dior Large Rose Des Vents medallion.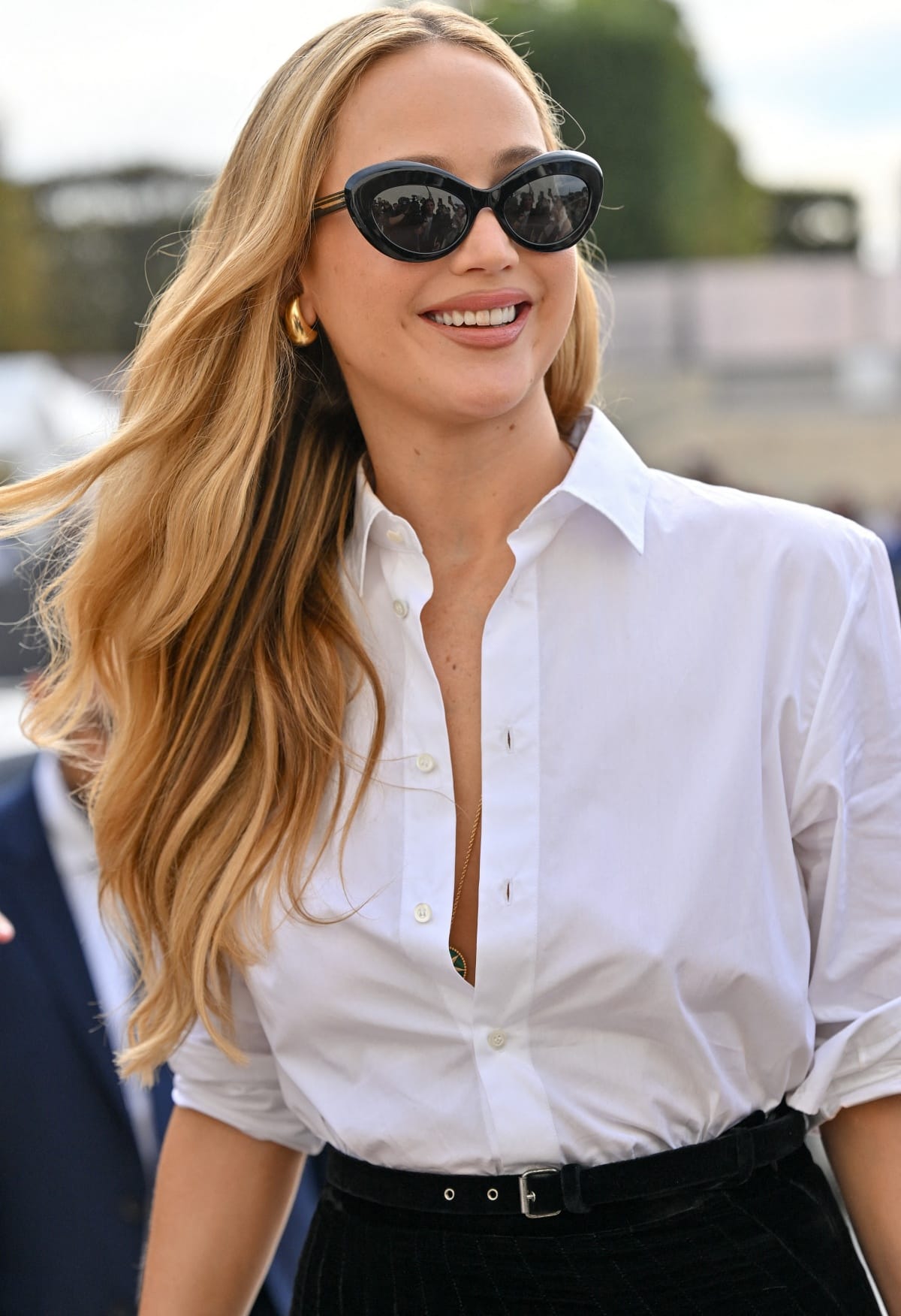 Jennifer Lawrence accessorized with chunky gold hoop earrings and cat-eye Khaite x Oliver Peoples 1968C sunglasses for that dramatic movie star look (Credit: Abaca Press / INSTARimages)
The final touch to her appearance came from her timeless black velvet pumps, their pointed toes peeking out from beneath the elegant maxi skirt, creating an effortlessly graceful silhouette.
While her soft waves of blonde hair cascaded down one shoulder and her makeup was done to perfection, adding extra glamour to her overall appearance, her plump pout caught the spotlight.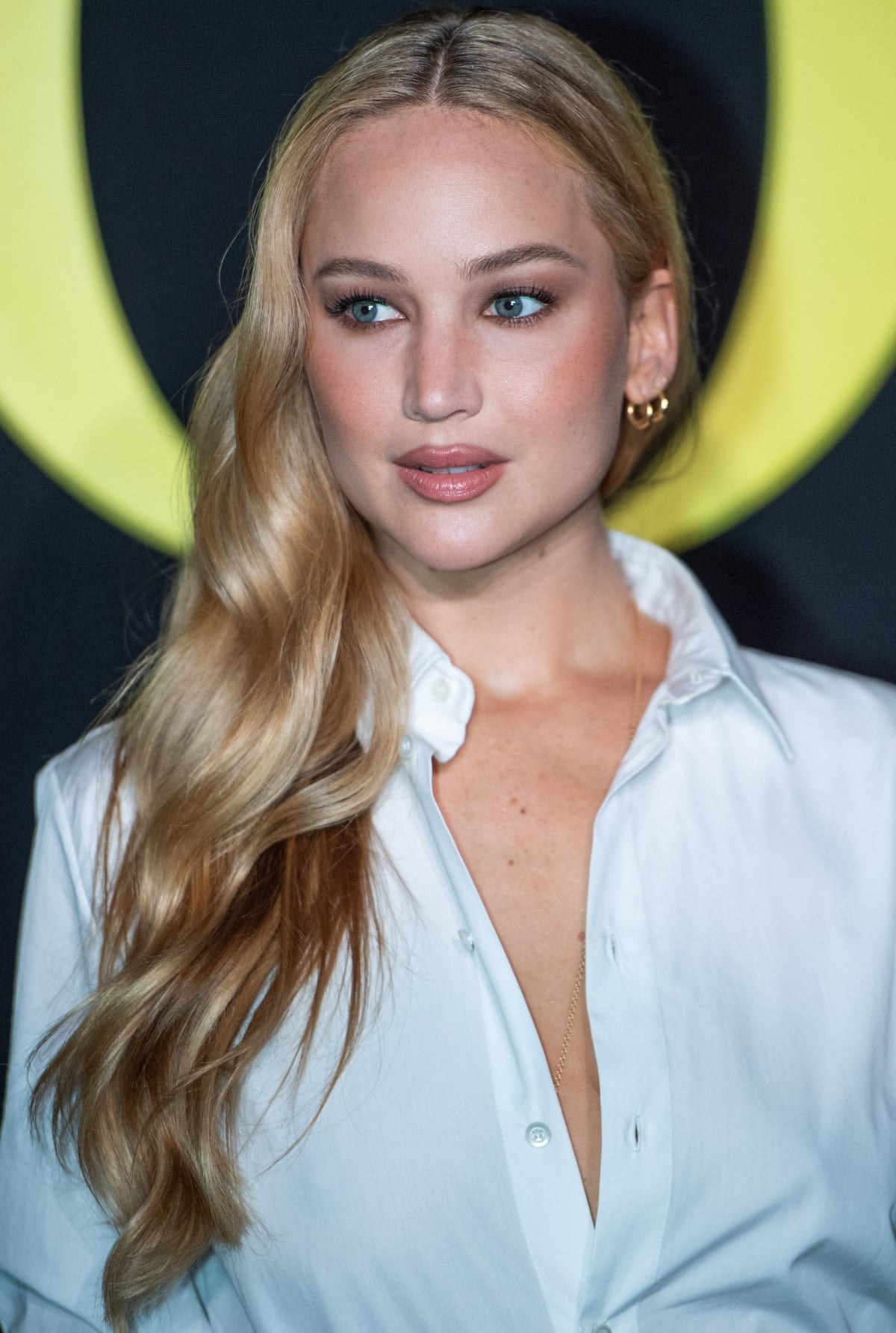 Jennifer Lawrence's plump pout caused quite a stir, sparking rumors of potential lip augmentation (Credit: Abaca Press / INSTARimages)
Observers couldn't help but notice that Lawrence's visage appeared slightly puffy and more rounded than before, a departure from her previous look, sparking speculation about potential lip augmentation.
Social media platforms buzzed with discussions regarding her "changed facial features," with some speculating about Botox or facial surgery. In contrast, others posited that the change might be attributed to lighting or makeup.
📸 Jennifer Lawrence's recent photos from Paris Fashion Week have sparked online buzz about possible cosmetic alterations. While she rocked a chic white-shirt-black-skirt at the Dior SS24 show, it's the speculations about her face drawing the most attention. From "What happened… https://t.co/6ympaqzKUr

— Your Next Shoes (@yournextshoes) October 2, 2023
One devoted fan expressed their concern on X, formerly known as Twitter, saying, "We need to start citizen arresting these plastic surgeons."
Another quipped, "She was hanging around the Kardashians too much."
A social media user weighed in on the growing trend of celebrities undergoing cosmetic procedures, noting, "It seems like there's been a startling growth in people getting cosmetic surgery in the last year."
Amidst the speculation, Jennifer Lawrence reassured her fans that she had not undergone cosmetic surgery on her face. However, she acknowledged that she had experienced extensive retouching in Photoshop several times.
In a recent interview (via Marca), the X-Men star explained, "I have not had surgery, it is the photo editing programs that make me look different, sometimes I don't even recognize myself."