Margot Robbie is undoubtedly one of the biggest actresses in Hollywood, headlining blockbuster films and excelling in every role.
After dominating this summer's pop culture with her lead role in Barbie, Margot Robbie is riding a new career high and scooping up more fans by the minute.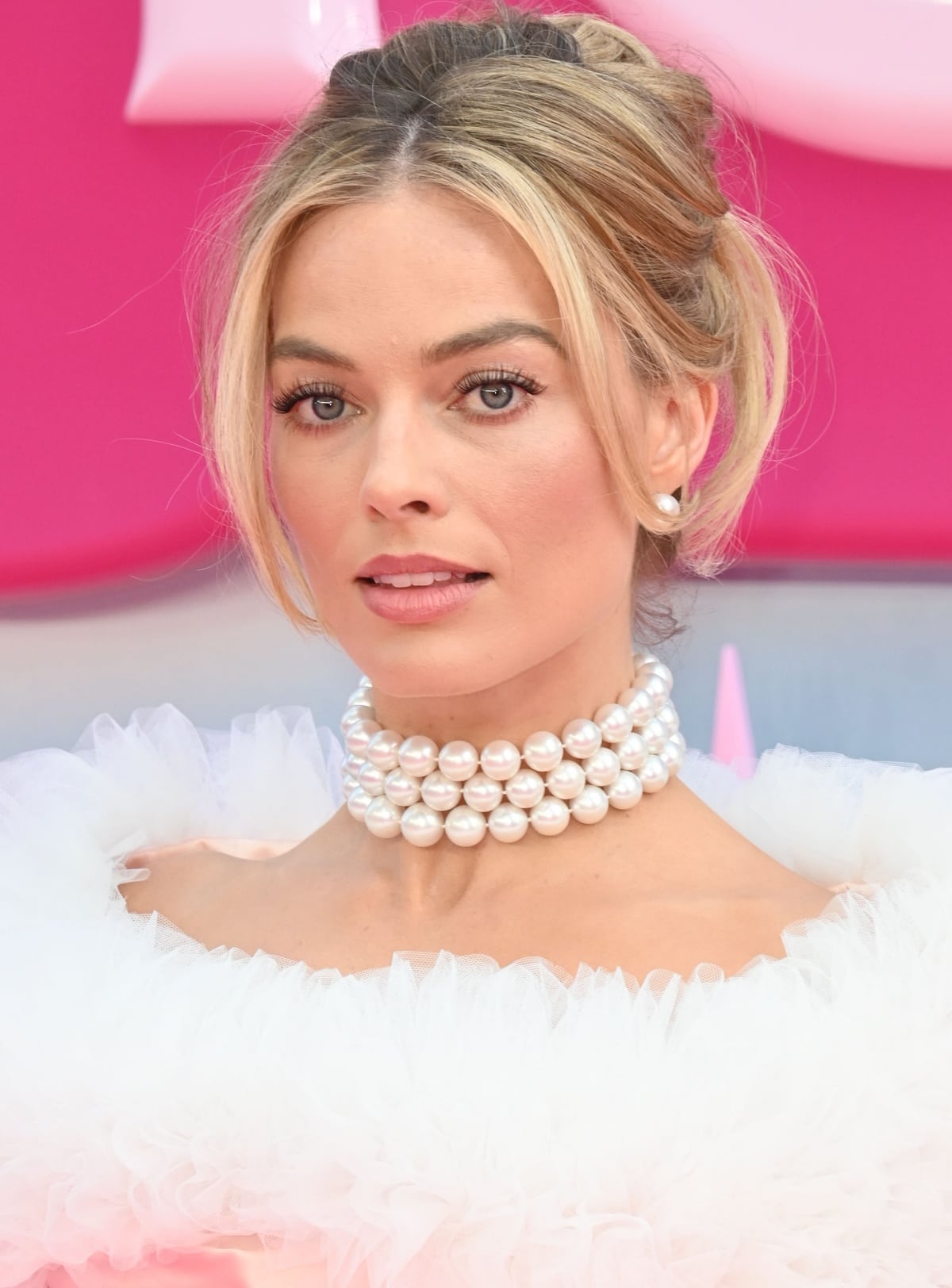 Margot Robbie made quite the splash with her portrayal of Barbie in Greta Gerwig's box office smash, donning iconic looks inspired by the popular Mattel doll at every promo tour stop (Credit: Nils Jorgensen / INSTARimages)
Refusing to ride on her undeniable good looks, this idolized actress fought her way to the top with ferocious determination and years of hard work, making her a perfect role model for any aspiring entertainer.
With two Academy Award nominations already in the bag, Margot Robbie is here to stay, and audiences are definitely ready for more.
At only 33 years old, Margot Robbie already has an impressive filmography with two Academy Award nominations under her belt (Credit: Featureflash Photo Agency / Shutterstock)
The future looks bright for Margot Robbie, but this talented actress has already popped up in a laundry list of fantastic films. Currently only 33 years old, she's already appeared in over 30 movies and television shows, pushing her popularity with each passing project.
To celebrate her rise to fame and continued success, we're counting down the top 10 Margot Robbie movies!
Margot Robbie: Aspiring Actress Turned Hollywood A-Lister
Margot Robbie was born in the rural town of Dalby, located in Queensland, Australia, on July 2, 1990. She is of German, Scottish, Sorbian, and remote Polish ethnic descent.
After her parents split up when she was only five years old, Margot spent most of her childhood at the farm of her maternal grandparents, growing up with her three siblings: a sister and two brothers.
At 8 years old, Margot even participated in circus school, where she earned a certificate in the art of trapeze.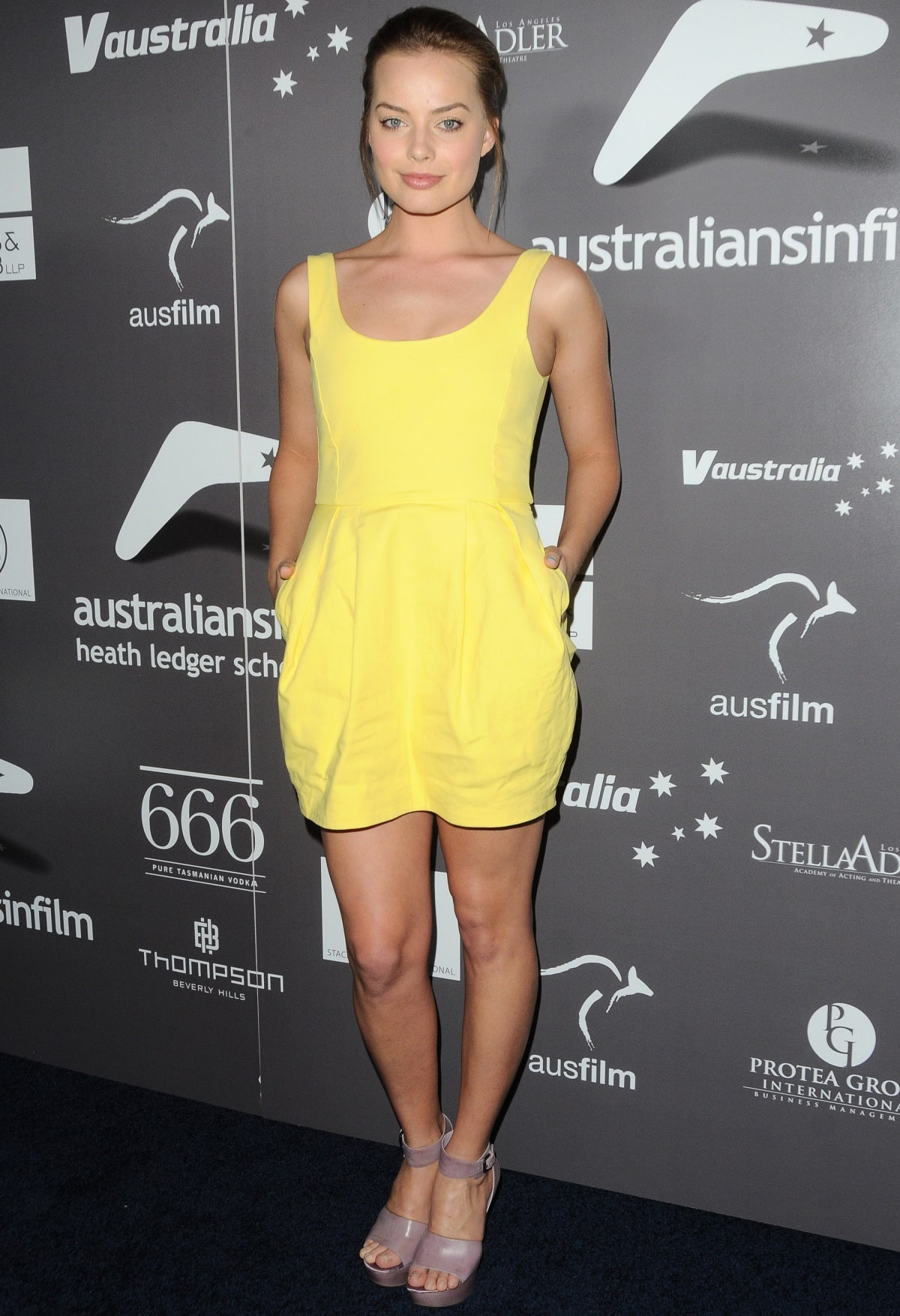 From her early years, Margot Robbie displayed a clear passion for entertaining, exploring her talents through circus school and ultimately pursuing a successful acting career (Credit: Sara De Boer / Startraksphoto)
During high school, Margot was determined to become an actor and worked three jobs while also picking up roles in a few indie horror films.
After school, Margot moved from home to pursue her acting career, and she eventually picked up a regular role on the Australian soap opera Neighbours.
In 2013, she made her feature film debut in the romantic comedy About Time when she was just 22 years old.
That same year, Margot Robbie's popularity exploded due to her role in the big-budget drama, The Wolf of Wall Street.
Springboarding off of the success, she focused on the development side of cinema. Together with her future husband, Tom Ackerley, she opened her own production studio called LuckyChap Entertainment.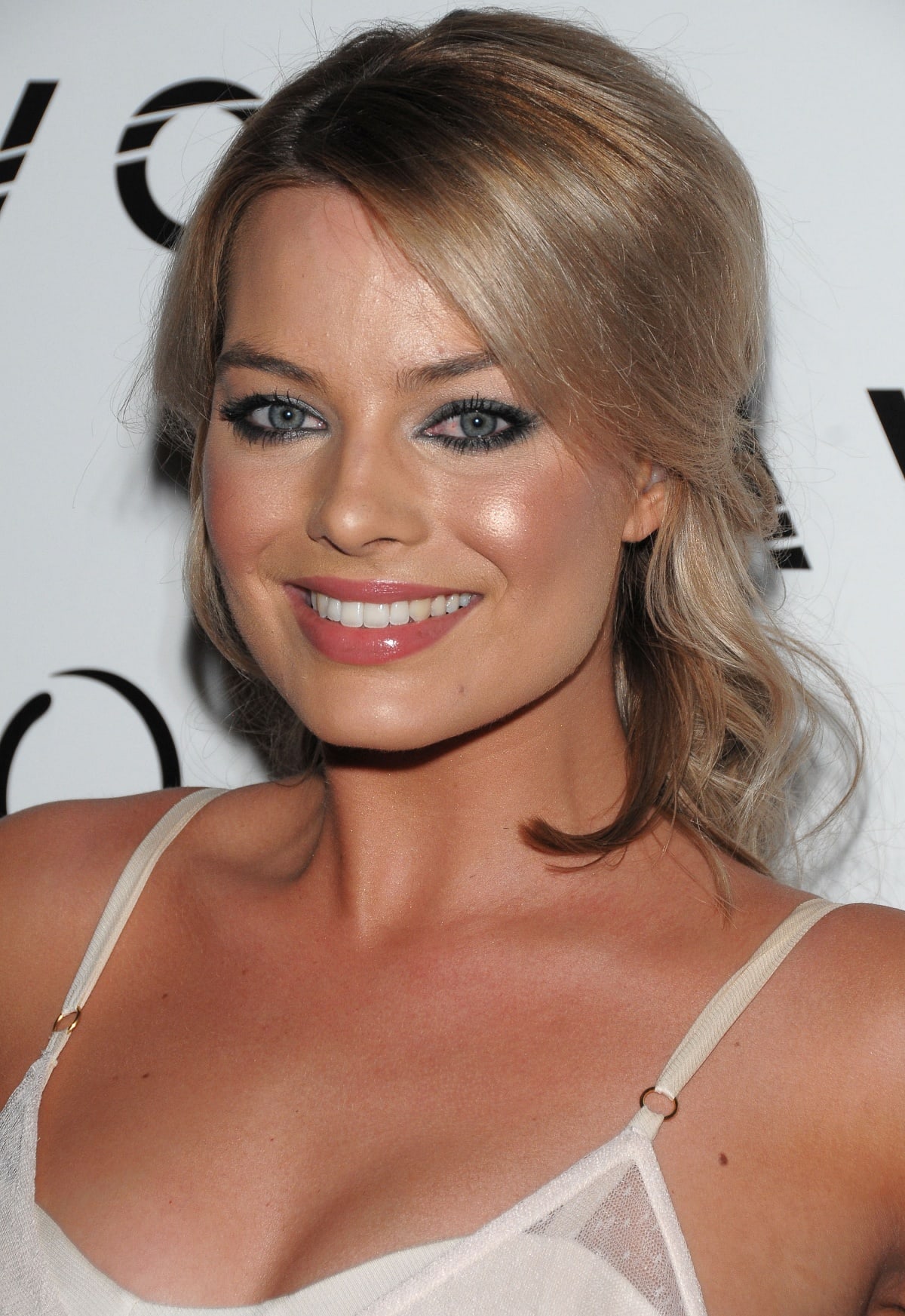 Multi-hyphenate star Margot Robbie also added producer to her job title (Credit: DAVE PROCTOR / Startraksphoto)
In the decade since, Margot Robbie has become a household name and one of the premiere leading ladies in Hollywood.
Let's take a look at some of the best films of her career and see how much she's made a remarkable impact on cinema.
Margot Robbie's Top 10 Movies According to Critics
The top 10 Margot Robbie movies on this list are ranked based on each film's score on Rotten Tomatoes.
This score is an aggregate of hundreds of reviews from around the world, including those by professional critics, journalists, bloggers, and more.
10. About Time (2013) – 70% Score
About Time is a lighthearted romantic drama written and directed by Richard Curtis and was the feature film debut for Margot Robbie.
Margot Robbie as Charlotte in the 2013 romantic comedy-drama film About Time (Credit: Universal Pictures)
The movie tells the story of a young man named Tim Lake (Domhnall Gleeson), who discovers that he can travel back in time to previous points in his life. Using the power to better his love life, Tim hops back and forth from past to present, searching for true love.
In the film, Margot Robbie plays Charlotte, a friend of Tim's younger sister, and the first woman whom he tries to woo with his time-traveling abilities. With her soft presence and undeniable glow, Margot Robbie easily charmed audiences with this initial role.
9. Asteroid City (2023) – 74% Score
Created by the illustrious and celebrated director Wes Anderson, Asteroid City is a comedy with a cast list that speaks volumes.
Set in the 1950s and detailing the production of the fictional, eponymous stage play, the movie stars the likes of Scarlett Johansson, Tom Hanks, Tilda Swinton, Bryan Cranston, Willem Dafoe, and many more.
Jason Schwartzman as Augie Steenbeck and Tom Hanks as Stanley Zak in the 2023 comedy-drama film Asteroid City (Credit: Focus Features / Universal Pictures)
As a play within a movie, Margot Robbie plays two roles: Mrs. Steenbeck on stage and the unnamed actress who plays her.
During a few scenes toward the end of the film, Margot bounces off of lead actor Jason Schwartzman with impeccable chemistry, leaving an impact with her brief screen time.
8. Z for Zachariah (2015) – 78% Score
Loosely based on the 1974 book written by Robert C. O'Brien, Z for Zachariah is a sci-fi film about a handful of survivors living on post-apocalyptic Earth.

Margot Robbie as Ann Burden, Chiwetel Ejiofor as John Loomis, and Chris Pine as Caleb in the 2015 apocalyptic science fiction film Z for Zachariah (Credit: Lionsgate / Roadside Attractions)
Margot Robbie stars as farmer Ann Burden, who meets two other survivors, John Loomis (Chiwetel Ejiofor) and Caleb (Chris Pine). As the trio attempt to solve a variety of problems in this new life, a love triangle begins to emerge, leading to tension and disagreement.
At 25 years old, Margot Robbie did a wonderful job in the lead role, helping her career continue to grow. Interestingly enough, Margot lucked out with Z for Zachariah, as she only obtained the role of Ann after the original actress, Amanda Seyfried, dropped out due to her schedule.
7. Birds of Prey (2020) – 78% Score
Based on the DC comic book series, Birds of Prey was directed by Cathy Yan and stars Margot Robbie in the lead role of Harley Quinn.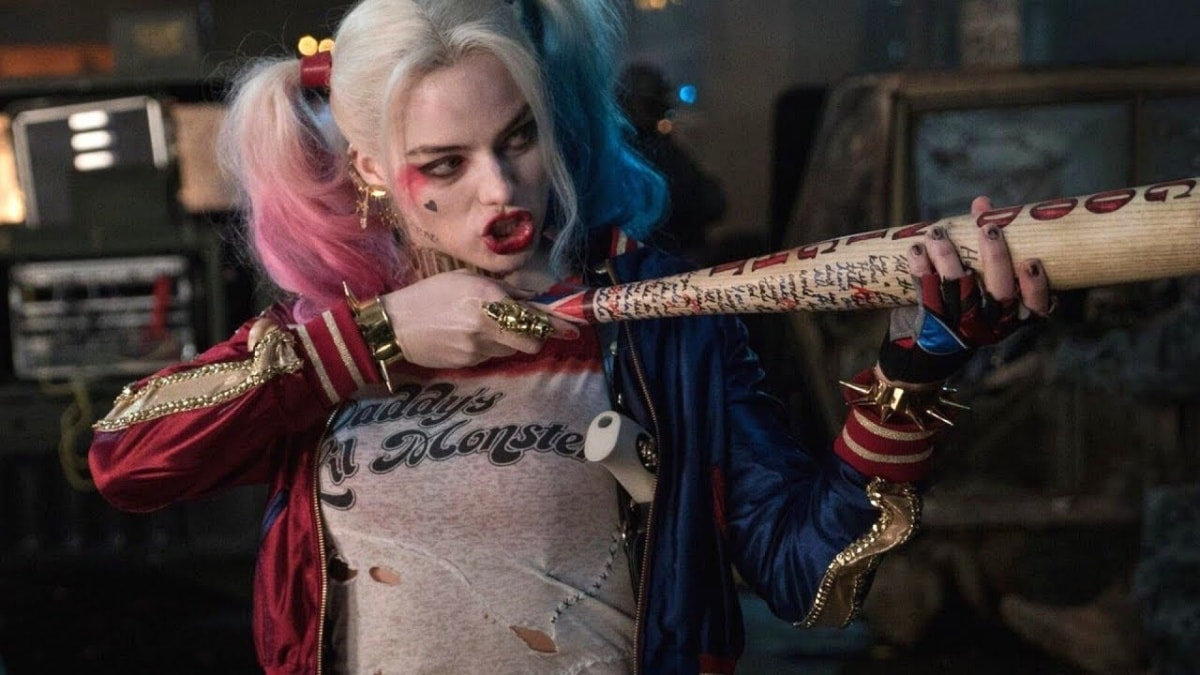 Margot Robbie as Harley Quinn in the 2020 superhero film Birds of Prey (Credit: YouTube)
In the film, Harley gathers a ragtag group of heroes including The Huntress (Mary Elizabeth Winstead), Black Canary (Jurnee Smollett), and more.
Together, they aim to take down the ruthless crime lord, Black Mask (Ewan McGregor), after he puts a bounty on their youngest member.
Margot Robbie must have been eager to fill the shoes of Harley Quinn again, as she personally pitched the idea for the movie to the executives of Warner Bros.
6. The Wolf of Wall Street (2013) – 80% Score
The Wolf of Wall Street may not have been Margot Robbie's first movie, but it was definitely the movie that put her on the map in a big way.
Margot Robbie as Naomi Lapaglia in the 2013 epic biographical dark comedy crime film The Wolf of Wall Street (Credit: Paramount Pictures)
Directed by one of the best cinematic auteurs of our time, Martin Scorsese, The Wolf of Wall Street tells the true story of seedy stockbroker Jordan Belfort (Leonardo DiCaprio).
In the film, Margot Robbie plays the role of Jordan's second "trophy" wife, Naomi, holding immense power over her husband with sly seduction.
Due to the excessive amount of attention she gained from the undeniably steamy role, Margot Robbie considered quitting acting altogether, but she decided to stay in the business after discussing the situation with her mother.
5. Once Upon a Time… in Hollywood (2019) – 85% Score
Once Upon a Time… in Hollywood is a dark comedy and drama that was written and directed by Quentin Tarantino and stars an ensemble of actors including Leonardo DiCaprio, Brad Pitt, and more.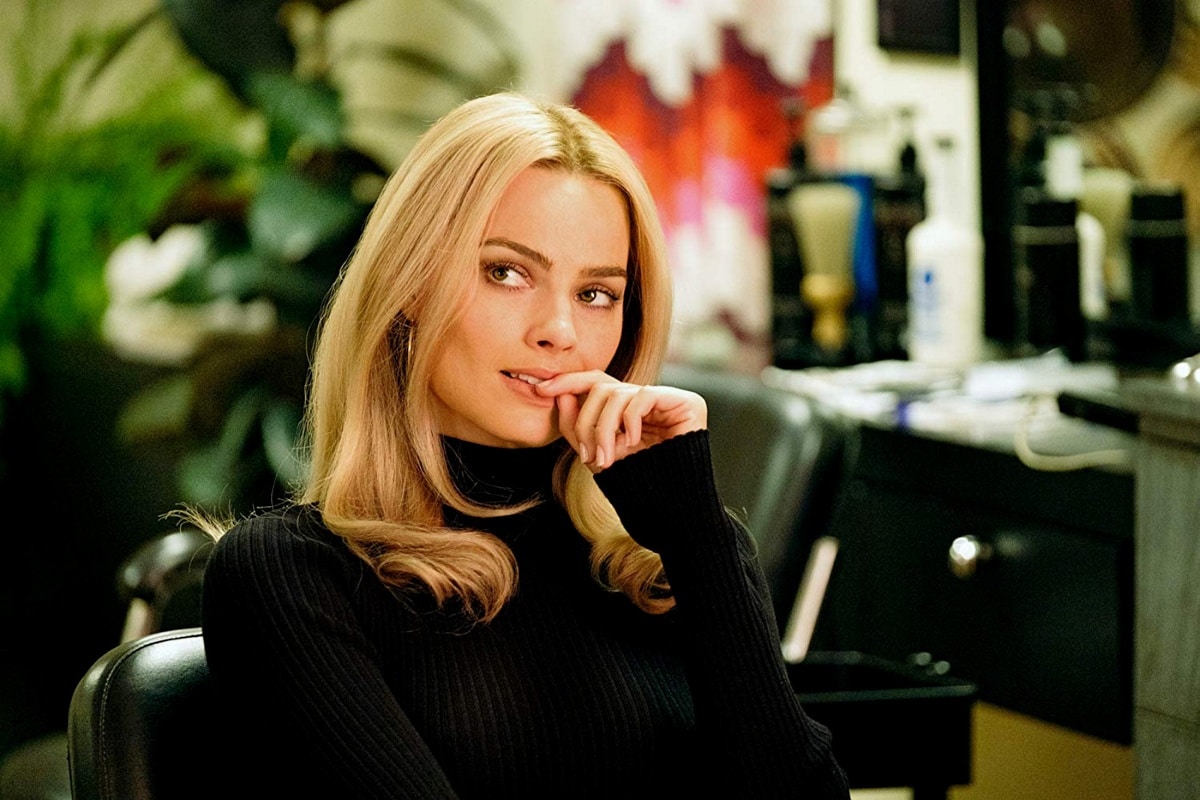 Margot Robbie as Sharon Tate in the 2019 comedy-drama film Once Upon a Time… in Hollywood (Credit: Sony Pictures Releasing)
Set in Hollywood circa 1969, the movie follows fictional actor Rick Dalton (Leonardo DiCaprio) and his stunt double, Cliff Booth (Brad Pitt), as they try to salvage a crumbling career.
Mixing real life with fiction, the 28-year-old Margot Robbie plays Sharon Tate, the real aspiring actress who was murdered by the Manson Family cult in 1969.
Ensuring that she respectfully portrayed the deceased, Margot Robbie spent time with Sharon's sister, Debra, who even let her borrow some of Sharon's old jewelry to wear in the film.
4. The Big Short (2015) – 89% Score
Based on the book by Michael Lewis, The Big Short is a drama that details the global economic crisis of 2008 and how it was spurred on by a faulty housing market in the United States.
Although it's thoroughly entertaining, the film deals with some complex financial concepts, but it features a handful of celebrity cameos to help explain these confusing rules.
The impressive ensemble cast of the 2015 biographical crime comedy-drama film The Big Short (Credit: Paramount Pictures)
Sipping champagne and enjoying a bubble bath, Margot Robbie appears in the film as herself at 24 years old, effortlessly explaining the corrupt system of subprime mortgages and the concept of "shorting" a stock.
This is easily one of the most unique appearances of Margot Robbie in a film, and the scene's legacy lives on, most recently going viral during the GameStop stock short squeeze in 2021.
3. Barbie (2023) – 89% Score
Co-written and directed by Greta Gerwig, Barbie is a 2023 comedy based on the hugely popular Mattel toy brand. Playfully balancing cartoon-like wonder with some important and progressive societal commentary, Barbie was a box office smash and easily one of Margot Robbie's best films of all time.
Margot Robbie as Barbie in the 2023 fantasy comedy film Barbie (Credit: Warner Bros. Pictures)
As you might expect, Margot Robbie plays the lead role of Barbie, the blonde-haired bombshell, who has everything going for her. However, Barbie's perspective on life is shattered when she and her dutiful boyfriend Ken (Ryan Gosling) travel from Barbie Land to the real world.
Funnily enough, although Margot Robbie was an obvious pick for the lead role, she rarely played with Barbie dolls growing up and had very little nostalgia for the brand.
2. The Suicide Squad (2021) – 90% Score
The Suicide Squad is a darkly comedic superhero film based on the DC comic book series and was written and directed by James Gunn.
Although it contains characters from the previous film, Suicide Squad (2016), this movie tells a completely new story about a group of villains who must infiltrate the fictional island nation of Corto Maltese to destroy a secret government experiment.
Margot Robbie as Harley Quinn in the 2021 superhero film The Suicide Squad (Credit: Warner Bros. Pictures)
Reprising her role for the third time in her career, Margot Robbie makes a big splash in the film as Harley Quinn, bringing loads of charisma and chaos to the cast.
At 31 years old, Margot proved that she was as tough as her on-screen character during the filming process, choosing to do many of the action scenes without a stunt double.
James Gunn has even stated that his "biggest regret" was not framing certain sequences to highlight the fact that Margot Robbie did the stunts herself.
1. I, Tonya (2017) – 90% Score
Written by Steven Rogers and directed by Craig Gillespie, I, Tonya is a mockumentary-style sports biopic which tells the life story of the professional figure skater Tonya Harding.
Margot Robbie as Tonya Harding in the 2017 biographical sports mockumentary dark comedy film I, Tonya (Credit: Neon / 30West)
Cheekily based on potentially misleading interviews, the film stars 27-year-old Margot Robbie as Tonya and details the athlete's troubled early career and her subsequent involvement in the assault of competitor Nancy Kerrigan.
In addition to starring in this unique, genre-mixing film, Margot Robbie also directly helped in its creation, as it was the first film her company, LuckyChap Entertainment, helped produce.
Despite the touchy subject matter, I, Tonya was a hit with critics, and Margot Robbie's performance earned her an Academy Award nomination for Actress in a Leading Role.