Nicki Minaj was spotted making her way to the Britney Spears concert in which she was the opening act in Miami, Florida last Friday. Nicki was dressed in her usual bewigged Barbie style that day, but her shoes were completely unexpected.
You know what? I think I've become a fan of Nicki Minaj. Not of the shoes though, but definitely of Nicki Minaj. We always talk a big game about how celebrities should wear more standout shoes at photo ops but actually, we mostly fawn over the Pradas, the Guccis and the Louboutins. Now here's Nicki Minaj giving us exactly what we had hoped for and she chose a bright orange, patent leather, animal-printed pair at that.
You just gotta stand up and applaud the woman's daring, almost defiant fashion choice.
Nicki Minaj's blink-and-you-won't-miss-it shoes are these ones by Opening Ceremony:
Opening Ceremony Margot Wedge Ankle Booties, $574
This less garish white and beige leather version of the shoe is also available at Shopbop:
Opening Ceremony Margot Wedge Ankle Booties in White and Beige Leather, $574
While we have the focus on Nicki Minaj, we would like to get your opinion on the Christian Louboutin pumps that she wore to an award show last year. She styled them with a Manish Arora Spring 2011 dress that gave her the attention she undoubtedly craved at an event like this one: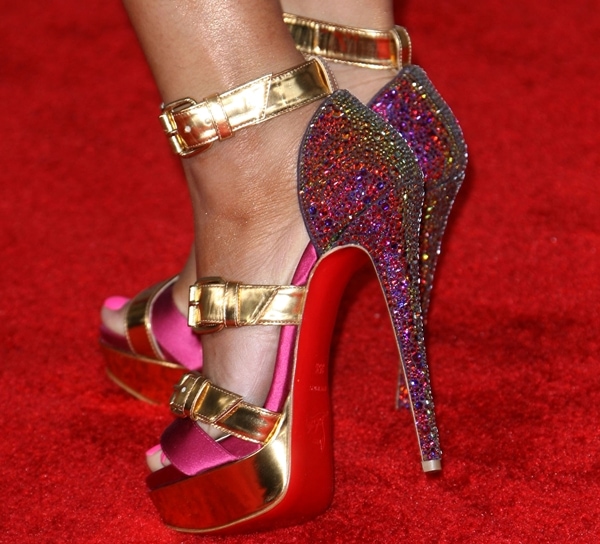 Nicki Minaj at the 2010 American Music Awards held at the Nokia Theatre L.A. Live in Los Angeles, November 21, 2010
Credit: Adriana M. Barraza/WENN