Do you wear heels to work every day? Does your dress code require you to wear heels all day long? Or do you just plainly and simply like to wear heels? If so, then you can let your flats-wearing naysayers know that doctors now say that it's okay to wear your beloved stilettos for a prolonged period of time. New research published in the International Journal of Clinical Practice shows that wearing high heels increases strength in the ankles and even improves overall balance.
However, don't rejoice just yet. While doctors do say wearing high heels is okay, it's only up to a certain point. They've determined that crucial time to be after three years, when the cons of wearing heels start to far outweigh the benefits. At that point, important ankle and leg muscles become weak, making the wearer vulnerable to sprains, falls, and other potentially crippling injuries.
We suspect that some famous high-heel-loving celebrities have been privy to this knowledge long before it was published. One is Victoria Beckham, who, in the Fall/Winter 2014 fashion season, uncharacteristically claimed that she was obsessed with Manolo Blahnik flat oxfords!
Victoria Beckham trying out a treadmill desk while wearing high-heeled booties in a snap she shared on Twitter on March 12, 2014
Another famous high-heel wearer who seems to have given up on stilettos is Sarah Jessica Parker. After building her career around loving vertiginous shoes in 'Sex and the City', she is now mostly seen wearing flats or low heels. SJP has even taken to wearing flats on the red carpet, which is a trend more and more celebrities have begun adapting.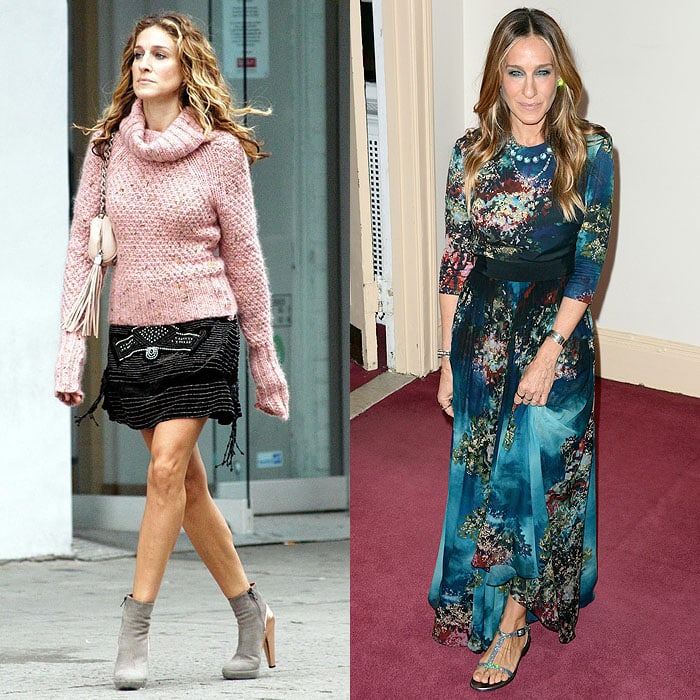 Sarah Jessica Parker wearing high heels while filming "Sex and the City" in NYC's meatpacking district on November 6, 2003; SJP wearing glittery flats to the Irish Repertory Theatre's Annual Gala Production at The Town Hall in New York City on June 8, 2015
As a top in-demand supermodel, Karlie Kloss practically lives in high heels. But that doesn't mean that she prefers them. Like Posh and SJP, Karlie also seems to have given up on heels and now almost exclusively wears flats for her red carpet appearances.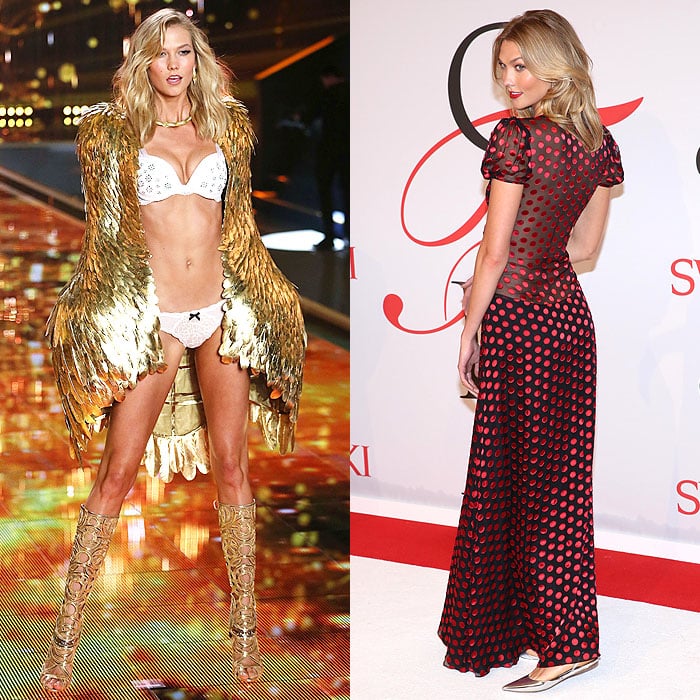 Karlie Kloss wearing Nicholas Kirkwood "Gabo Angel" knee-high sandal boots at the 2014 Victoria's Secret Fashion Show 2014 at Earl's Court in London, England, on December 2, 2014; Karlie wearing Jimmy Choo "Genoa" flats at the 2015 CFDA Fashion Awards at Alice Tully Hall at Lincoln Center in New York City on June 1, 2015
Will you take after Victoria Beckham, SJP, and Karlie Kloss, or will the doctors who conducted the research have to pry your heels from your cold, dead hands feet?
You don't have to give up high-heeled shoes, though. You can just make them more comfortable. Also try some tips from podiatrist and fellow shoe lover Dr. Suzanne Levine on how to ease foot pain from wearing high heels.
Credit: Andres Otero / Ivan Nikolov / Lia Toby / Vallenilla / WENN