Oscar Tiye Shoes, Boots, Heels, Pumps, and Sandals for Women
We love these ruffle sandals heels that you can purchase in black, orange, red, and yellow for just $44.99 at…
Katy Perry posed for some photos with Minnie Mouse at the Hollywood Walk of Fame ceremony celebrating the 90th anniversary…
Oscar Tiye, an Italian shoe brand founded by Amina Muaddi and Irina Curutz, strikes the perfect balance between elegance and strength….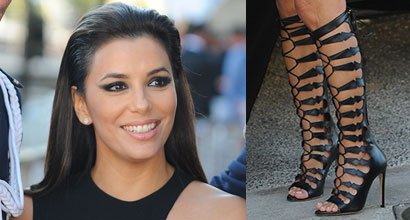 Eva Longoria has been showcasing a series of dramatic gowns at the 68th Annual Cannes Film Festival in Cannes, France….
Gillian Jacobs joined Leighton Meester for the premiere of their movie, 'Life Partners', on Tuesday at the ArcLight in Hollywood….
Britney Spears is one of the best-selling music artists of all time. Having released eight studio albums, seven compilation albums,…
There are times when we feature famous celebrities simply because of their recognizable names. Then, there are times when lesser-known personalities make…
Not affected by the issue that her ex-boyfriend, Ian Somerhalder, is now dating a fellow vampire, Nikki Reed, the very…
It was a feast for the senses at the Los Angeles premiere of 'Vampire Academy' as some of Hollywood's "it"…
Camila Alves is surely proud of her husband, Matthew McConaughey, who won two Best Actor Awards this week for his…
Both newcomers to Your Next Shoes, Natalie Zea and Sarah Rafferty wore some amazing shoes to the Audi Golden Globe…
The perfect way of spicing up an outfit is to throw on a pair of spicy red shoes. This month,…
A-list celebs paraded the carpet of the Gibson Amphitheatre in Los Angeles on Sunday, August 11, for the 2013 Teen…
'Star Trek Into Darkness', one of the most anticipated movies of this year, premiered at the Dolby Theater in Hollywood…