It's the end of May, and what better way to round off the month than with a compilation of our favorite shoe bloggers this month?
1. Sheryl L. and her tomboyish take on sexy lace-up stilettos
LA girl Sheryl L. dialed down the sexiness of her Shoemint stilettos and leopard-print clutch by pairing them with Top Gun–style aviators, a gray wifebeater, and boyfriend jeans with the waistband ever-so-casually folded down.
See more of Sheryl's strong and sexy style at Walk in Wonderland.
2. Ivy X.'s street-styled Fendi heels
Ivy X.'s mastery of mixing high and low is evident in the way she paired thousand-dollar Fendi heels with a street-style look. The Zara skort she has on is also on just about every other fashion blogger right now, but her styling is our favorite hands down.
Interested in Ivy? See more of what she does at This Is What We Do (January 2017 Update: Blogg Offline).
3. Juliett K.'s hardcore skulls-and-bugs sandals
Now, these are summer flat sandals. Apparently not one to go for ordinary designs even for wardrobe basics, Juliett K. selected a pair heavily laden with gold skulls, spikes, and bugs.
Juliett K. shows more of her unique taste at Maffashion.
4. Hanka's luxe but laidback look in leopard heels
Leopard stilettos have never looked this luxe and laidback. Hanka achieved that perfect balance with her Zara leopard-print heels by pairing them with a low-key denim shirt and a high-end Balenciaga bag.
Hanka is one of the two uber stylish fashion bloggers behind The Czech Chicks.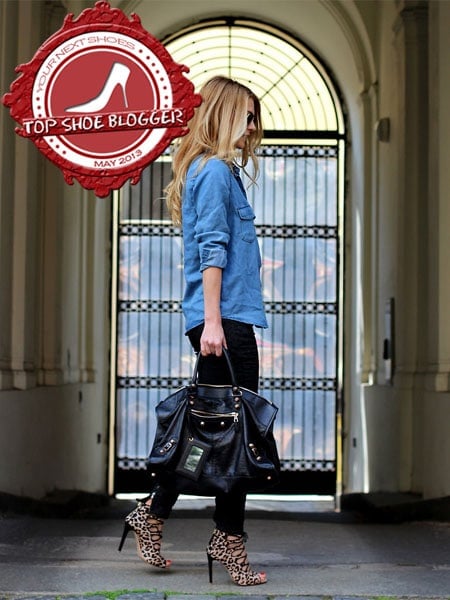 5. Lucita Y.'s colorful sneakers
We love color, and Lucita Y. gives us just the right dose with this casual but cool everyday outfit. Her white robe cardigan serves as the perfect backdrop to her striped blue mini dress, lemon yellow tote, and multicolor Zara sneakers.
Show Lucita Y. some love at Lucitisima.
6. Stefanie G.'s sexy-from-every-angle Monika Chiang sandals
Clad in just a t-shirt and cutoff shorts, Stefanie G. knows that her Monika Chaing "Imena" sandals speak for themselves.
June, 2014 Update: Unfortunately, it seems like Stefanie G. has deleted her Lookbook account.
7. Darya K.'s surprising Burberry booties
We say Darya K.'s booties are surprising because we didn't expect a bodycon dress look to be accessorized with an edgy pair of heels — and worn with white socks, no less!
You'll find more of Darya K.'s interesting mix-and-match choices at The Cab Look.
8. Steffy K.'s summery yellow flats
Miami-based Steffy K. contributes the twee to our list. Her yellow Loly in the Sky flats are the epitome of summer. We bet you can't help but smile when you've got shoes like hers on your feet.
Immerse yourself in the happiness that is Steffy K.'s blog at Steffy's Pros and Cons.
9. Isabella R.'s glittery zigzag-patterned booties
We need Isabella R.'s Louboutin-like zigzag booties now.
Isabella shows off more of the enviable contents of her closet at The Pile of Style.
10. Dominica J.'s on-trend minimalist tall gladiator sandals
We find Dominica J.'s minimalist take on the knee-high gladiator sandal trend interesting to the max.
Dominica experiments with different shapes and silhouettes at her blog, Moves Fashion.