It will be summer officially a few days from now. And during this time of the year, easy-breezy outfits are a must. To make the most of the sunny weather, some women wear very feminine dresses in lightweight fabric, while others take the opportunity to wear sexy tops. Cropped, floral, Aztec, and laced tops are what we often see these days.
If you still aren't sure about what to wear or how to style your summer look, you may want to check out the following bloggers who wore the most captivating and noteworthy tops last month.
1. Karina Malina from Russia
Karina Malina of Baby's on Fire flaunted her chiseled figure in a pencil skirt and a cherry cropped top that complemented her red lips and pumps. The look was both flirty and lovely!
2. Fernanda Flores from Mexico
A fringed outfit is on-trend this season, and Fernanda Flores of Style Ambitions did not shy away from it. She opted for a somewhat daring look, wearing only a bra under her lace fringed top. Her jeans, though, provided modesty to her overall appearance.
3. Jessy W. from Germany
Instead of wearing an ensemble in clashing bright colors, Jessy W. of Kleidermädchen chose an outfit in a red and white combination. Her sheer top was a vivid red, and it popped against her white asymmetrical skorts and sneakers. Although bright, we still find her look refreshing!
4. Maddy C. from Poland
The bohemian style is very popular during summer. Maddy C. of Maddinka showcased a chic boho-inspired ensemble that included a flowy below-the-knee skirt and a sleeveless top featuring an Aztec print and a doily hem. She also threw in a pair of flat sandals, sunnies, and a brown body bag to complete her look.
5. Ellen V. Lora from the United States
Another blogger who was bold enough to showcase her toned body was Ellen V. Lora of Roca Fox. She was va-va-voom in a bralet that features tropical prints. She paired it with metallic gold leather shorts, and the result was a sexy street-chic look that's ideal for summer.
6. Liat Neuman from Canada
After a long cold winter, Liat Neuman of YomanChic was excited to share a feminine spring look last month. She wore a floral jacket, a pair of jeans, and ballerina flats. Although the striking jacket was the main focus of her outfit, we still could not help but pay attention to her top that seemed very breezy in white with a doily lace pattern on the hem.
7. Kimberly Kong from the United States
Kimberly Kong of Sensible Stylista was both sexy and sassy in a green top that features a bow-like design with a cutout detail on the center. It also has an interesting peplum-like effect that gave her a more girly look.
8. Isabel Z. from Australia
Ancient meets modern in this outfit worn by Isabel Z. of Metallic Paws. The black maxi skirt and the gold accessories provided the ancient feel of her look. The striking neon cropped top with cutout details, on the other hand, gave her appearance a contemporary touch. Isabel was both classy and sexy in this number!
9. Olivia Noel from the United States
Floral print is in this season. A number of bloggers have already started featuring floral looks on their websites, including Olivia Noel of the Olivia Noel blog. She welcomed the new season in style in an outfit that included a pair of white shorts and a green peplum top with floral prints. Lovely, yes?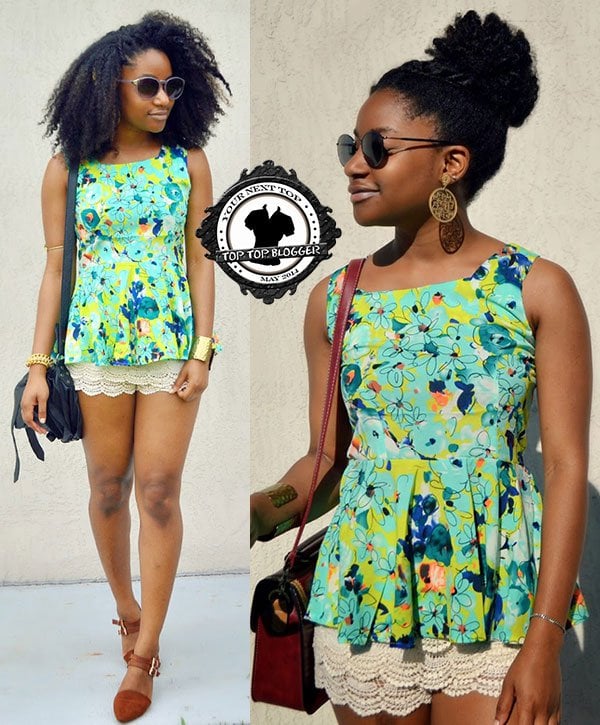 10. Lauren Tarlton from the United Kingdom
Lauren Tarlton of Moda el Amor went for a street-chic summer getup that is very wearable. Lauren paired her high-waisted skinny jeans with a cropped top that features one of the season's popular designs — Aztec. She exuded a retro vibe in this ensemble!