Why, hello there, December!
More holidays are nearing. Are you all set to celebrate Christmas and New Year? Many are excited about food, presents, and parties, but we particularly can't wait to see a lot of chic holiday outfits.
In the meantime, take a look at some of the most remarkable ensembles that fashion bloggers put together last month. Be prepared for a lot of stylish layering, one-of-a-kind heels, and pairs of unique boots! Check them out below, and let us know which look you would copy this season.
1. Judyta Rybka from Poland
Would you try a sexy and feminine winter look? If so, get some inspiration from Judyta Rybka of Fashion by Judi. Her pink tunic and coat are her own designs and are available at Judi Design. She styled with a white crochet scarf, a black fedora, a black clutch, and black knee-high boots, which gave her ensemble a fierce vibe, offsetting the softness and femininity of her clothes.
2. Paris Sue from Romania
Paris Sue of J'adore Fashion showcased a very stylish getup last month. Her scarf in season-appropriate colors stood out from her black coat. Her large statement earrings and black fedora added some edge to her overall look. For a dose of fun, she wore a unique pair of pumps that feature a large eye detail on each vamp.
3. Nekane Smith from Spain
The military style is still trendy these days. Camouflage shirts or military green clothing pieces are enough to give women more variety in styling by embracing a relatively masculine look. Check out how Nekane Smith of Buscando a Audrey recreated this fashion with her military-inspired coat, which she styled with a chic black belt. The surprising and more interesting detail in the entire ensemble, though, was the blogger's pair of tribal-looking boots that feature feathers and beads. This isn't your ordinary outfit or shoe choice!
4. Yuyu from France
We bet you'd rather wear heeled sandals than boots. During winter, however, you have no choice but to keep your toes warm. So, if it's not that cold yet in your city, you might want to take advantage of the weather and wear your heels like Yuyu of Yuyu Fashion Book. She used a pair of furry sandals to complement her furry coat worn over a knit monochrome sweater and black leather pants. The result was fierce and fabulous!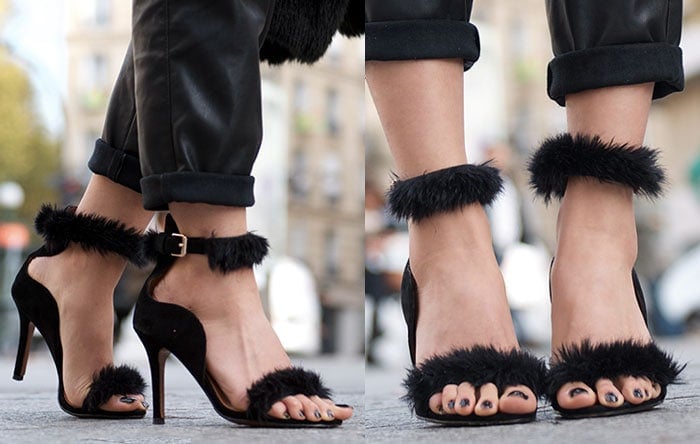 5. Mickylene Delgado from California
Mickylene Delgado of A Thousand Chapters was hard to miss in this ensemble, particularly because of her leopard-print knee-high lace-up boots. She wore them in Las Vegas where she got many compliments. We do understand why; she was a head-turner! We love how she let the boots stand out from her casual ensemble of tattered shorts and sleeveless top.
6. Nina from Germany
People tend to adapt to the gloomy winter weather. Dark outfits are usually seen during this time of the year. But Nina of Hello Shopping stylishly deviated from that by wearing a light-hued outfit. She wore a gray sweater with a white coat and white jeans. Keeping the winter white holiday theme, she completed her look with chic glittery silver pumps.
7. Kelly Jaspers from Netherlands
If you're considering wearing classic winter clothing pieces, such as a sweater and a pair of leggings, make sure to add a statement accessory to create a chic effect. Kelly Jaspers of We Heart Fashion wore a pair of beautifully embroidered suede boots, which transformed her entire ensemble from simple and classic to edgy and fabulous.
8. Laura Reynoso from Texas
Laura Reynoso of Spanglish-Fashion has every right to be in our top list. Her pumps are just so unique — simple at the front with pointed toes but super guaranteed to turn heads, thanks to the metal embellishments and fringes of chains and beads at the back. You'd want to walk backward in this pair!
9. Elizaveta Buldenko from Ukraine
Brightening up the gloomy season is easy. Wearing bright clothes can instantly do the job, but we know you wouldn't want to look like you're dressing up for summer. Elizaveta Buldenko of Blow Fashion showed us how this is done. She layered a gray knit sweater and a white coat and paired them with leather pants. To jazz up her monochrome outfit, she wore a pair of very striking bright orange boots. Don't you just love the pop of color?
10. Willabelle Ong from Australia
Aside from the luxurious-looking fur coat, those spotted lace-up booties also created an impact on Willabelle Ong of Pale Division's overall cold-weather ensemble. They are great accents to the blogger's plain outfit.