Although Channing Tatum is considered one of the best-looking actors in modern Hollywood, there's more to him than just his pleasant appearance.
After he struggled to find a job in his twenties, Tatum eventually stumbled into the acting world by chance, leading to a fruitful and prolific career.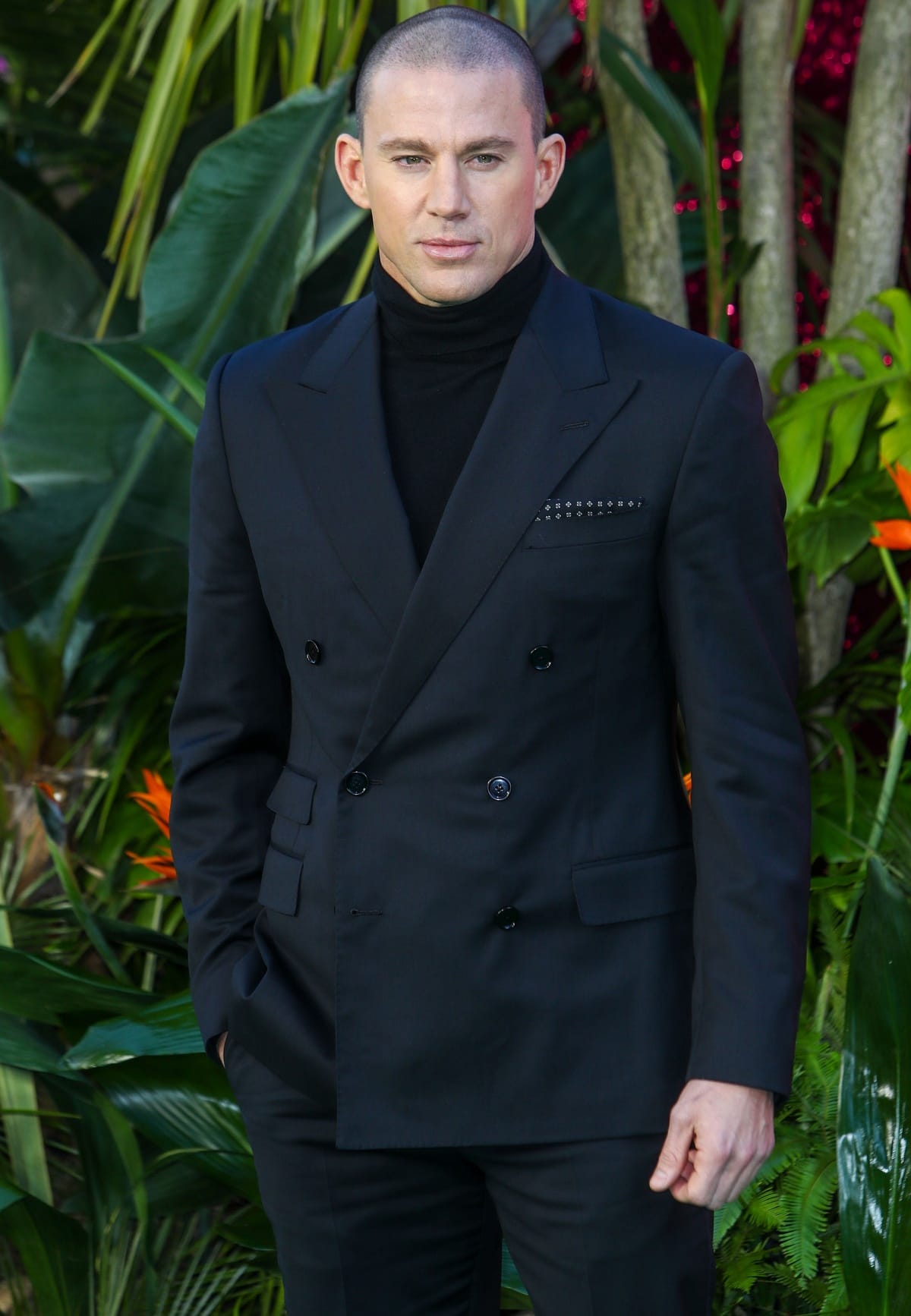 Channing Tatum smoldering in an all-black ensemble at a screening of The Lost City held at Cineworld Leicester Square in London, England on March 31, 2022 (Credit: John Rainford / Cover Images / INSTA)
Often typecast as the "dumb but good-looking" hero, Tatum has made major strides to strengthen his portfolio, extending his talent in both comedy and drama.
As this actor gracefully ages into his forties, let's take a look at how Channing Tatum has, so far, made a remarkable impact on cinema.
Before He Was a Star
Born on April 26, 1980, in Cullman, Alabama, Channing Matthew Tatum had an interesting adolescence before entering the acting world. A Southern boy at heart, Tatum moved to Mississippi when he was just six years old before settling in Tampa, Florida, in his teens.
Although he graduated high school, Tatum often struggled in class due to his dyslexia, so he turned to athletics as a source of pride and strength.
When he dropped out of Glenville State College and returned home, he was introduced to the world of performance by moonlighting as a male stripper.
Channing Tatum made his movie debut in the 2005 biographical teen sports drama film Coach Carter (Credit: Paramount Pictures)
His ability to move and sway landed him a few music video jobs in the early 2000s, eventually catching the eye of the fashion industry.
With more eyes on him than ever before, Tatum jumped headfirst into the entertainment industry, making his film debut in the 2005 sports drama Coach Carter.
In the space of two decades, Channing Tatum has risen from a fresh-faced underdog to a verifiable A-list celebrity, even earning a spot on TIME Magazine's list of the 100 most influential people in the world.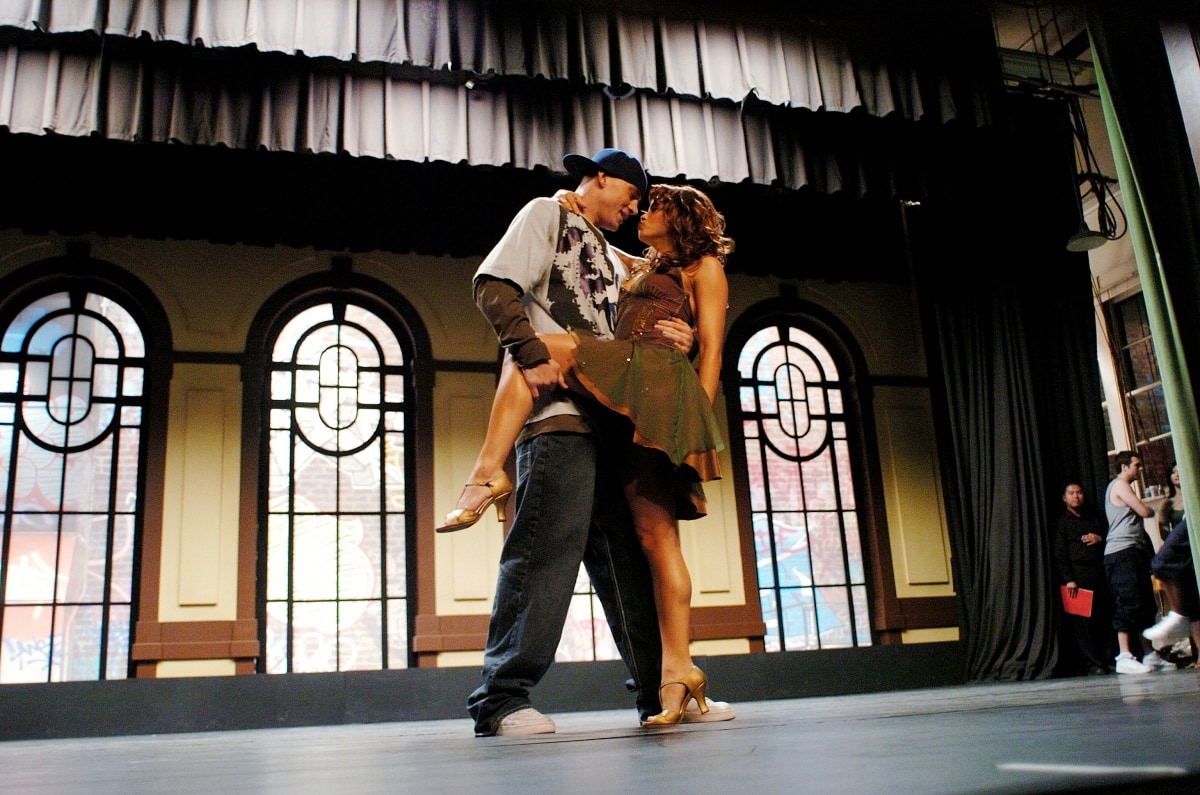 Channing Tatum's breakthrough role was as Tyler Gage with his ex-wife Jenna Dewan as Nora Clark in the 2006 teen romantic dance drama film Step Up (Credit: Buena Vista Pictures Distribution)
Channing Tatum's Top 10 Movies According to Critics
On this list, we're checking out Channing Tatum's best movies, according to the international critics over at Rotten Tomatoes. From his humble beginnings to his breakout roles, let's take a look at the top 10 Channing Tatum movies.
10. Dog (2022) – 77% Score
Dog is a comedy and drama starring Channing Tatum and an adorable canine companion as a reluctant duo that unexpectedly becomes best friends.
This buddy film is a special movie in Tatum's career, as it's also his directorial debut alongside co-director, Reid Carolin.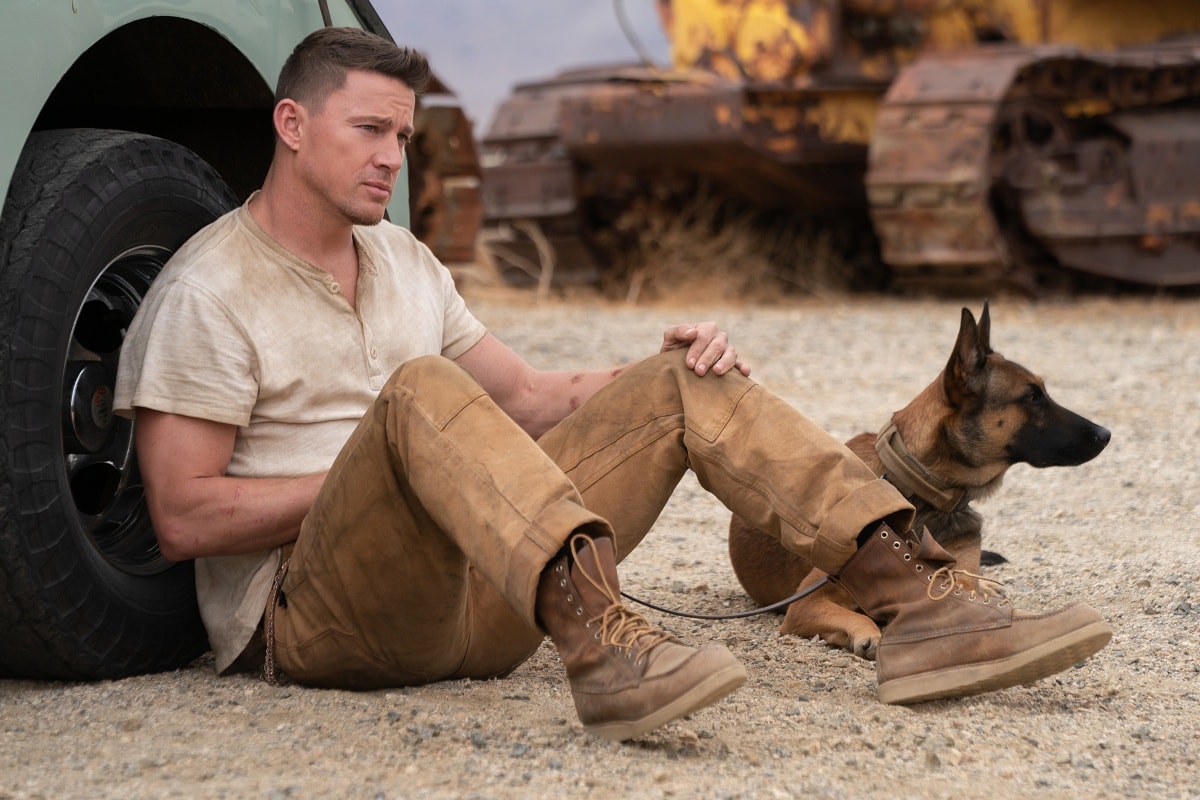 Channing Tatum as Jackson Briggs in the 2022 comedy-drama road film Dog (Credit: United Artists Releasing)
In the movie, Channing Tatum plays the lead role of Jackson Briggs, a soldier who is denied active duty due to brain trauma. Stricken with PTSD and grief, Briggs must escort the military dog of his recently deceased partner across the country.
Although the production was challenging for the 42-year-old actor and director, it actually resulted in some lifelong companionship.
Echoing the themes of the movie, Tatum and the staff grew very close with the dogs used in the film, and they even decided to adopt them after working alongside them for over a year.
9. Magic Mike (2012) – 78% Score
Written by Reid Carolin and directed by Steven Soderbergh, Magic Mike is a comedy and drama full of debauchery.
Starring Channing Tatum at 32 years old in the eponymous leading role, the film follows male stripper "Magic" Mike as he teaches the ropes to a new dancer.
Channing Tatum as Mike Lane leading a group of male strippers in the 2012 comedy-drama film Magic Mike (Credit: Warner Bros. Pictures)
This movie resulted in mass acclaim for Tatum, receiving several awards and worldwide recognition upon its release. In the film, he flexes not only his acting prowess but his dancing ability as well, completely freestyling the final solo dance of the movie.
However, Magic Mike was more than just a simple movie role for Channing Tatum, as the plot was loosely based on the actor's real-life experiences stripping in Tampa. In fact, the movie was partially funded by Tatum, leading to a successful side career as a producer.
8. The Lost City (2022) – 79% Score
Directed by Adam and Aaron Nee, The Lost City is an action-packed adventure complete with romance and comedy.
The movie is a wild ride that follows romance novelist Loretta Sage (played by Sandra Bullock), who is kidnapped by a crazed billionaire during her latest book tour.
Channing Tatum as Dash McMahon / Alan Caprison in the 2022 action-adventure comedy film The Lost City (Credit: Paramount Pictures)
Channing Tatum co-stars as Alan Caprison, the cover model for Sage's book series, who joins her for the tour. When Alan witnesses the author get kidnapped and whisked away to a tropical island, he launches a delusional rescue plan to get her back.
Shooting The Lost City was an interesting process for the 42-year-old actor, especially when it came to getting to know his co-star, Sandra Bullock.
Funnily enough, one of the film's only comedic nude scenes was shot on the second day of production, making for awkward but funny first impressions.
7. Haywire (2011) – 80% Score
Haywire is an espionage and action film directed by Steven Soderbergh and stars Gina Carano, Michael Fassbender, and more.
Centering on a covert special agent named Mallory Kane, the film is a spy thriller with loads of talent.
Channing Tatum as Aaron in the 2011 action thriller film Haywire (Credit: Relativity Media)
Kicking off the film in the opening scene and sticking through most of the runtime, Channing Tatum plays the role of Aaron, one of Mallory's fellow agents. After betraying her with the rest of the team, Aaron and the others search for Mallory on a worldwide manhunt.
Haywire was also the first time that the then 31-year-old Tatum worked with director Steven Soderbergh.
The pair had an immediate connection. Together, Soderbergh and Tatum would collaborate on some of the biggest films of their respective careers, including Magic Mike, Side Effects, and Logan Lucky.
6. Side Effects (2013) – 81% Score
Directed by Steven Soderbergh, Side Effects is a crime drama and thriller that dives deep into the dangers of prescription drugs.
Starring Rooney Mara, Catherine Zeta-Jones, Jude Law, and Channing Tatum, the movie follows a woman named Emily, who takes experimental pharmaceuticals to treat her depression.
Channing Tatum as Martin Taylor in the 2013 psychological thriller film Side Effects (Credit: Open Road Films)
Making a splash in his short time on screen at 33 years old, Channing Tatum plays Martin, Emily's husband. After returning home from prison after being convicted of insider trading, Martin is the catalyst for the plot, as Emily accidentally kills him while sleepwalking.
Interestingly, while researching the world of stock trading for his role, Tatum discovered that he wouldn't be able to replicate their attitudes without sacrificing the story.
According to him, his character needed to be "more sentimental… emotionally available" than the average day trader, making it a tough line to walk.
5. 22 Jump Street (2014) – 84% Score
In a rare case for Hollywood, 22 Jump Street is a sequel that's just as entertaining as its predecessor.
Directed by Phil Lord and Christopher Miller, this outlandish buddy-cop comedy follows two undercover cops who try to infiltrate a local college.
Jonah Hill as Officer Morton Schmidt and Channing Tatum as Officer Greg Jenko in the 2014 satirical buddy cop action comedy film 22 Jump Street (Credit: Sony Pictures Releasing / Metro-Goldwyn-Mayer)
Channing Tatum plays the goofy Officer Greg Jenko, while Jonah Hill portrays the brainy but awkward Officer Morton Schmidt. Hilarity ensues as the pair try to navigate the cliques of college while hunting down a deadly new drug on the market.
The sequel afforded Tatum more time to work on his improvisational comedy, but he reportedly had just as much fun with the stunts.
When interviewed on the CONAN talk show, Jonah Hill stated that the 34-year-old Tatum was a proverbial crash test dummy for him, trying out all the stunts to make sure they were "safe" for Hill.
4. 21 Jump Street (2012) – 85% Score
Directed by Phil Lord and Christopher Miller, 21 Jump Street is a hilarious buddy-cop parody based on the cult classic television series from the late 1980s.
The film stars Jonah Hill and Channing Tatum as police officers Schmidt and Jenko, whose low-quality work performance lands them in a quirky undercover operation.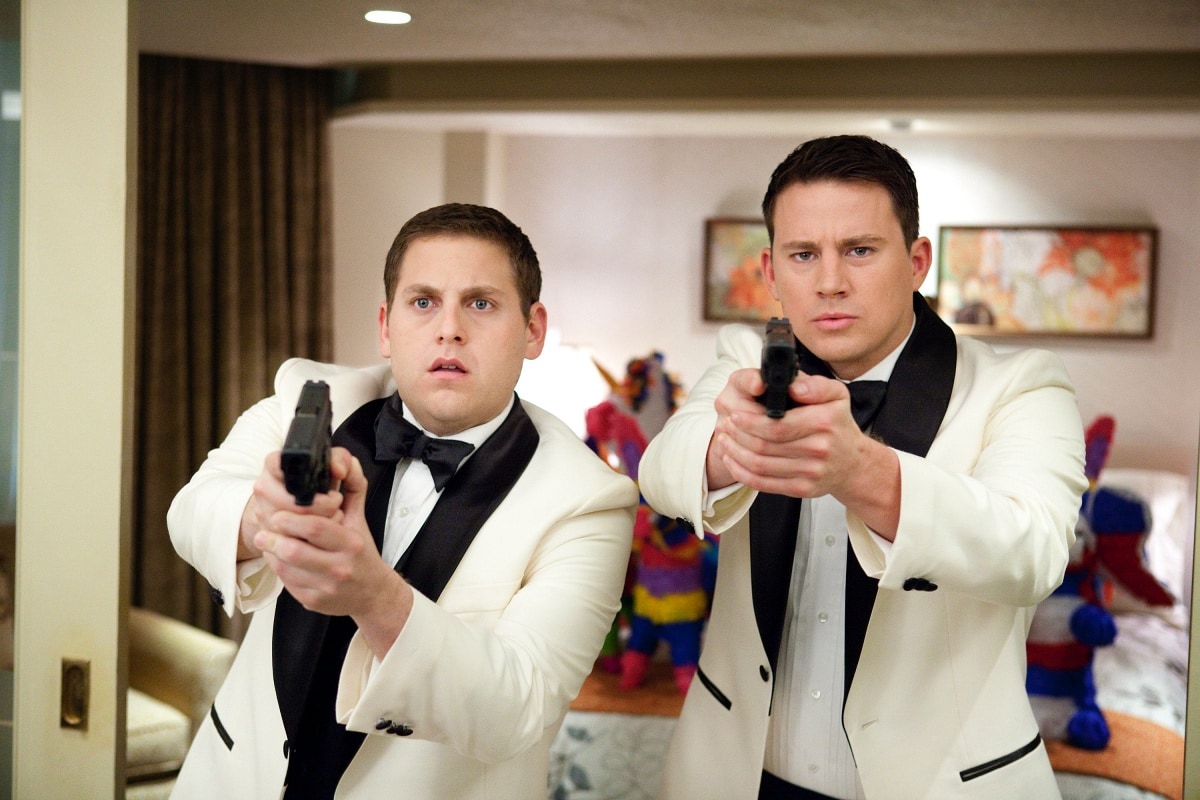 Jonah Hill as Morton Schmidt and Channing Tatum as Greg Jenko in the 2012 buddy cop action comedy film 21 Jump Street (Credit: Columbia Pictures / Metro-Goldwyn-Mayer)
After partnering up in the police academy and massively failing just a few days in as traffic cops, Schmidt and Jenko must pretend to be teenagers and go undercover at the local high school. Between going to class, swatting away crushes, and attending prom, the pair struggle to accomplish their objective.
As this was Channing Tatum's first full-on comedy film at 32 years old, he was reluctant to commit to the project and passed on it twice before accepting.
Apparently, Tatum was willing to do the movie under one condition: that Jonah Hill would personally coach him to become funnier.
3. Hail, Caesar! (2016) – 86% Score
Hail, Caesar! is a dark comedy and musical that was written and directed by Joel and Ethan Coen, starring a wild ensemble of talented actors and actresses.
Set in Hollywood during the 1950s, the film pays cheeky homage to the Golden Age of Cinema, led by actors like Josh Brolin, George Clooney, Scarlett Johansson, and more.
Channing Tatum as Burt Gurney in the 2016 period mystery musical dark comedy film Hail, Caesar! (Credit: Universal Pictures)
Channing Tatum plays the fictional musical star, Burt Gurney, who becomes embroiled in the plot when he begins working with a secretive group of banned screenwriters.
Even with the serious nature of his character, Tatum still got to sing and dance, lighting up the stage in a memorable sailor-themed scene.
However, even with his longstanding career as a dancer and performer, Tatum had very little experience in singing or tap dancing.
Although he mostly credits the sound design with providing his passable melodies, the actor took extensive tap-dancing lessons over a period of three months. Soon, he was tapping alongside Broadway dancers like a true pro at 36 years old.
2. Foxcatcher (2014) – 87% Score
Directed by Bennet Miller and based on the harrowing true story, Foxcatcher is a sports drama that sees Steve Carell, Channing Tatum, and Mark Ruffalo in the leading roles.
Set in the late 1980s, the film follows the wealthy John du Pont as he attempts to train a wrestling team for the Olympics.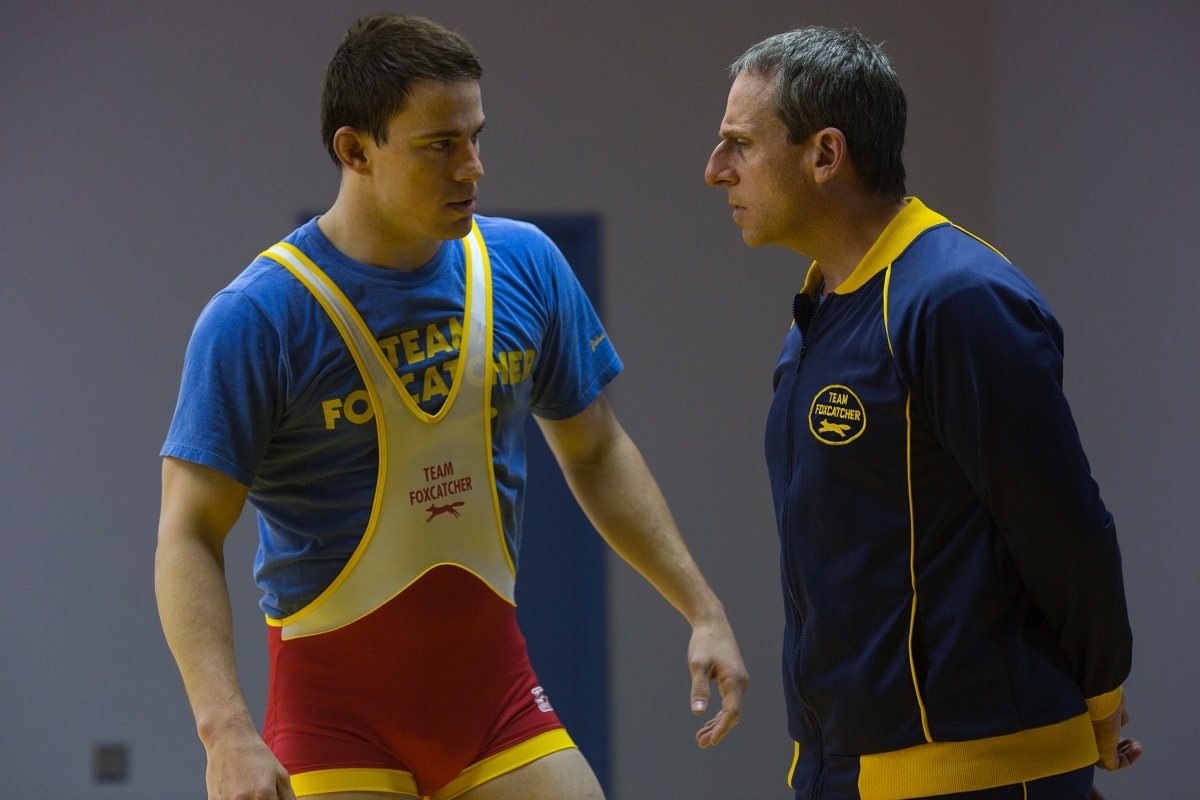 Channing Tatum as Mark Schultz and Steve Carell as John du Pont in the 2014 biographical psychological sports film Foxcatcher (Credit: Sony Pictures Classics)
At 34 years old and in arguably his most serious role to date, Channing Tatum plays the Olympic-winning wrestler, Mark Schultz. Together with his older brother David, Mark decides to join du Pont's team, leading to disastrous consequences.
Shooting the film was no walk in the park, as Tatum suffered multiple injuries on set. In one scene, his eardrum was accidentally ruptured when Mark Ruffalo slapped him.
During another scene, Tatum got so deeply invested in his character that he went off-script, bashing his head into a mirror and cutting his forehead in the process. Both scenes are included in the final cut of the film.
1. Logan Lucky (2017) – 92% Score
Channing Tatum's highest critically acclaimed film is another Steven Soderbergh project, with the story written by Rebecca Blunt.
Logan Lucky is a heist film that centers around two brothers, Jimmy and Clyde Logan, who decide to rob a racetrack during a NASCAR event.
Channing Tatum as Jimmy Logan in the 2017 heist comedy film Logan Lucky (Credit: Bleecker Street)
Appearing as Jimmy Logan, next to his on-screen brother, played by Adam Driver, 37-year-old Channing Tatum excels in this offbeat crime comedy.
Down on their luck and needing a big payday, the siblings enlist their family and a bombastic criminal, played by Daniel Craig, for help.
As it seems to be a habit for Tatum, the actor reportedly got deep into his character for the film, becoming lazy and ceasing his workout regime.
Because of this change in activity and diet, Tatum estimated that he gained around 40 pounds during production, which he then needed to lose in time for his next film.