Fast X, the most-awaited tenth installment in the Fast & Furious franchise, is finally hitting theaters today, May 19.
Billed as the beginning of the end, Fast X follows Vin Diesel's character Dominic Toretto as he leads his crew against a new enemy, Dante (played by Jason Momoa), son of Brazilian drug kingpin Hernan Reyes, who was killed by Toretto's crew in 2011's Fast Five.
Dante has been plotting revenge on Toretto for the last 12 years and is now ready to seek justice for his father.
According to reports, the movie is believed to serve as the initial chapter of the trilogy's grand finale, with Fast & Furious 12 set to conclude the series. https://t.co/nQa50xYwQI

— Your Next Shoes (@yournextshoes) May 19, 2023
In addition to Vin Diesel and Jason Momoa, Fast X sees the return of Michelle Rodriguez as Dom's wife Letty, Jason Statham as Shaw, Tyrese Gibson as Roman, Ludacris as Tej, Jordana Brewster as Mia, and Sung Kang as Han, who faked his death in the previous film.
Newcomer Brie Larson will play the role of Tess, while John Cena and Charlize Theron, who previously played Jakob Toretto and Cipher, respectively, in the ninth Fast & Furious film, are also set to make a comeback in the first chapter of the franchise's final installment.
On Friday, the Fast X cast and a number of A-list guests were out in full force at the Colosseum for the Rome premiere of their latest project.
From naked dresses to plunging necklines, see the most daring looks from the world premiere of this year's highly anticipated action movie sequel, Fast X.
1. Rosie Huntington-Whiteley in Dolce & Gabbana
Showing her support for her longtime fiancé Jason Statham, supermodel Rosie Huntington-Whiteley walked arm-in-arm with the 55-year-old Transporter actor in an enchanting sheer black gown by Dolce & Gabbana.
The 36-year-old British model and actress looked sensational in the bespoke outfit inspired by the Italian luxury fashion house's Spring 2023 collection.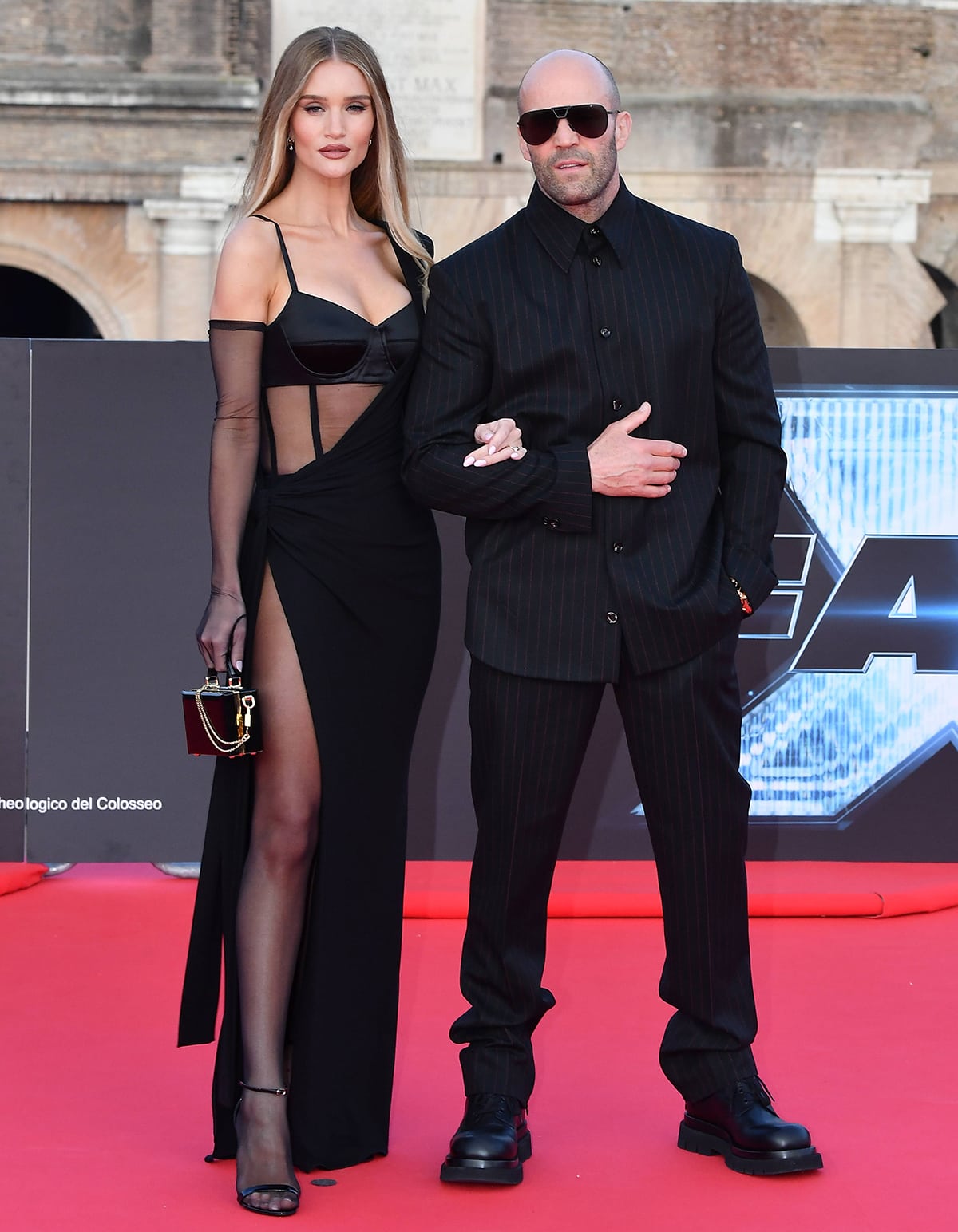 Rosie Huntington-Whiteley supports fiance Jason Statham in a bespoke Dolce & Gabbana gown at the world premiere of Fast X at the Colosseum in Rome on May 12, 2023 (Credit: Maurizio D'Avanzo / IPA / INSTARimages)
Striking the perfect balance between modest and sexy, the stunning gown featured a provocative asymmetrical corseted bodice with a see-through semi-sheer panel and a plunging satin bra bust, an elegant single long-sleeved design, and a floor-length skirt with an extremely high split.
The Transformers star coordinated her daring lingerie-style dress with Dolce & Gabbana's Long Light Stretch Tulle gloves to create a perfectly harmonized ensemble.
She layered a pair of black tights underneath before slipping her feet into Dolce & Gabbana's minimalist polished calfskin open-toe sandals.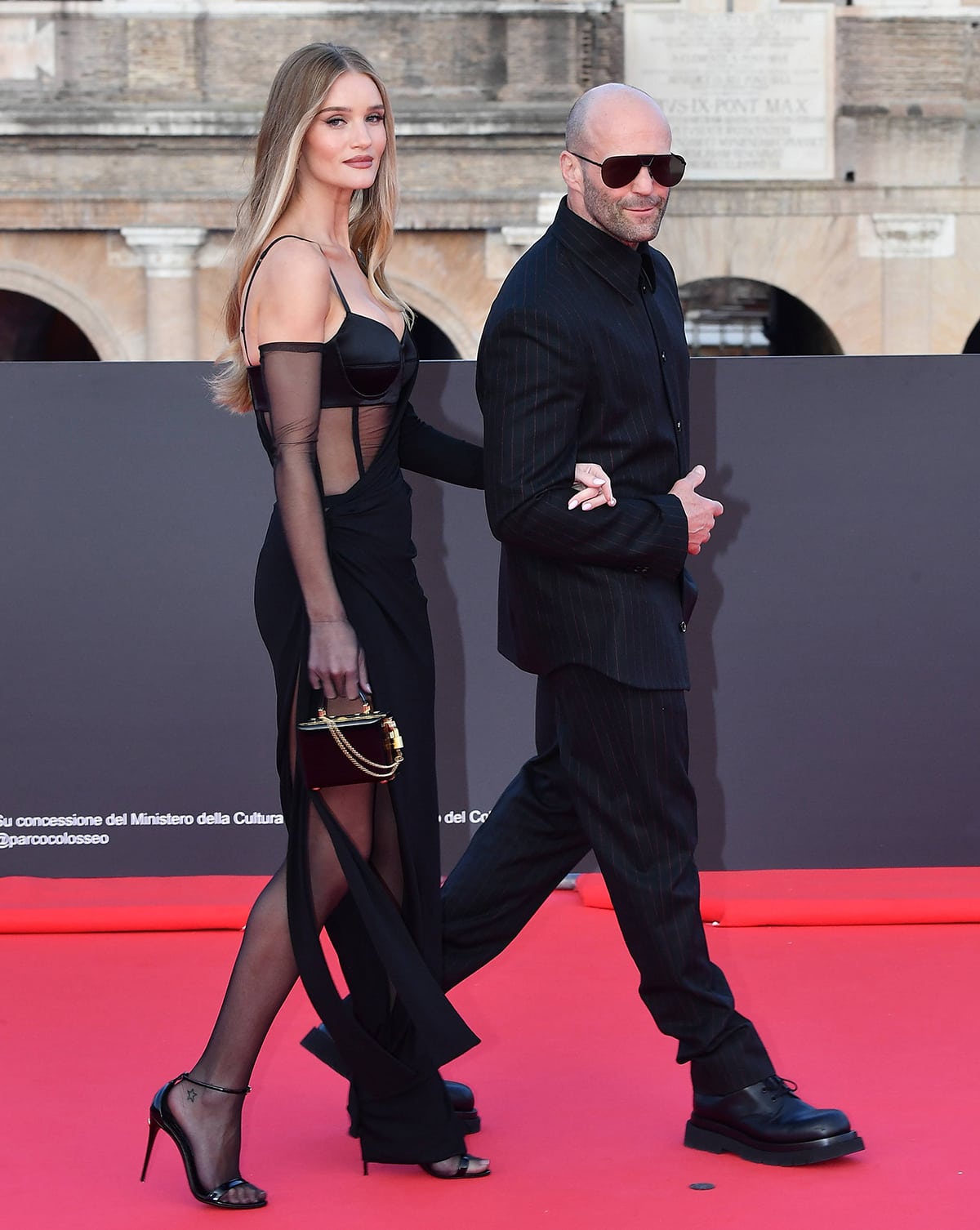 Rosie Huntington-Whiteley strikes the perfect balance between modest and sexy in the sheer-paneled dress with a corseted bodice and a thigh-high slit (Credit: Maurizio D'Avanzo / IPA / INSTARimages)
Adding a hint of sparkle to her breathtaking look, Rosie accessorized with gold and diamond jewelry by Jessica McCormack. She wore a $19,500 pair of Signature Multi-Shape Diamond Tripset Hoop earrings, a Lost Boys Diamond Track bracelet, and a Tilted Pear Diamond Button Back ring.
Her red-carpet essentials were kept in a tiny Dolce & Gabbana Dolce Box top-handle bag, while a swipe of bold lip color rounded out her glam.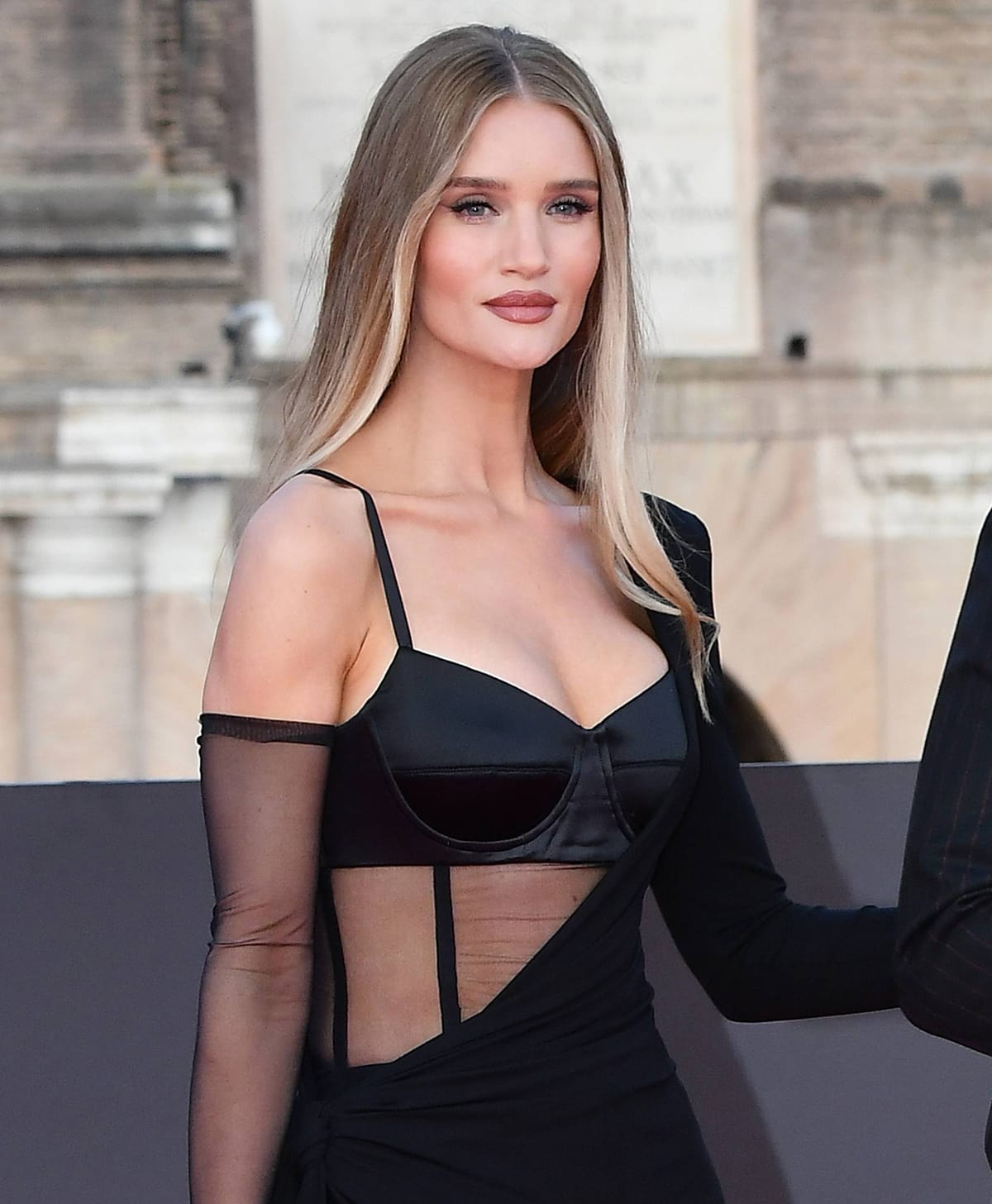 Rosie Huntington-Whiteley keeps the look sensual by wearing her hair down and sporting cat-eye flick and bold lipstick (Credit: Maurizio D'Avanzo / IPA / INSTARimages)
2. Charlize Theron in Dior
She's no stranger to playing badass characters in films. And for the Rome premiere of her latest action flick, Charlize Theron unleashed her inner femme fatale in a daring black ensemble from Christian Dior's Spring 2023 Couture collection.
All eyes were on the 47-year-old actress as she showcased plenty of flesh in a glittering floor-length black mesh coat with rolled-up sleeves and button closures.
She wore a revealing bikini underneath, crafted from the same see-through mesh fabric as her coat. It had a mesh bra top and a thigh-skimming micro mini skirt that gave a glimpse of her cheeky bikini bottom.
Sticking her toned leg out, Charlize paired the showstopping look with classic black patent pointed-toe pumps.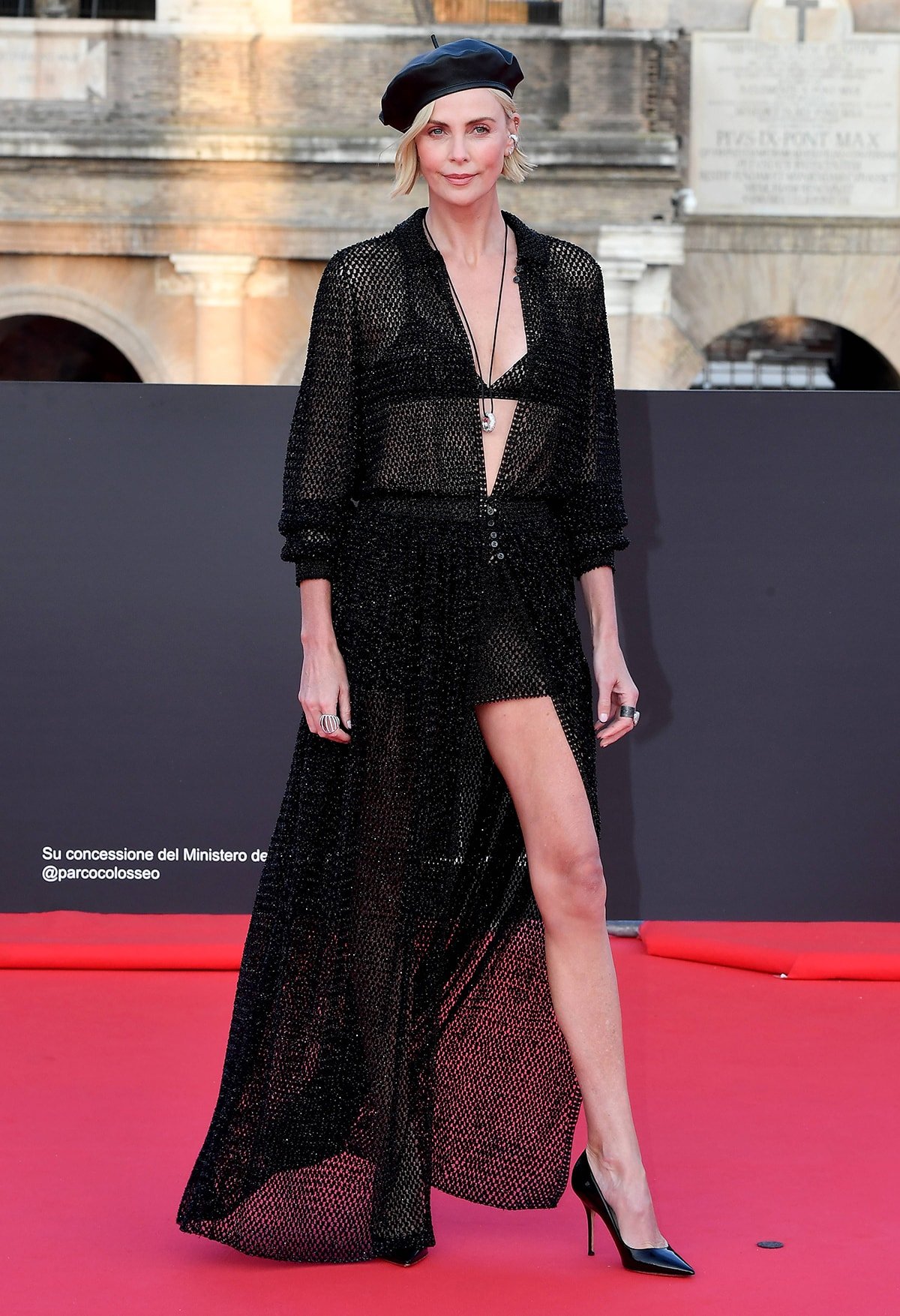 Charlize Theron showcases plenty of flesh in a Dior mesh coat, matching bikini, and a mesh mini skirt at the premiere of Fast X in Rome on May 12, 2023 (Credit: Maurizio D'Avanzo / IPA / INSTARimages)
Leslie Fremar, who has worked with big names such as Jennifer Connelly, Nicola Peltz, and Julianne Moore, styled Theron's fearless look with a chunky diamond earring, a long pendant necklace, and multiple statement rings and stud earrings.
The School for Good and Evil star topped off the ensemble with a black beret, which gave it a chic French finish.
Theron rocked a black French tip manicure done by celebrity nail artist Tom Bachik and wore her blonde bob in waves care of hairstylist Adir Abergel.
Makeup artist Kate Lee completed her beauty look with brown smokey eyeshadow, mascara, and pink blush and lipstick.
Charlize Theron gives her revealing femme fatale look a French finish with a black beret hat and glams up with soft pink blush and lipstick (Credit: Maurizio D'Avanzo / IPA / INSTARimages)
3. Meadow Walker in Alaia
Meadow Walker made a cameo in the latest Fast & Furious installment in honor of her late father Paul Walker, who portrayed Brian O'Conner in the Fast & Furious franchise until his passing in 2013.
Teasing her movie debut, the 24-year-old model shared an Instagram post with the caption: "A preview of my cameo in Fast X."
"The first fast was released when I was one year old! I grew up on set watching my father, Vin, Jordana, Michelle, Chris and more on the monitors. Thanks to my dad, I was born into the fast family. I can't believe now I get to be up there too. With those who have been around to see me grow up."
She also expressed her gratitude towards Fast X director Louis Leterrier and her dad's best friend producer Brandon Birtell for the opportunity to honor her father's legacy.
View this post on Instagram

Celebrating her cameo moment, Meadow walked the red carpet in front of the Colosseum in an Alaia Fall/Winter 2023 ensemble.
She put on a racy display in a black sheer lace skirt with a floral pattern, a short sweeping train, and high-rise underwear balanced out by the metallic emerald hooded jacket.
"Right when I put it on, I was like, 'This is the most perfect outfit. This is exactly what I wanna wear," she told Harper's Bazaar. "I would say today it's my favorite thing that I've worn to an event."
Meadow Walker puts on a racy display in an Alaia see-through lace skirt with a metallic emerald hoodie at the Fast X Rome premiere on May 12, 2023 (Credit: Maurizio D'Avanzo / IPA / INSTARimages)
Alexandra Carl styled Walker's risqué look with Bulgari jewelry that included the opulent Serpenti diamond necklace and a pair of diamond drop earrings.
For her glam, Meadow sported her signature blunt bob courtesy of Gabriele Trezzi and wore heavy mascara with winged eyeliner and peachy lip color done by Arianna Campa.
At one point, Meadow was seen posing alongside her godfather Vin Diesel, who simply opted for an all-black outfit. He wore a black jacquard suit over a v-neck tee paired with black lace-up boots.
Meadow Walker adds opulence to her daring look by accessorizing with Bulgari jewelry while posing with her godfather Vin Diesel (Credit: Maurizio D'Avanzo / IPA / INSTARimages)
4. Daniela Melchior in Saint Laurent
Also opting for a sheer look was Portuguese actress Daniela Melchior, who plays Isabel Neves, a Brazilian street car racer and sister of Dom's former girlfriend Elena Neves, in Fast X.
The 26-year-old star credited Saint Laurent's Anthony Vaccarello for her evening ensemble comprised of an edgy cropped black leather biker jacket (available in navy for $6,460 at Matches Fashion) and a completely see-through form-fitting high-neck black dress.
Daniela flaunted her cleavage while wearing a black bikini underneath to protect her modesty.
Daniela Melchior goes commando in a completely sheer black dress by Saint Laurent with black underwear and a moto jacket on May 12, 2023 (Credit: KIKA Press / Cover Images)
To complete her commando look, she turned to her trusted stylist Nelly Goncalves, who accessorized her with a selection of gold Bulgari jewelry and a pair of black pumps.
Hairstylist Claudio Pacheco styled her short bob in side-parted loose waves, while makeup artist Sara Fonseca used Chanel Beauty products to highlight her striking features.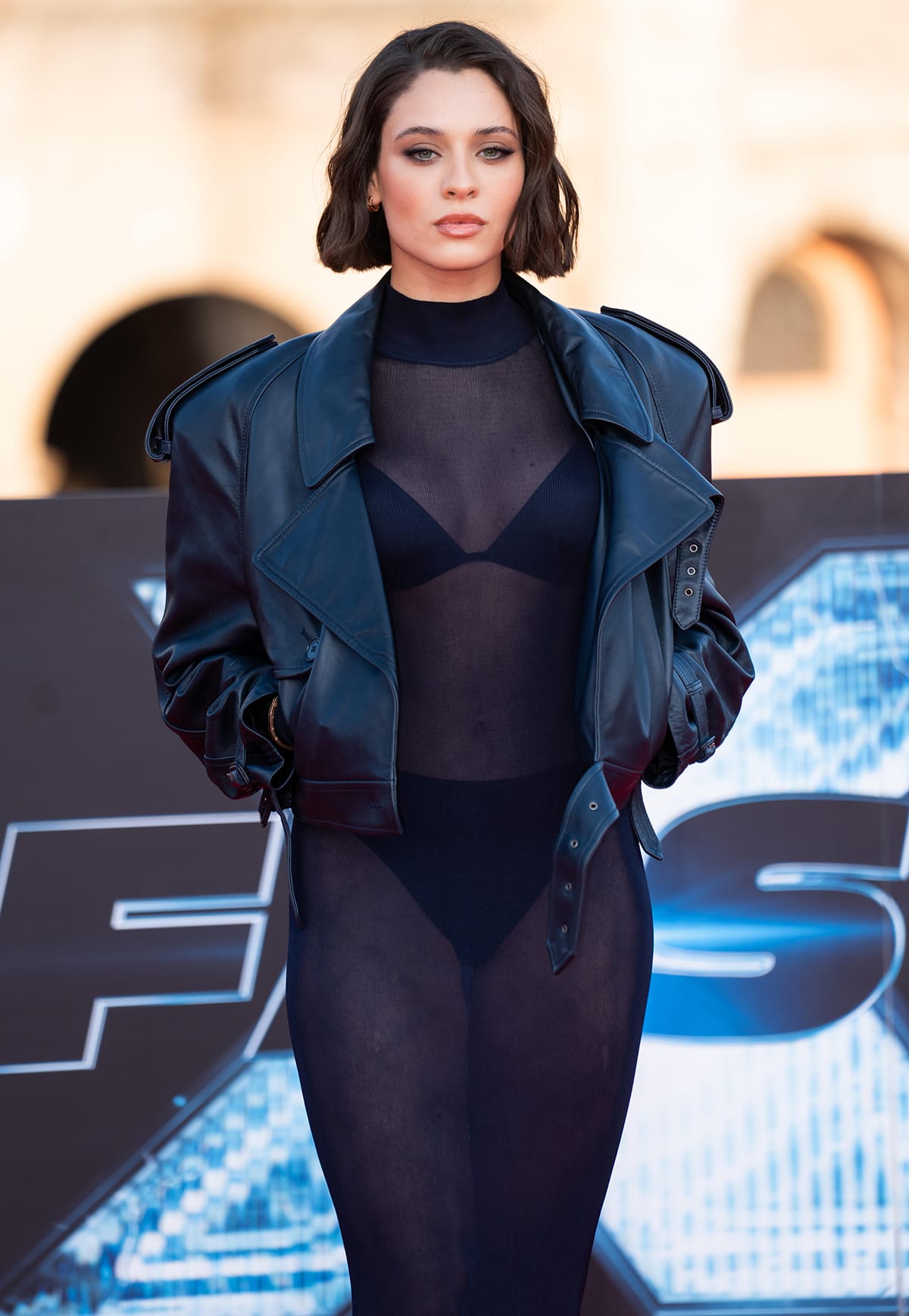 Daniela Melchior keeps a sultry look by wearing a wavy bob hairstyle, bushy eyebrows, fluttery eyelashes, and a swipe of peachy lip gloss (Credit: KIKA Press / Cover Images)
5. Brie Larson in Versace
Before taking on the role as a jury member at this year's Cannes Film Festival, Brie Larson took to the red carpet to attend the Rome premiere of Fast X with her castmates.
Flaunting her incredible physique, the 33-year-old actress wore a vintage 1990s Versace gown, which stylist Samantha McMillen sourced from Shrimpton Couture.
It was a simple but elegant black gown with delicate shoulder straps and a plunging neckline that put her bust on full display.
The sensual black dress created an illusion of an hourglass figure as it featured a cinched waist and a floor-sweeping skirt that flared out from the hips.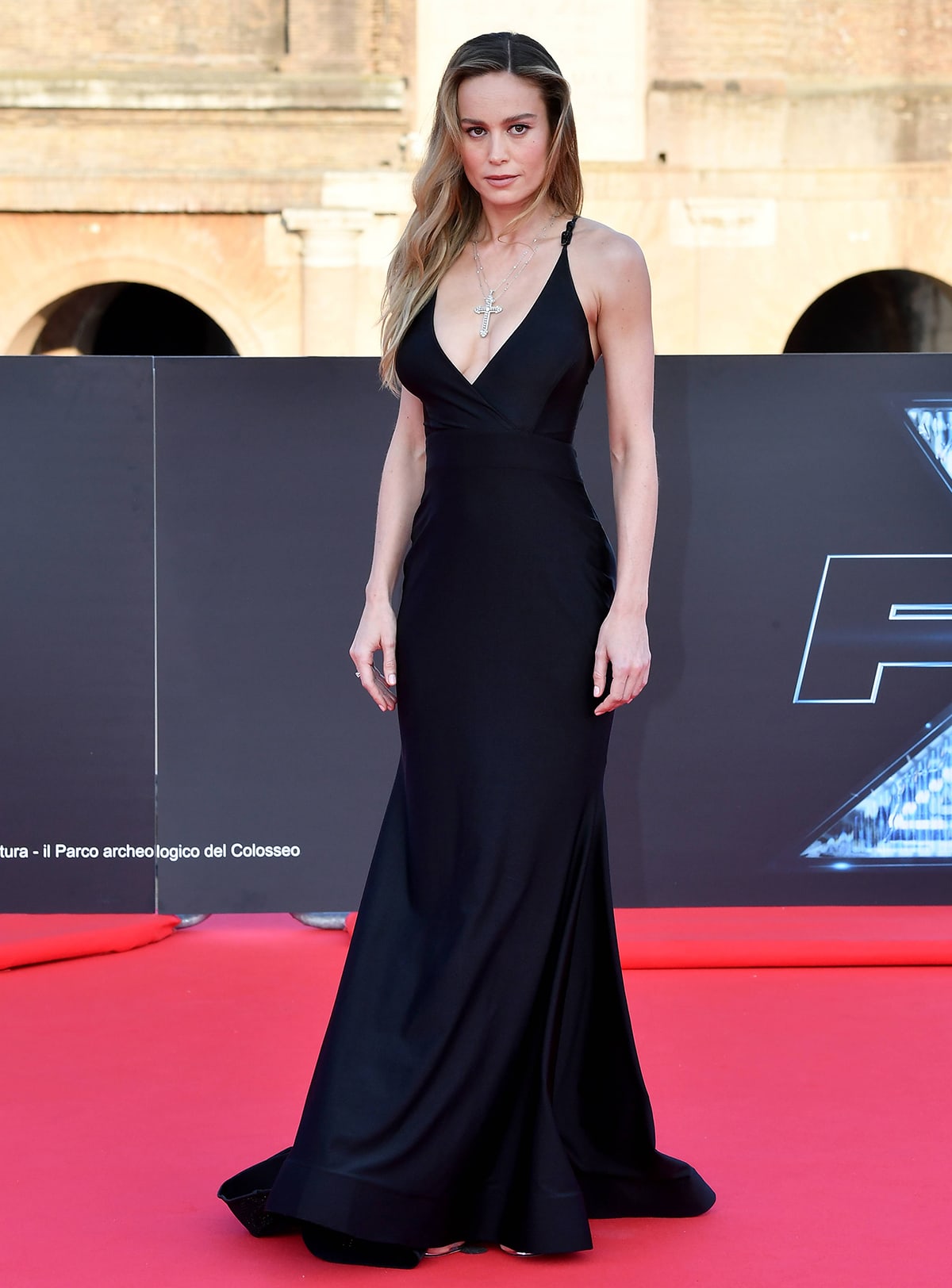 Brie Larson flaunts her hourglass curves in a vintage Versace plunging gown with a flared skirt at the Fast X Rome premiere on May 12, 2023 (Credit: Maurizio D'Avanzo / IPA / INSTARimages)
Drawing further attention to her boobs, Larson accessorized with a Briony Raymond cross pendant necklace made of Victorian-era pearls and diamonds. She also wore a pair of gleaming stud earrings and a few rings by Anita Ko for added sparkles.
Makeup artist Nina Park used Decorté Beauty products on Larson's face to create a Monica Bellucci-inspired glam. She gave her a glowing bronzed look with smoldering eyes, creamy beige blush, and a spring coral lip color.
She then styled her dirty blonde hair in tousled beach waves care of Bryce Scarlett.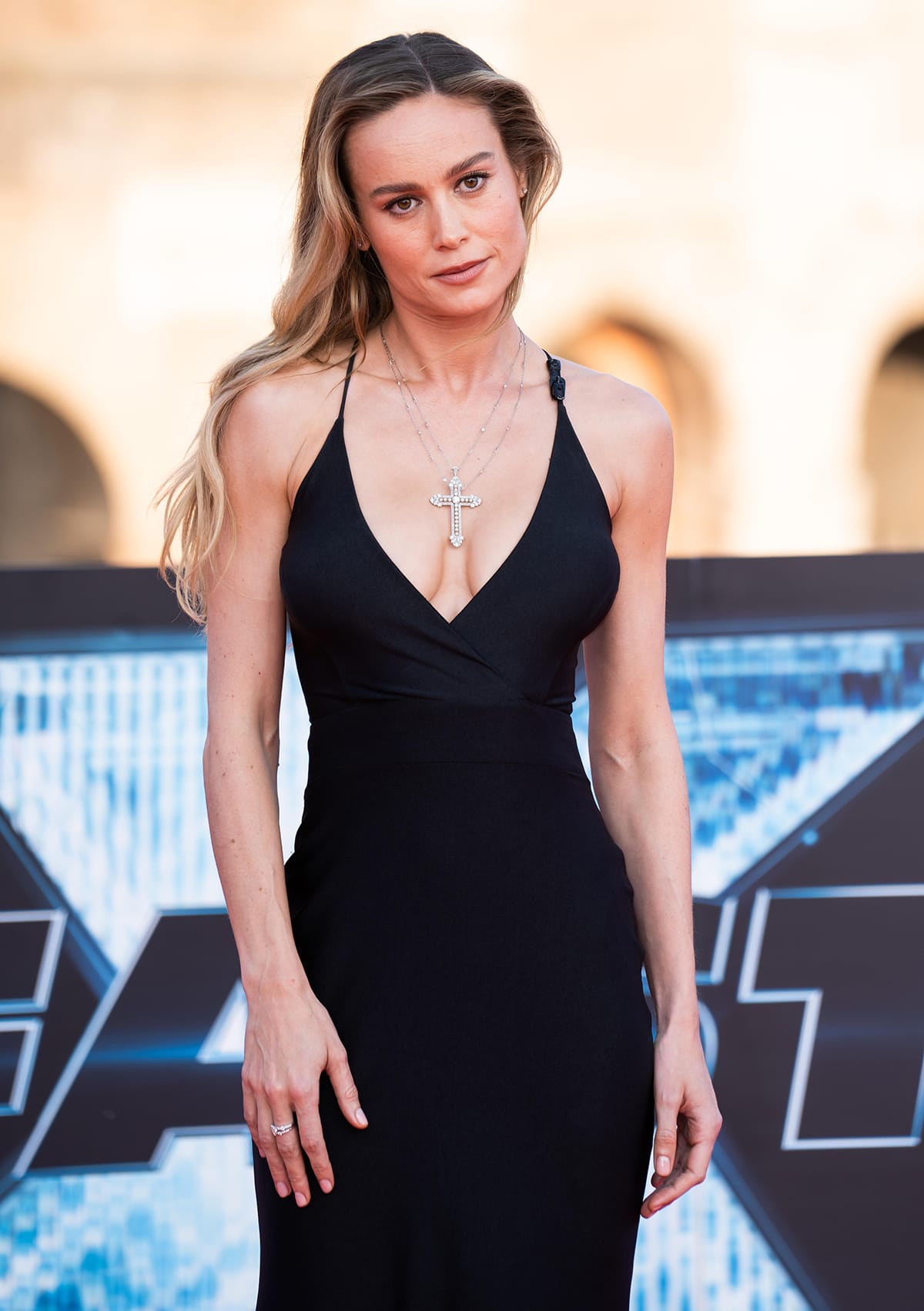 Brie Larson draws attention to her cleavage with a Briony Raymond cross pendant necklace and opts for a Monica Bellucci-inspired glam with bronzed skin and smoldering eyes (Credit: KIKA Press / Cover Images)
6. Jordana Brewster in Bruno Cucinelli
Jordana Brewster, 43, proved she still has it when she showed up in a shimmering two-piece ensemble by Brunello Cucinelli.
Flashing her toned abs, The Faculty star wore a bandeau top and a floor-length fitted skirt that were both covered in glistening micro sequins.
Jordana Brewster wows in a two-piece Bruno Cucinelli ensemble covered in shimmering micro sequins at the Rome premiere of Fast X on May 12, 2023 (Credit: Maurizio D'Avanzo / IPA / INSTARimages)
Stylist Katie Bofshever gave the stunning co-ord set a touch of luxe by layering a Bulgari Serpenti diamond choker necklace around Brewster's neck. She also added a matching Serpenti bangle and a set of sparkling earrings to the look.
James Rowe coiffed Brewster's brunette tresses into an elegant loose updo, while Florrie White highlighted her ageless features with dewy, soft pink makeup and fluttery eyelashes.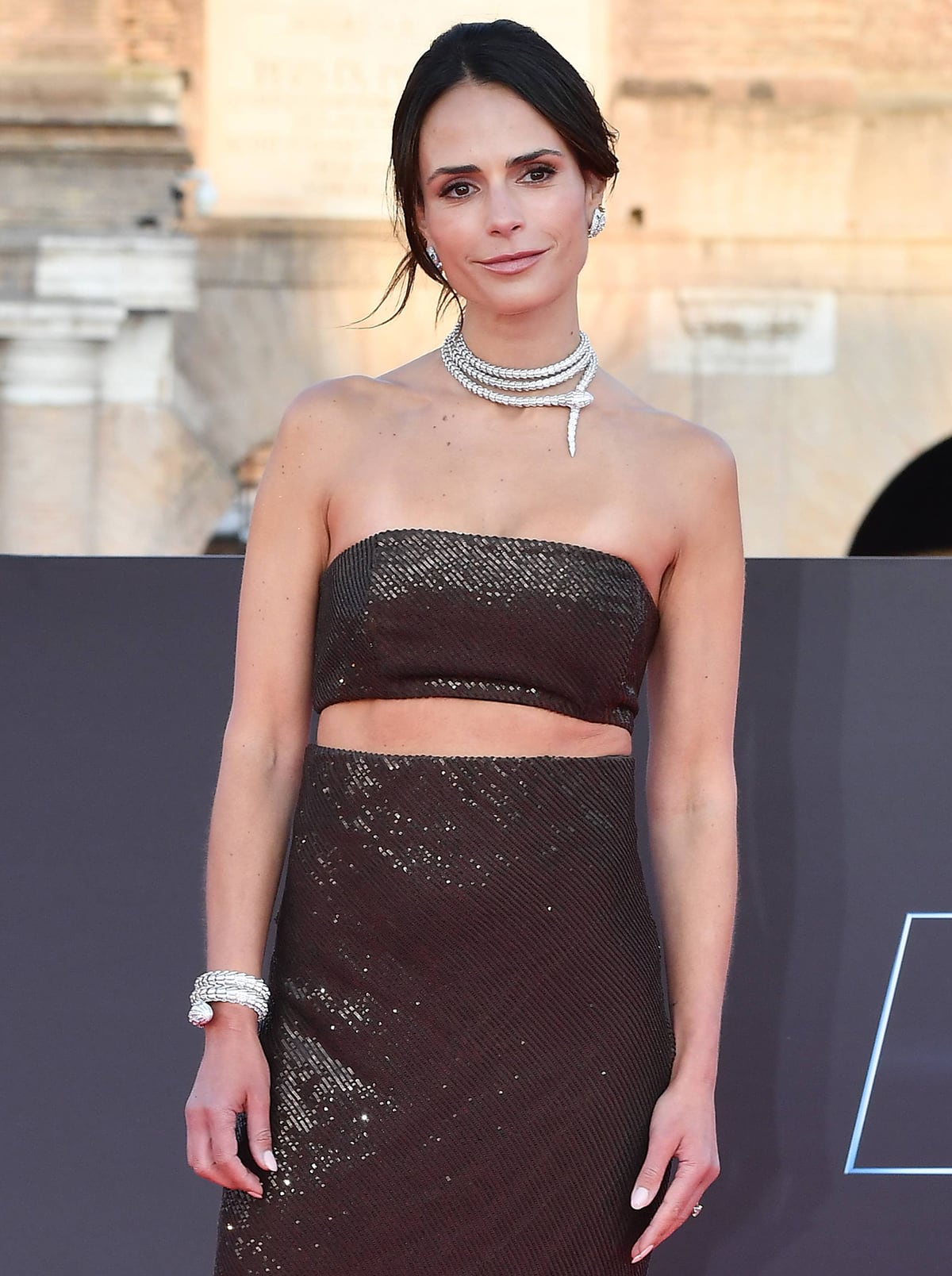 Jordana Brewster elevates her co-ord set with Serpenti diamond jewelry by Bulgari (Credit: Maurizio D'Avanzo / IPA / INSTARimages)
7. Michelle Rodriguez in Saint Laurent
Although she's known for portraying badass characters, Michelle Rodriguez chose to embrace her femininity at the Fast X global premiere by wearing a vintage Yves Saint Laurent gown.
The ruched brown sleeveless gown, which showcased her toned arms, featured a plunging neckline with sheer cutout panels and strips of black satin.
Michelle Rodriguez embraces femininity in a vintage Saint Laurent ruched gown with Christian Louboutin platform pumps and jewelry by Cartier and Alexander McQueen (Credit: KIKA Press / Cover Images)
She slipped into a pair of Christian Louboutin peep-toe platforms, which added a few inches to her 5'5" height, and accessorized her retro look with a variety of dazzling gold jewelry by Cartier and Alexander McQueen.
Beauty-wise, Rodriguez swept her hair into an elegant updo and completed the look with a full face of makeup.
Is Fast X the Last Movie of the Fast and the Furious Franchise?
The Fast & Furious finale was supposed to be split into two movies, Fast X and the upcoming 11th installment, which is already in development and set to be released in 2025.
However, speaking to Variety at the world premiere of Fast X in Rome, Vin Diesel casually let slip that the finale might actually be split into three.
"Going into making this movie, the studio asked if this could be a two-parter. And after the studio saw this one, they said, 'Could you make Fast X, the finale, a trilogy?'"
Michelle Rodriguez added, "It's three acts in any story."
The Most Expensive Film in the Fast & Furious Franchise
According to a report from The Wrap, the budget for Fast X has increased to $340 million, which is 70% more than the $200 million budget of its predecessor, F9: The Fast Saga.
This is reportedly because of the salaries of the ensemble cast, general production cost increases brought on by global inflation, and expenses for pandemic testing mandated by COVID-19 safety protocols.