Some fashion rules are meant to be broken. We have to admit that playing by these so-called rules can sometimes result in boring looks. With a cornucopia of fresh styling options that we can consider for the spring months, there's no excuse for sticking to boring clothes. Clashing prints, patterns, and colors are hot this season!
When it comes to shoes, artsy and colorful pairs are a huge trend. The spring 2015 runways have also showcased diverse styles ranging from flats to sky-high heels, graphic-printed shoes, and lace-up gladiators, which can instantly provide extra dimensions to your ensembles!
If you don't know how to have fun with fashion this spring, let our top 10 shoe bloggers for April show you how it's done.
1. Yuliya Oleynykova from London, England
Yuliya Oleynykova of Yukova's Fashion Blog was hard to miss in her sunny outfit, which was completed with a pair of lace-up sandals in a matching yellow color. They're hip and modern, which are just the thing for spring.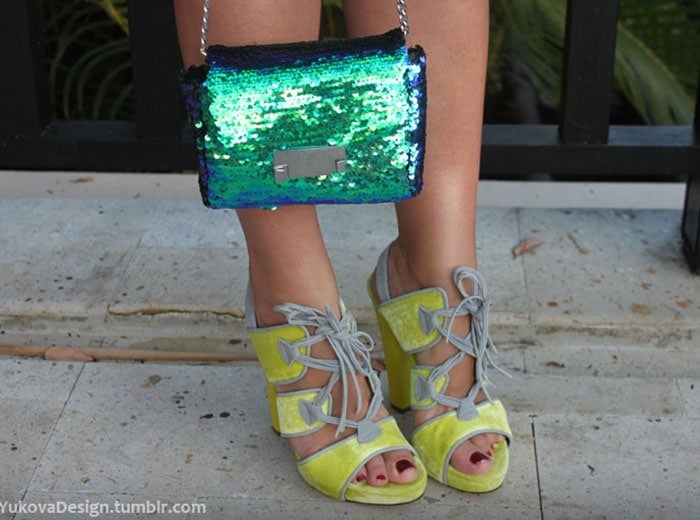 2. Diana Horsfall from the United States
Wearing mismatched prints and colors may be hard to pull off, but Diana Horsfall of Different Colors & Different Styles was able to rock the trend effortlessly. She put together two interestingly modish looks with the same pair of amazing heels featuring a bold colorful Aztec design and gold block heels.
Which of her two spring-perfect looks is your favorite?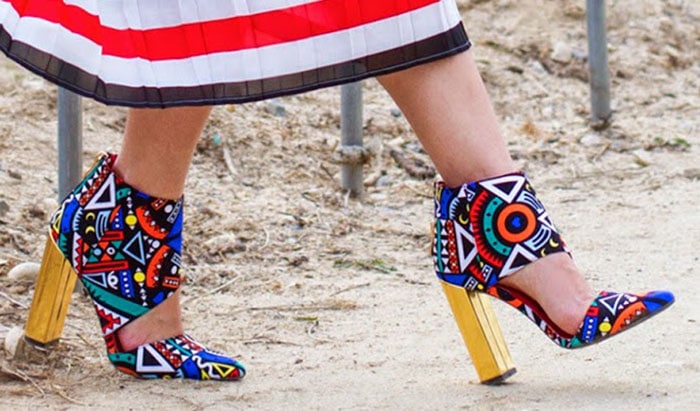 3. Nery Hdez from Spain
Mules have been making red carpet appearances recently. Last month, Nery Hdez of SNB wore a pair of simple mules with a white chiffon blouse and a bright yellow scalloped skirt, perfecting her chic spring look. The bloggers' white mules are a classic and can definitely go with just about anything.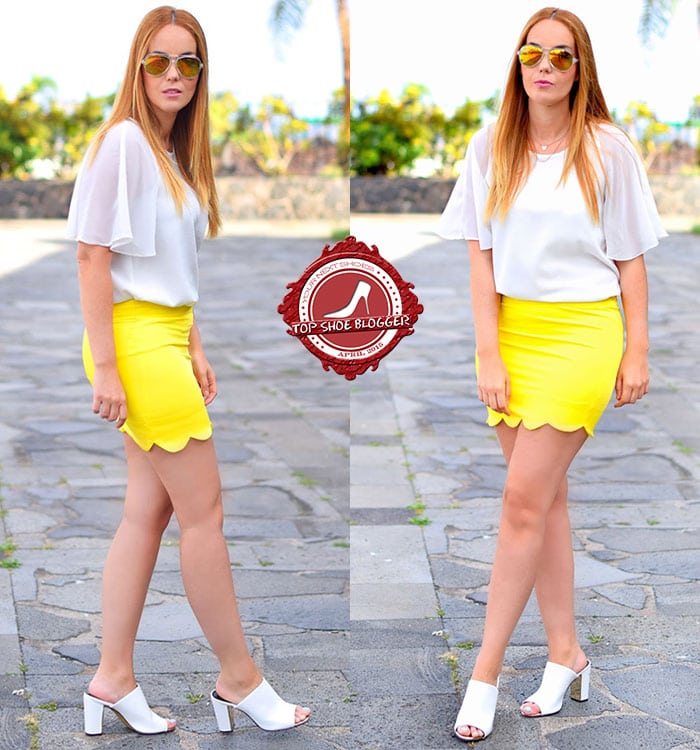 4. Lavinia Făt from Romania
It's easy to see that Lavinia Făt of Loving-Evelyn loves the color blue based on this head-to-toe cool outfit, which included a leather jacket and a white shirt tucked into a pair of ripped jeans. The winning piece, though, was her shoe choice — unique pointed-toe lace-up booties — that glammed up her rather casual getup.
5. Lizzy Hadfield from the United Kingdom
Lizzy Hadfield of Shot from the Street proved that one can dress sexy even without flashing too much skin. With just a monochrome outfit and a pair of ankle-wrap sandals, she was able to achieve a sexy yet classy look.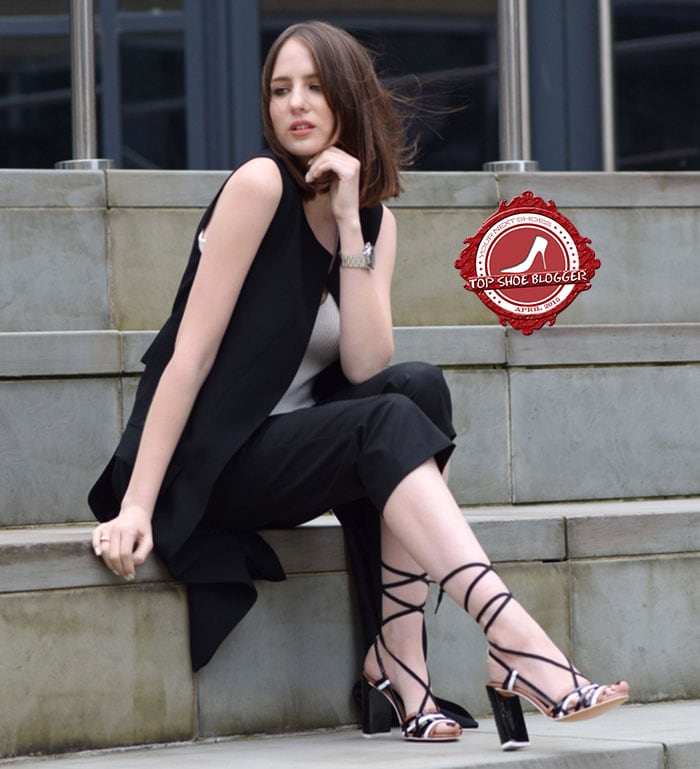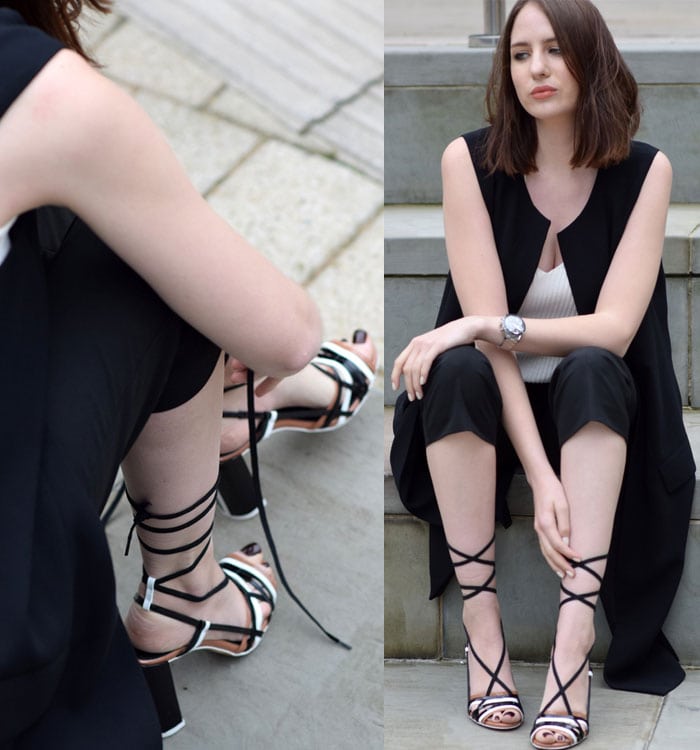 6. Katya Bychkova from the United States
Printed or embellished sandals are a must this season. Katya Bychkova of Style Sprinter looked lovely in her lavender blue heels featuring embellished counters and asymmetrical front straps. The shoes complemented her sexy yet charming blue lace dress and colorful printed scarf, giving us a very interesting spring look.
7. Wendy H. Gilmour from the United Kingdom
Amping up a casual ensemble is easy. Take a look at Wendy H. Gilmour of Thank Fifi, who simply wore a pair of yellow slide heels to give her laid-back outfit — a pair of boyfriend jeans, a black top, and a white blazer — a pop of color! Her fringed bag also added more style to her entire look.
8. Leticia Oliveira from Brazil
If Wendy H. Gilmour showcased her fringed bag, Leticia Oliveira of Blog da Le showed off a pair of fringed sandals. This just proves that fringes are hot this season! They're actually everywhere during last month's Coachella music festival. Leticia wore her shoes with a patterned dress that also screams festival style!
9. Gabriele Gzimailaite from the United Kingdom
Didn't we just say that ankle-wrap heels are sexy? Like Lizzy Hadfield, Gabriele Gzimailaite of Gabriele GZ also wore a pair of wrap sandals, which made her Kim Kardashian–inspired nude two-piece body-con outfit sexier!
10. Silvia Postolatiev from the United Kingdom
Neutral-colored outfits may sometimes be boring, but Silvia Postolatiev of Postolatieva was able to make her white dress and tan coat ensemble classy with enough edge, thanks to her bright red lace-up heels.