Temperatures are beginning to drop as winter approaches. The cold winter months call for thick clothing, and coats and boots are guaranteed to dominate the fashion scene.
Last month, a number of fashion bloggers already started embracing the cold in style. You better check out our top 10 picks below for fashion inspiration this season.
1. Manuella Lupascu from Romania
Manuella Lupascu of Let's Talk About Fashion got our eyes glued to her fringe boots, which jazzed up her casual tee-and-jeans combo. Her pastel pink coat also added a nice touch to her overall look.
2. Elizabeth Lee from the United States
Fringe boots are clearly one of the hottest trends this fall, and Elizabeth Lee of Stylewich was another blogger who featured this trend last month. She wore hers with jeans, a wine-colored top, and a yellow scarf, resulting in a look that was very on point!
3. Leonie Hanne from Germany
For a chic coffee run, Leonie Hanne of Ohh Couture opted for a layered ensemble composed of a long blouse, a poncho, and a pair of patchwork jeans. To glam up the laid-back outfit, she capped it off with a stylish pair of strappy lace-up sandals.
4. Careese Quon from the United States
Balancing edgy and feminine styles, Careese Quon of Lychee Style paired a blue floral mini dress with black gladiator sandals. The result was chic and modern!
5. Alison Liaudat from Switzerland
Alison Liaudat of Bang Bang Blond seemed to have mastered the art of tough-chic dressing. She rocked a gray knit top and an edgy black miniskirt and upped the ante with a pair of knee-high gladiator boots.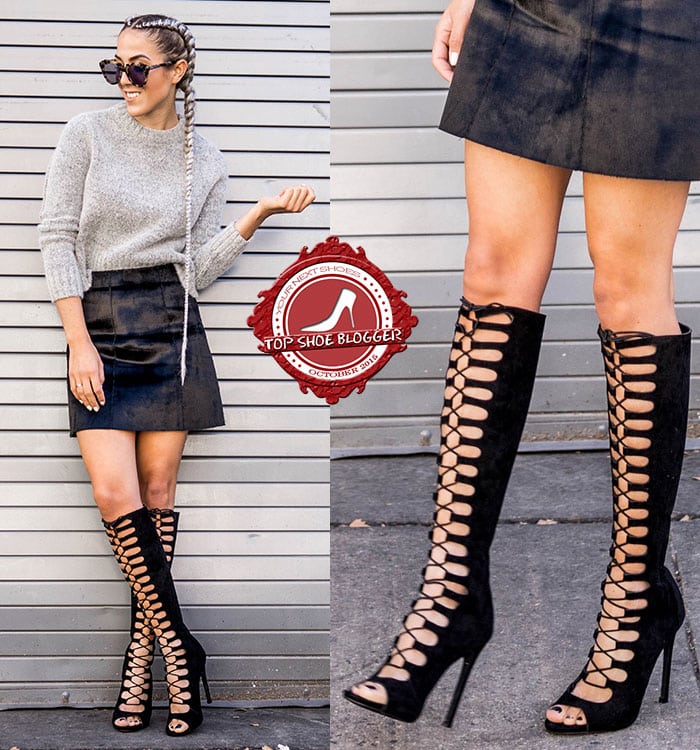 6. Ioana Carmen from Romania
Ioana Carmen of Fashion Spot appeared to be channeling Kim Kardashian in an all-nude number composed of a sexy pair of lace-up thigh-high boots, a nude dress, and a nude coat. This is one way to wear over-the-knee boots without looking like Julia Roberts in Pretty Woman.
7. Payton Sartain from the United States
Another blogger who wore thigh-high boots and steered away from looking like Pretty Woman was Payton Sartain of Hustle + Halcyon. She paired her suede OTK boots with a miniskirt, but she kept the look modest with a white long-sleeved blouse.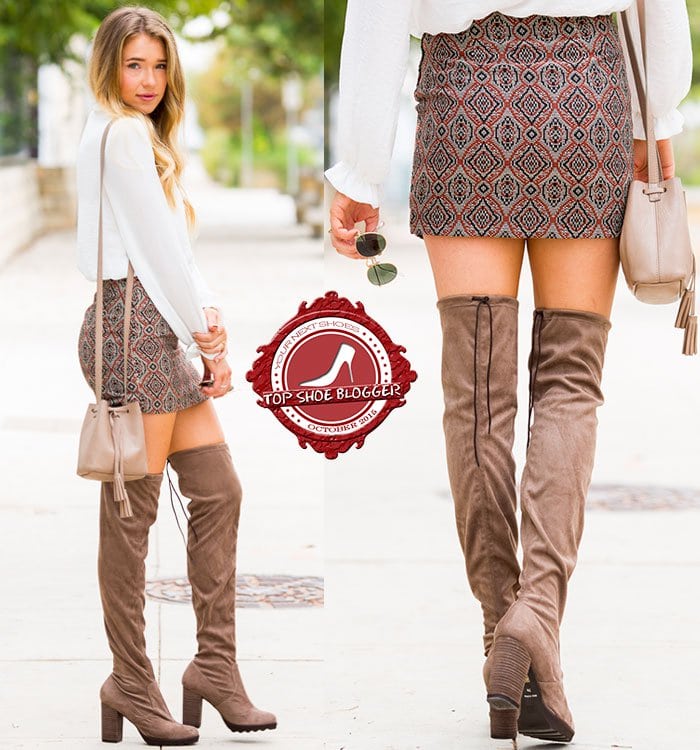 8. Ruxandra Ioana from Belgium
Ruxandra Ioana of From Brussels, with Love brought life and color to her dark gray jacquard turtleneck dress by wearing fiery red booties, which matched her lipstick.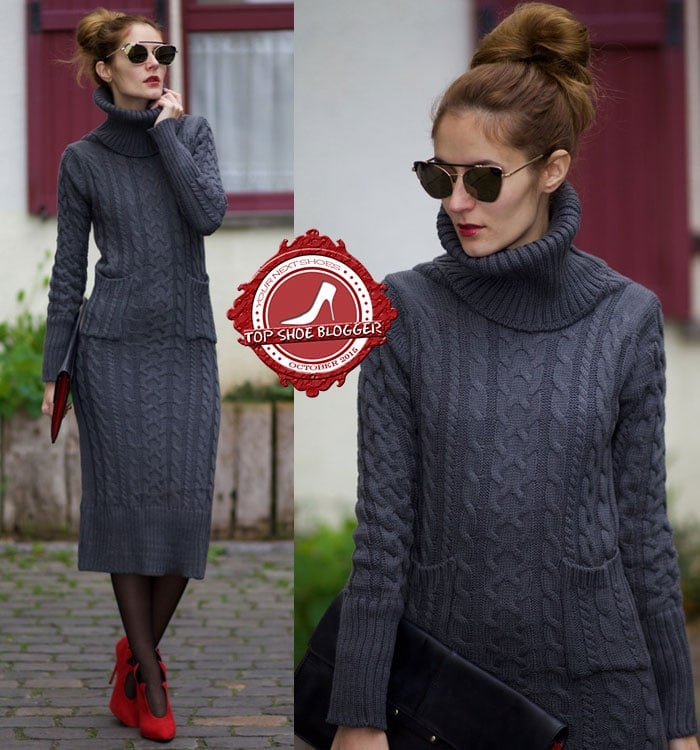 9. Cassandra DiMicco from the United States
Cassandra DiMicco of Dressed for Dreams opted for a simple look in winter's gray, black, and white colors. She wore a plain white top with a fitted gray knit skirt, but she was able to make the outfit chic and sophisticated with the help of a black skinny scarf and a pair of black lace-up booties. What's more surprising is that every item in this ensemble is just under $50!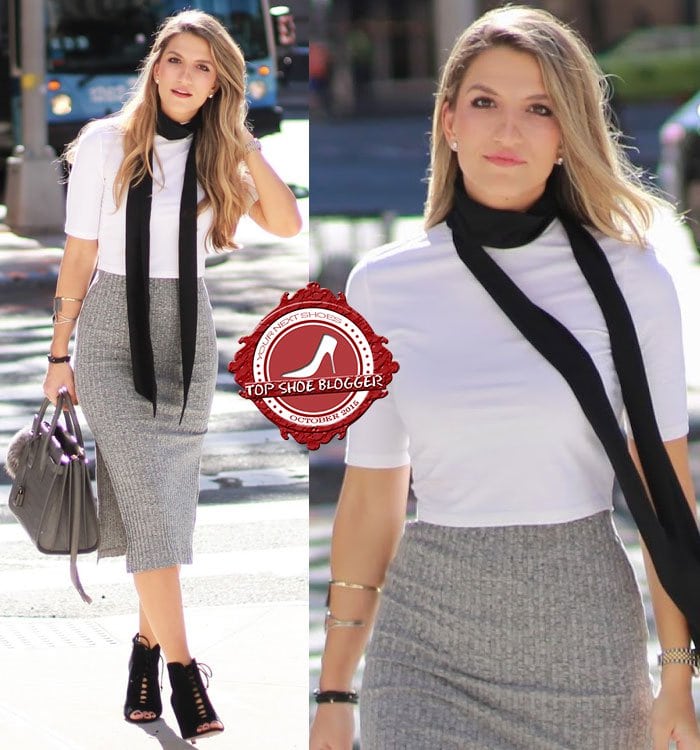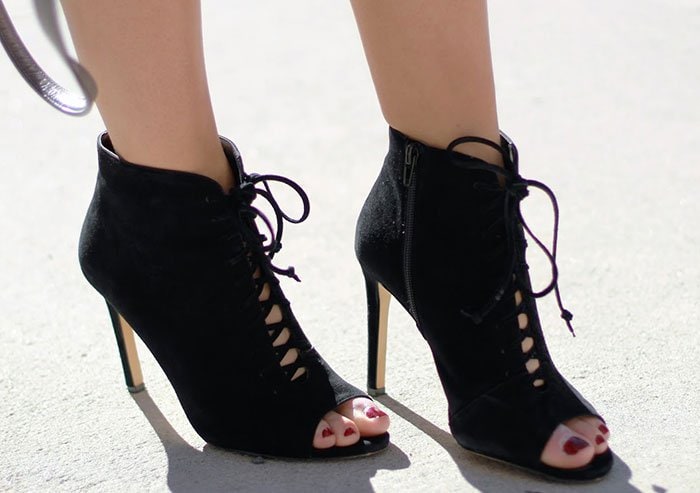 10. Melanie P. from the United States
Adding some colors to her muted gray top and white shorts, Melanie P. of Aetherlily styled her look with a printed kimono and a pair of ankle booties in soft pink with gold-tone studs and metal accents.